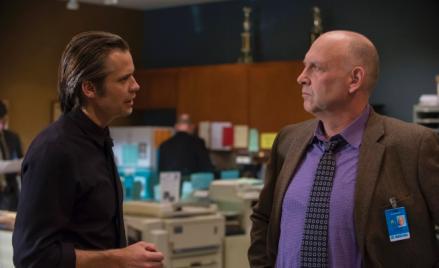 Ever since the second episode this season—you know, when Raylan and Art and Tim almost got into a shootout with the Truths before Art figured out they were looking for the wrong guy—viewers have been wondering just who Drew Thompson would turn out to be.
Turns out, Justified's writers were wondering, too. Over in his weekly postmortem with EW.com, executive producer Graham Yost revealed a shocker about the Drew Thompson revelation non-shocker that came in "Hatchet Tour" (ICYMI, it's Shelby): "We didn't know until we were finishing up breaking episode 405. We had played with various other possibilities." Yost added that they considered some of the Clover Hill baddies and Josiah Cairn.
Viewers, and Slate commenters, meanwhile, had been suggesting everyone from Art to Arlo to maybe someone from a past season. I was a little surprised when it was Shelby—just because the writers like to surprise us, so I thought all the hints pointing to Shelby were probably a misdirection. On the other hand, it couldn't have been Arlo—he would have already been a well-known criminal in Harlan by 1983. And it couldn't have been Art. Not only would that have pissed off just about everyone, but it's easy to check whether he was working as a marshal in 1983, like he said. Given that Yost added they didn't want Drew  to be any of the Clover Hill Gang because "we're not invested," and you start to run out of suspects.
Earlier this season, Jenn Lyon, who played Raylan's girlfriend Lindsey Salazar, joined the TV Club and discussed the rigorous editing and revision process that leads to such tightly crafted episodes. "On Tuesday you can get a version of a scene that has an armed robbery and a hostage crisis, and by Thursday, it's been turned into a sweet conversation and a standoff," she told me.  So what's fascinating is that not only does the show go through a lot of grinding and polishing, but that there's also a huge fly-by-the-seat-of-its-pants mentality.
And it's not the case that Drew Thompson's last-minute acquisition of an assumed identity is a one-off for the show. Yost also confided that the decision to kill off Arlo in Episode 8 didn't come until they were shooting Episode 7, the one in which when Raylan told Arlo he would die in prison, and soon. (And though it was made suddenly, it wasn't made easily): [T]his was debated at length in the room for hours. I had at least three phone calls with John Landgraf, the head of FX, about this. "Are you sure? Are you sure you want to do this? This is a big step." 
Knowing that the writers cast Shelby as Drew in the middle of the production process makes me a little more patient with the story line. It also makes me want to be a fly on the wall in the writers room.
---