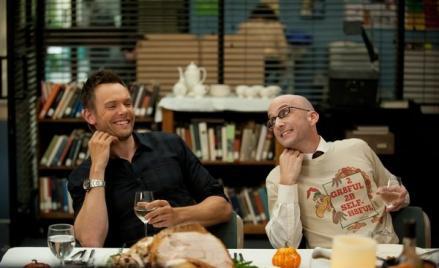 Jeff's long overdue (and presumably last) encounter with his estranged father, William, proved to be rather sobering in last week's Community. With the exception of the occasional truly comical moment (Britta to Jeff and William: "You two are probably feeling the impulse to sleep with each other right now, and hey—that's normal") this was the first episode this season that—for half of it, at least—wasn't trying to garner lots of laughs. And as far as Jeff's story is concerned, that worked. (The counternarrative regarding Thanksgiving with Shirley's in-laws was meant more or less as an antidote to the seriousness of Jeff's trip to see his father, with a half-baked Shawshank Redemption/Prison Break plot that failed to work as well as past cultural references. And yet even that storyline ended on a slightly introspective note.)
The show's rare handling of the other characters' family members has generally tended toward the silly (Troy's crotchety Nana, who's always telling her grown grandchild to "get me a switch" so she can spank him with it) or the satirical (Pierce's hateful Archie Bunker-like father, who mercifully dies of a heart attack). "Cooperative Escapism in Familial Relations" was notably heavier than any other episode we've seen before. But the show's humor wasn't necessarily lost; it was just more acidic than playful. (Says Jeff to his father: "I like your hair. The presence of it, I mean.") Without the humor, the emotional moments provided by William's unsentimental interaction with both of his sons might have been completely daunting. In dealing with Jeff's emotional issues head on, Community needed such weightier comedy.
Often we laugh at Community because we know about these characters' painful pasts—Annie's prior Adderall addiction was brought on by pressure to overachieve in high school, Shirley was once an alcoholic and was cheated on by her husband. Such difficult issues have been confronted in humorous ways, and Jeff's past is treated no differently. There have been themed episodes filmed to resemble an episode of Law & Order or a Ken Burns documentary, so was it refreshing to see the writers take a stab at writing an episode with a sense of humor that aligns with the breaking down of Jeff's guarded emotional walls. Should Community continue down this somberly existential path for the rest of its short season? Of course not—as a whole, that's not the nature of the show. But in order for Jeff to escape from the prison of his own past, as his other friends have done—he had to do so in his own way. 
---