Brow Beat is following the Beatles in "real time," 50 years later, from their first chart-topper to their final rooftop concert. 50 years ago this month, The Beatles set out on tour in support of their first album, opening for American singers Chris Montez and Tommy Roe. The Beatles wouldn't be openers for much longer.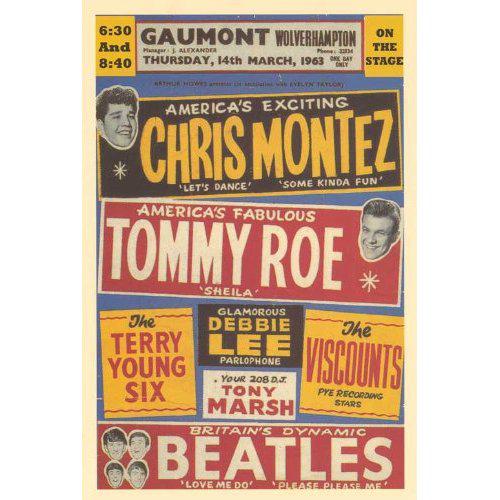 When the Beatles set out on yet another in a grueling series of package tours in March 1963, they were still at the bottom of the bill. Though their popularity had skyrocketed during their tour with Helen Shapiro, with "Please Please Me" hitting the top of the charts, there had never been any question that the Beatles were still the opening band. Their next tour started just five days later, and they still didn't see themselves as the stars.

The headliners, a couple of Yankees, didn't see them that way either. "Who are these guys The Beatles?" commented Chris Montez, fresh off the hits "Let's Dance" and "Some Kinda Fun." "I try to keep up to date with the British scene," he added, "but I don't know their work." Montez shared top billing with Tommy Roe, who had a No. 1 hit six months earlier with "Sheila," and the Beatles were the openers.

This was a mistake. And that was clear from the first night of the tour. In Anthology, George Harrison describes the emergency meeting that ensued after that initial performance:
There was a big huddled meeting after the show because Arthur Howes, the promoter, said The Beatles had better close the first half. We said, "No, no, Tommy and Chris close," because they still sounded like big names to us. I remember Tommy Roe getting all uptight, saying, "I'm contracted, and I'm going to leave if I don't close the show!"
The audiences were particularly hard on Montez, who, like the recently deceased Ritchie Valens, was a pioneering Latino rock star. As with Shapiro, Harrison felt embarrassed about how the Beatles were upstaging him:
I felt sorry for Chris Montez, he was just a little Mexican bloke. He did a slow song on a chair, a Spanish tune, and the Teds were all shouting, "Boo, fuck off." He said, "Oh, you don't like it, OK," and he stopped and put down his guitar and tried something else. It was sad, really.
Eventually Roe backed off, Howes prevailed, and the Beatles began closing out the shows.

Full-blown Beatlemania hadn't yet arrived, but there were signs at these shows that it was beginning to set in. You can get a sense for what the shows sounded like from a March 12, 1963 episode of the radio show Here We Go. The program was taped at Manchester's Playhouse Theatre just three days before the Montez-Roe tour, and you can already hear some early squeals:
"I'm beginning to see why nobody can live on the same stage with this outfit," observed the host of the BBC's Saturday Club, during another radio performance, a week after the tour's start. He had a message for the acts set to open for the Beatles the next month: "Good luck to you, mates."

Read more from Blogging the Beatles
The Beatles Become Pop Professionals
Did the Beatles Get Screwed?
The Beatles Race Against the Clock
The Beatles Bring Back Rock Rawness
The Forgotten Songwriter Who Inspired the Beatles
The Beatles Record Their Debut Album