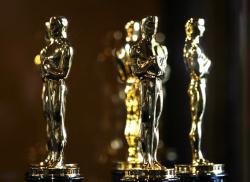 Here at Slate we love movies, and arguing, and pointless competitions. So needless to say, we're running an intra-office Oscar pool among the writers and editors in our culture department! The stakes are high: The winner, of course, gets eternal glory; the loser must wear a panda suit into Editor David Plotz's office for his weekly panda-beating. (If Plotz loses, he must serve a grapefruit to Assistant Editor Katy Waldman.)
As Slate's culture staff are, of course, cultural experts and scholars of Oscars past and present, you can feel free to use their picks as a guide to your own Oscar ballot this weekend. Just remember to thank us as you're pocketing your winnings. Remember: Slate predictions are almost never wrong!
Below, see all Slatesters' picks, plus explanations for some of the most courageous/foolhardy of the predictions—perfect for your triumphant crowing (or shame-faced justifying) on Oscar night!
Predictions by: Assistant Editor L.V. Anderson LA, "DoubleX" Managing Editor Allison Benedikt AB, SlateV Blogger Jeffrey Bloomer JB, Culture Intern Byron Boneparth BB, "Brow Beat" Editor David Haglund DH, "Brow Beat" Assistant Aisha Harris AH, Senior Culture Editor Dan Kois DK, Culture Editorial Assistant Bryan Lowder BL, Editor David Plotz DP, Politics Editorial Assistant Emma Roller ER, Social Media Editor Jeremy Stahl JS, Editorial Director John Swansburg JSw, Video Producer Chris Wade CW, Assistant Editor Katy Waldman KW, Politics Writer Dave Weigel DW, Staff Writer Forrest Wickman FW
BEST PICTURE
Amour
Argo LA DW FW JB DH ER BL CW
Beasts of the Southern Wild
Django Unchained
Les Misérables
Life of Pi
Lincoln KW BB JS DP DK JSw
Silver Linings Playbook AH
Zero Dark Thirty AB
Why Aisha Harris picked Silver Linings Playbook: "Lincoln seems to have lost momentum, Zero Dark Thirty will likely be completely shut out thanks to the political brouhaha, and there's a good chance many voters are starting to feel Argo fatigue. The only other real front-runner in the race is Silver Linings Playbook, which benefits from being a not-too-serious but not-too-light pick with a great cast. Oh, and Harvey Weinstein."
BEST ACTOR
Bradley Cooper, Silver Linings Playbook
Daniel Day-Lewis, Lincoln LA SW AH KW AB FW JB DH JS DP ER AB BL DK JSw CW
Hugh Jackman, Les Misérables
Joaquin Phoenix, The Master
Denzel Washington, Flight
BEST SUPPORTING ACTOR
Alan Arkin, Argo
Robert De Niro, Silver Linings Playbook DW DP DK CW
Philip Seymour Hoffman, The Master DH
Tommy Lee Jones, Lincoln LA AH KW FW JB JS BL JSw
Christoph Waltz, Django Unchained BB ER AB
Why David Haglund picked Philip Seymour Hoffman: "The Master was nominated in three acting categories and certainly won't win the other two. But I think it has a chance here because 1) Hoffman gets lots of screen time, 2) Tommy Lee Jones and Robert De Niro could split the crotchety old favorite vote, and 3) he really does give the best of the five performances, for whatever that has ever been worth."
BEST ACTRESS
Jessica Chastain, Zero Dark Thirty KW BB JS ER
Jennifer Lawrence, Silver Linings Playbook LA DW AH DH DP AB JSw CW
Emmanuelle Riva, Amour FW JB BL DK
Quvenzhané Wallis, Beasts of the Southern Wild
Naomi Watts, The Impossible
BEST SUPPORTING ACTRESS
Amy Adams, The Master
Sally Field, Lincoln JS DP BL JSw
Anne Hathaway, Les Misérables LA DW AH BB FW JB DH ER AB DK CW
Helen Hunt, The Sessions
Jacki Weaver, Silver Linings Playbook KW
Why Katy Waldman picked Jacki Weaver: "Because she lost out to Mo'Nique in 2010. Because her sweet-natured, retiring Dolores (of course her name is Dolores) is the perfect ballast for the film's aggressively zany leads. Because of wishful thinking: Though it won't win Best Picture, Silver Linings Playbook deserves as much Oscar glitter as it can get."
Why Jeremy Stahl picked Sally Field: "Lincoln is going to sweep and win shit it shouldn't win. Oscar voters are dumb."
BEST ANIMATED FEATURE
Brave LA DW KW BB JB JS DP ER AB
Frankenweenie FW
ParaNorman DK
The Pirates! Band of Misfits
Wreck-It Ralph AH DH BL JSw CW

Why Forrest Wickman picked Frankenweenie: "My pick is based on the hope that Academy members will actually watch the movie, which is probably a mistake."
BEST CINEMATOGRAPHY
Anna Karenina KW
Django Unchained AB
Life of Pi LA DW AH BB JB JS ER JSw
Lincoln DP
Skyfall FW DH BL DK CW

BEST COSTUME DESIGN
Anna Karenina LA DW FW JB DH JS ER BL DK CW
Les Misérables AH KW BB AB JSw
Lincoln DP
Mirror Mirror
Snow White and the Huntsman
BEST DIRECTOR
Amour, Michael Haneke KW
Beasts of the Southern Wild, Benh Zeitlin ER JSw
Life of Pi, Ang Lee JB CW
Lincoln, Steven Spielberg LA DW AH FW DH JS DP BB AB BL DK
Silver Linings Playbook, David O. Russell
Why Jeffrey Bloomer picked Ang Lee: "The Oscar almost always goes to the DGA winner, but obviously Ben Affleck wasn't nominated. Snubbing Steven Spielberg is an Oscar pastime, and I don't think Benh Zeitlin, David O. Russell, or Michael Haneke have the support at this level. So that leaves Ang Lee, who has won before and directed a challenging, popular, high-grossing movie."
Why Emma Roller picked Benh Zeitlin: "Whenever I enter an Oscar pool, I throw in at least one wild card. I think this is the year the Academy finally gets over its fetish for Spielberg's schmaltz."
BEST DOCUMENTARY FEATURE
5 Broken Cameras
The Gatekeepers
How To Survive a Plague JS DP ER AB BL DK JSw
The Invisible War KW
Searching for Sugar Man LA DW AH BB FW JB DH CW

BEST DOCUMENTARY SHORT
Inocente FW JB JSw CW
Kings Point JS
Mondays at Racine AH KW DP ER AB BL DK
Open Heart LA DW DH
Redemption BB
Why L.V. Anderson picked Open Heart: "I decided to crib all my predictions from economist David Rothschild, who uses 'prediction markets, fundamental data, and, eventually, user generated data' to determine the likely winner in each category. Works for me!"
BEST FILM EDITING
Argo LA DW AH BB FW JB DH ER CW
Life of Pi
Lincoln KW
Silver Linings Playbook
Zero Dark Thirty JS DP AB BL DK JSw
BEST FOREIGN LANGUAGE FILM
Amour LA SW AH KW AB FW JB DH JS DP ER AB BL DK JSw CW
Kon-Tiki
No
A Royal Affair
War Witch
BEST MAKEUP AND HAIRSTYLING
Hitchcock
The Hobbit: An Unexpected Journey LA BB DH ER AB BL
Les Misérables DW AH KW FW JB JS DP DK JSw CW

BEST ORIGINAL SCORE
Anna Karenina, Dario Marianelli
Argo, Alexandre Desplat DK
Life of Pi, Mychael Danna LA DW AH FW JB AB CW
Lincoln, John Williams KW BB DH JS DP ER
Skyfall, Thomas Newman BL JSw
Why Bryan Lowder picked Skyfall: "Let me answer that with my own essay."
Why Dan Kois picked Argo: "Let me answer that with someone else's essay."
BEST ORIGINAL SONG
"Before My Time" from Chasing Ice
"Everybody Needs a Best Friend" from Ted
"Pi's Lullaby" from Life of Pi
"Skyfall" from Skyfall LA SW AH KW AB FW JB DH JS DP ER AB BL DK CW
"Suddenly" from Les Misérables JSw
Why John Swansburg picked "Suddenly": "Fighting off a cold/little high on cappuccino/feeling lucky."
BEST PRODUCTION DESIGN
Anna Karenina KW BB FW JB JS DK JSw
The Hobbit: An Unexpected Journey ER
Les Misérables LA DW AH DH AB
Life of Pi BL
Lincoln DP CW

BEST ANIMATED SHORT
Adam and Dog KW
Fresh Guacamole BB DP
Head Over Heels DK
Maggie Simpson in "The Longest Daycare" JSw
Paperman LA DW AH FW JB DH JS ER AB BL CW

BEST LIVE ACTION SHORT
Asad AB DK JSw
Buzkashi Boys JB JS
Curfew LA DW AH FW DH DP ER BL
Death of a Shadow (Dood van een Schaduw) KW CW
Henry BB
BEST SOUND EDITING
Argo KW DK
Django Unchained
Life of Pi AH JB BL
Skyfall FW CW
Zero Dark Thirty LA DW BB DH JS DP ER AB JSw
Why Dan Kois picked Argo: "I think that Lincoln is just going to squeak by Argo for Best Picture, but industry support for Argo is too strong for it not to win a couple of categories. I'm picking it here because there's no obvious other winner, unlike in Sound Mixing, where Les Mis has it locked up."
BEST SOUND MIXING
Argo KW JSw
Les Misérables LA DW AH FW JB DH JS AB DK CW
Life of Pi ER BL
Lincoln DP
Skyfall BB
Why Byron Boneparth picked Skyfall: "It seems like this award often goes to big-budget action films with lots of explosions and gunshots and whatnot. I almost picked Argo, but my gut told me to go with Skyfall."
BEST VISUAL EFFECTS
The Hobbit: An Unexpected Journey ER
Life of Pi LA AH BB FW JB DH JS DP DK JSw CW
Marvel's The Avengers DW
Prometheus AB BL
Snow White and the Huntsman KW
BEST ADAPTED SCREENPLAY
Argo, Chris Terrio LA DW FW JB DK
Beasts of the Southern Wild, Lucy Alibar and Benh Zeitlin
Life of Pi, David Magee BL
Lincoln, Tony Kushner AH DH JS DP ER JSw CW
Silver Linings Playbook, David O. Russell KW BB AB
BEST ORIGINAL SCREENPLAY
Amour, Michael Haneke JB DK JSw
Django Unchained, Quentin Tarantino LA DW AH DH AB BL CW
Flight, John Gatins
Moonrise Kingdom, Wes Anderson and Roman Coppola KW BB ER
Zero Dark Thirty, Mark Boal FW JS DP
Why Jeffrey Bloomer picked Amour: "I think the Academy's many olds are going to reward Amour here. Can't win your Oscar pool unless you take risks."
---