Justified crams so much into each episode that little moments can go by almost unnoticed. But viewers ignore them at their peril. For example, it hardly seemed like an important detail in the season premiere when Raylan returned to his apartment to find Lindsey brushing her teeth. But a few episodes later, when Raylan found his apartment trashed and his girlfriend missing, Rachel asked if Lindsey had ever left anything there, like a toothbrush or overnight bag, and was it still there. She had, and it wasn't, and so Raylan had to acknowledge that Randall hadn't kidnapped her.
That's not the only moment from that episode that served as important foreshadowing. Toward the end, Boyd, in his dark and quiet office, hid a wad of money in the ceiling above his desk. I immediately wondered what was up: "Is he mounting a legal defense fund for Arlo? Concocting a plan to bust him out of jail? Saving up to have a family with Ava?"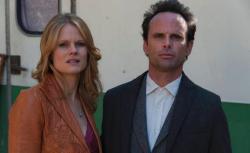 If I was only half-joking about that last one, does that mean I was at least half-right? At the very end of this week's "Foot Chase," after Ava expresses her guilt about their role in Ellen May's presumed death, Boyd takes her out in his truck to look at the stars and talk about how someday he wants the Crowder name to represent one of the great families of Harlan County. "This is why we're doing the things we're doing," Boyd tells Ava after handing her a box of cash, a down payment on a house. "It's for the future. In three generations' time, we'll be an old family name. Nobody'd think twice about their kid and a Crowder kid playing together after school."
And so yet again, Boyd plays with our emotions. He's a vicious crime lord with a heart of gold. All that drug dealing is just a means to an end, and that end is a happy home life with Ava and a good reputation.
But it's all downhill from here, right? Through the first half of the season, Walton Goggins has had vastly more interesting material to work with as Boyd than Timothy Olyphant has as Raylan. While Raylan is his usual cool self, getting out of scrapes and trading witty dialogue with criminals, romantic rivals, and his boss, Boyd has been dealing with challenges to his supremacy over the Harlan crime scene from various angles. He outsmarted Preacher Billy and probably thinks he's on even footing with Wynn Duffy. Goggins has played Boyd's moral complexity to a tee. It's been so good that I have to ask: Is this the apex of Boyd's story?
After all, Justified never assigns a title to an episode for just one reason, and "Foot Chase" wasn't just about the hunt for Josiah (or Colton's search for Ellen May). Sheriff Shelby Parlow is out to uncover something that could bring down Boyd, and cousin Johnny wants to kill him.
So why send Boyd and Ava down the aisle? Or at least in the direction of it? I fully believe that Boyd is sincere in his affection for Ava. But spouses can't be forced to testify against each another in court, and so I wouldn't put it past him to be thinking ahead to his or their arrest in Ellen May's "murder"—or Delroy's.
And while it's difficult to imagine Justified without Boyd to be Raylan's foil, Joelle Carter has really come into her own as Ava the last couple of seasons. Do the writers want to see if Ava can fill Boyd's boots while he is in jail or (Noooo!!) worse?
It's hard to say, but I've been half-right before.
---