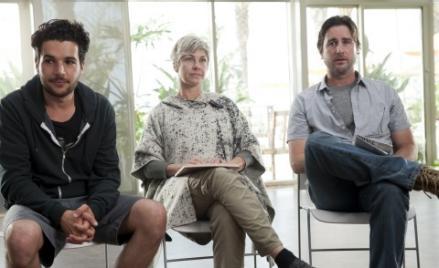 Enlightened took a merciful breather this week, heading to Hawaii to see how Levi is handling Open Air, the new-age rehab center where Amy's new lifestyle was born. His outlook is predictably mixed. But the episode itself was the show at its devastating finest—funny, disturbing, weirdly inspiring, and willing to go on long tangents that end up not feeling like tangents at all.  

And above all it was a heartfelt showcase for Luke Wilson, who has played Levi as both gentle and aggressively unstable, a product of years of lost dreams and drug abuse with no real desire to turn himself around. He's an incredibly rich character, even more remarkable for the fact that, as an ostensible male lead, he appears only intermittently. Before Sunday, he hadn't even been mentioned in the new season at all.   
Creator Mike White excels at drawing subtle but robust performances from his large cast of actors, even as his 30-minute show—with an inherently time-consuming protagonist—makes them into bit parts. Wilson's role is larger than that, but he adopts the same minimalist approach as his less-prominent co-stars. We learn about his character mostly through mood, wounded stares, and small gestures. (Levi doesn't talk much.) White gives Wilson room to breathe, and the result is a revelation, the last thing we would expect from him after a decade spent playing frat-pack man-children and doofus romantic leads.  

It isn't just Levi who gets his due, either. Enlightened's familiar band of misfits trapped in the basement with Amy has moved beyond the types they first seemed meant to satirize. Timm Sharp's Dougie, the brotacular boss who gets too touchy at bar nights and makes porn jokes in the office, has transformed into a bizarrely touching take on male ego. Sarah Burns made Krista the doe-eye corporate assistant into a surrogate for the audience's own fraught relationship with Amy. As the show goes on, the glancing but richly textured performances stack up. "Higher Power" even finds room for two spirit-crushing guest spots for Christopher Abbott and Ashley Hinshaw, who play young addicts so vividly desperate they finally make Levi see the light.  

With the exception of Diane Ladd, few of the supporting players are especially accomplished actors, most with backgrounds in improv and a handful of supporting credits. And yet they are almost uniformly superb because the series is so uniquely committed to studying everyone in Amy's orbit. When the camera pans around Abaddon's basement to one broken-down face after another, it can seem too easy, but one by one, White zeroes in on each one of those sorry characters, unearthing human dimensions most series would have left buried.
---