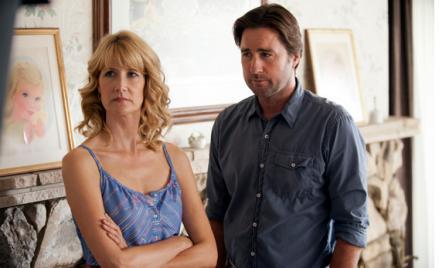 Postmortems about top Hollywood directors finding fluid new careers between movies and TV have been written on and off for 20 years. Seeing names like Martin Scorsese (Boardwalk Empire) and David Fincher (House of Cards) plastered on high-end shows seems less like a novelty than a prerequisite, and many network pilots are now packaged with movie directors attached to shepherd the new series. Even Mike White, who began in television, spent years in features (The Good Girl, Year of the Dog) before he migrated back to write and direct the pilot for Enlightened.

And sometimes directors just make pit-stops at shows they like. Quentin Tarantino famously directed a two-parter of CSI in 2005, and Jason Reitman has dropped in to direct a couple episodes of The Office. But Enlightened has attracted name directors like no other show: Jonathan Demme (Rachel Getting Married), Nicole Holofcener (Please Give), and Miguel Arteta (Cedar Rapids) have each directed two episodes of its short 18-episode run. "All I Ever Wanted," this week's episode, was helmed by perhaps the show's most towering figure yet, Todd Haynes, the much-canonized director of Far From Heaven and Velvet Goldmine.

In some ways, Haynes' presence behind the camera makes sense. He formed relationships with HBO when he helmed his six-hour version of Mildred Pierce in 2011. He also seems like a natural fit to direct Laura Dern as Amy Jellicoe, given his shattering pair of movies about women navigating crises, Far From Heaven and Safe (both starring Julianne Moore). But as with any established series—and especially this one—Enlightened's visual metaphors and signature aesthetic tends to adapt modestly to the character arcs of each episode. What happens when a director as iconoclastic as Haynes comes aboard?

Haynes, it turns out, fit in very well. Though this past week's episode was probably the most pivotal of the series so far—a tipping point for Amy, as she faced the unimaginable prospect of her dreams coming true—Haynes adopted a light touch. He brought unexpected heat to Amy's two days with Jeff, as the camera slowly pans to her staring expectantly at him naked in bed. (There is also a hilarious visual joke, Haynes's or someone else's, when an old picture of John Lennon and Yoko Ono appears as Amy imagines her revolutionary union with Jeff.)

The small masterpiece of the episode, though, was Levi's return from rehab, as he declares himself "fixed" and ready to reassume the life he and Amy have "wanted" for 25 years. The camera tracks Amy and Levi as they walk along a sunset-hued Riverside street, she finally reading his letter from Hawaii (the noble sea turtles). Wide shots of kids playing baseball in the park give way to one of Levi and Amy sitting next to each other on bleachers, which we see through a wire park fence; Levi sees salvation on the other side, but Amy can't see past her past. "Hey, I know you," Levi says to Amy. "You're my heaven and hell." Amy shakes her head, crying: "Please stop."

Haynes' direction of the sequence is masterful, but the power of the scene comes from the fact that the series has built up to it for a while: the edges of Amy's world have finally converged into the moment she has been dreamily summoning in her voiceovers all this time. (As with all the episodes, White wrote the script.) Even a director like Haynes bows to Enlightened's strange power.

After White suggested in an interview this week that the show is peril of not returning, a few impassioned pleas have popped up, including one from Slate's David Haglund, urging reluctant viewers to give it a shot. To that I will only add that if you're already watching, consider it an abiding responsibility to make others see the wayward light. If this episode doesn't convince you, nothing will.
---