Brow Beat is following the Beatles in "real time," 50 years later, from their first chart-topper to their final rooftop concert. In our latest weekly installment, we check in with the group as they head out on tour, in support of Helen Shapiro.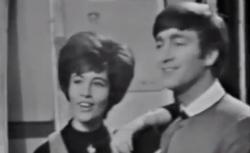 Fifty years ago this week, the Beatles were an opening band. They were about to set out on what would become a grueling year of touring, and, on their first tour, they were listed dead-last on a six-band bill. The headliner was the far more popular Helen Shapiro, who was only 16 or 17 years old.

The response to their early shows was often tepid, but they were eager for whatever exposure they could get. "Someone saying he was called Brian Epstein was ringing from Liverpool," promoter Arthur Howes later recalled. "He said he had a great group, was there anything I could fit them into?" Howes remembers them as just "another group with a funny name," but he booked them with the simple hope of turning a profit.
The English countryside was a bit dull for the band just back from their wild days in Hamburg. During the long bus rides, Lennon and McCartney would move to the back of the bus to work on new songs, often in hopes of selling those songs to Shapiro and others. But Ringo still recalls that they were happy to be there. "Helen was the star," Starr said. "She had the telly in her dressing room and we didn't have one. We had to ask her if we could watch hers. We weren't getting packed houses, but we were on the boards, man."

You can get a sense of what the tour was like from this 1963 clip from Ready, Steady, Go! While the clip is from the following fall, it's still Shapiro who takes center stage for the performance, as she serenades Lennon, Starr, and Harrison in turn. (Paul apparently lost the coin toss but can be spotted in the background.) The Beatles display a characteristically mischievous sense of humor, but Shapiro is unquestionably the star:
When the Beatles finally hit No. 1 with "Please Please Me," in the middle of the tour, things began to change. Soon they were getting as much applause as the headliner—and this created some tension. "All the people coming to the show were just waiting for The Beatles," Harrison later remembered. "It was embarrassing, because she was a very nice person." This is characteristic of the Beatles' relationship with Shapiro. They liked her, and she even had a crush on John (who was secretly a married man), but he dismissed her music as "mush."

A few months later they toured with one of their heroes, Roy Orbison. They shared top billing.

Previously in Blogging the Beatles
Where's Yoko? On John Cage's Piano Edition
How a Black Label Brought the Beatles to America
The Beatles Say Goodbye to Hamburg
The Beatles Hit the Airwaves
The Beatles Rise Up the Charts
The Beatles Record Their First No. 1