Last week, hip-hop legend Snoop Lion, whom you may still know as Snoop Dogg, landed in India to great fanfare. It was his first-ever concert tour of the subcontinent, but Snoop is the best known American rapper in India, thanks to his cameo in the 2008 Bollywood film, Singh Is Kinng, and his appearance on the film's hit theme song. The Doggfather got the red-carpet treatment. Mumbai journalists fawned over him at a press conference full of softballs. (Yes, he'd absolutely love to do another Bollywood film!) That night, glittering movie stars and socialites crowded Snoop's welcoming party in a swank Juhu Beach restaurant.
It was a complicated moment for the frequently foul-mouthed superstar to drop in. In the aftermath of a horrific gang rape-murder in Delhi, India has been in the midst of a contentious debate about misogyny in its culture—and in rap lyrics. The rapper drawing the most heat is Punjabi hip-hop star Honey Singh, aka Yo Yo Honey Singh. A month ago, he was securely enthroned as the maharaja of Indian hip-hop: His megahit Brown Raang ("Brown-Skinned"), a tribute to dark-skinned beauties ("White chicks? Nah, I don't like them anymore"), had just overtaken "Gangnam Style" as the most-watched YouTube video in India. His group, Mafia Mundeer, was nurturing a crew of talented newcomers (mundeer is the rough Punjabi equivalent of "posse"). And Singh was set to headline a star-studded New Year's Eve party in the posh Bristol Hotel outside Delhi.
But that was before the horrific Dec. 16 gang rape that rattled this nation and much of the world. As mourning gave way to protests and then to soul-searching over the portrayal of women in Indian culture, Honey Singh's frequently misogynistic videos and lyrics were put under the microscope. Soon even middle-aged Indians who'd never listened to a single hop-hop track knew Singh's most infamous verse, from the 2006 song, "Choot" ("Cunt"). As the English-language Hindustan Times reported, a literal translation of the song roughly comes to this:
Come, I'll f*** you,
Exorcise you of the ghost of getting f*****,
After f****** you, I'll hit you with a shoe,
I'd put my d*** in your mouth, and then p*** on you
Faced with an online petition to cancel his New Year's Eve show, Singh briefly stalled, then caved, and then disavowed the now notorious lyrics, claiming to have only rapped them, not written them.
Singh's verse is worse than anything Snoop has ever rapped, but would a man who once penned the couplet, "Guess who's back in the motherfuckin' house/ with a fat dick for your motherfuckin' mouth" come in for similar scrutiny? Would his triumphant arrival in India be marred by controversy? If not, why not?
Curious to find out, I headed inland last Friday from India's movie-star-studded West Coast to Pune, a mid-sized—for India—city a hundred miles away, known for its high-caliber university and burgeoning tech industry, where Snoop would have his first concert, in a sandlot on the outskirts of town. Indian traditions and the state of Maharashtra's overbearing blue laws resulted in a tripartite venue with a walled-off, 25-and-over area where you could drink alcohol but couldn't see the stage; another section which allowed soft drinks, food—kabobs, veggie burgers, Papa John's pizza—and smoking; and a main area, in front of the stage, where black-clad security men circulated, confiscating water bottles and putting out samizdat cigarettes.
Though scheduled as an all-day festival beginning at noon, virtually no one showed up until sunset—standing in the tropical midday sun is not something most Indians do unless their job requires it. The upscale emptiness conjured a bar mitzvah for a rich kid with no friends. Had Snoop's advance team been more on the ball, they might have started the concert at 4:20 and sited it in a jurisdiction where ganja—a Hindi word—is legal on account of its historic associations with the worship of the toking Hindu god, Shiva. It would have been awfully fun to see what the performative, pot-loving Snoop did with that.
Toward dusk, a modest crowd trickled in. Snoop probably hadn't played such a tiny crowd since attaining stardom in the United States two decades ago. While we waited for him, a leggy Indian-Australian VH1 VJ hosted a b-boying contest. The old school dance style is popular in India: A few days earlier, in Mumbai, I had happened upon a dance studio whose sign hawked lessons not only in ballet, Bollywood, and belly-dancing, but also in b-boying, popping and locking, and even krumping.
As the mild January night air swept in, a Mumbai hip-hop group, Bombay Bassment, took the stage. The band consists of an Indian DJ, drummer, and bassist who back a Kenyan expatriate, Bob Omulu, aka Bobkat. Their opening set included one particularly infectious number that heavily sampled "King of the Bongos." But Bombay Bassment's lyrics were tame compared to Snoop's—let alone Honey Singh's. If not for Bobkat's preface ("we gonna switch it up to a little doggie style now"), I might have thought their song "Down and Dirty" was about gardening.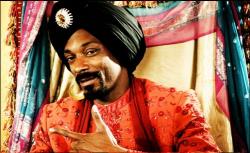 There was a long delay while Snoop got stuck in urban India's legendary traffic. But finally the artist born Calvin Cordozar Broadus Jr. took the stage, backed by a goofy, minor-league-baseball-style "Nasty Dogg" mascot and three fly-girls—who began the concert in matching Adidas jump suits, but ended it in their underwear. Snoop's repertoire was heavy on warhorses—the audience gladly dropped it like it was hot and duly chilled until the next episode. But the lanky, hammy superstar also made some charming concessions to the locals. When Snoop demanded "DJ, play me some classic shit!" the man behind the Mac blasted Dum Maro Dum, a 1970s Bollywood stoner classic that brought down the house. Snoop also reprised his own Bollywood number, Singh Is Kinng, minus the black turban he wore in the video and without his duet partner, local film star Akshay Kumar. (The leading man had tweeted with regret, "Snoop I'd love to come brother but I'm shooting," inviting his former co-star for some Indian fried chicken when he's in Mumbai.) With Akshay's lines pumped in from a recording, the song didn't have quite the same magic as the video—in which Snoop, king of the West, and Kumar, king of the East, seal their alliance by serving each other foods from home: palak paneer and chicken and waffles.
Was it the debate roiling India that prompted Snoop to close with "Sensual Seduction," the closest thing in his repertoire to a feminist anthem? ("I'm gonna take my time," he says on the track, "She's gon' get hers before I. …") Perhaps. On the other hand, none of the women in attendance seemed to hesitate before singing along fervently with "I Want to Fuck You (You Already Know)," a, shall we say, less feminist song of Snoop's that he performed earlier in the evening.
Between sets I chatted with concert-goers about the rap lyrics debate. Vinayak Londhe, a 26-year-old manager for Zodiac, a flashy Indian clothing label, was a little surprised he didn't have to cross a picket line to get into Snoop's concert. "I was thinking it was going to be controversial," Londhe said, sporting a chic dress shirt with a black-and-white striped Nehru collar. "People complain about Honey Singh but Snoop Dogg is much bigger." He chalked up the inconsistency to Snoop rapping in English while Singh raps in an Indian vernacular language that is more accessible to the masses of the subcontinent. When I asked to snap his photo, he obliged, flashing the gangsta hand signal for "West Coast."
Stuti Shinde Patil and Jeunelle Rebello, both 19, signed petitions and attended protests in the wake of the Delhi gang rape. But they still came out for the D-O-double-G. Patil, a college student, said that while women in Snoop numbers are more often than not "bitches" and "hoes," she doesn't blame him. "It's not just Snoop. All American hip-hop artists use those words." Snoop just inherited the idiom, she said. By contrast, Singh consciously decided to go there, dragging Indian hip-hop down to heretofore unexplored depths in the gutter and was getting punished accordingly.
"The standards are very different," Rebello agreed. "India's a more conservative country, so people have a problem with Honey Singh. He's going against the community."
This was a recurring theme: Many Indians feel a collective shame about Honey Singh's lyrics. Snoop, on the other hand, doesn't bother them, because they aren't implicated by his words. Perhaps Snoop shames America; Honey Singh is an embarrassment to the world's largest democracy.
In the wake of the Delhi rape, Indian sociologists and feminists have argued the crime is rampant in India because rape itself is not all that despised. Instead, it is considered shameful only when it becomes public—and not just to the rapist but even more so to the victim and her family. With Honey Singh's lyrics too, it seems the masses of India are uncomfortable because of shame at Honey Singh's explicitness more than outrage at his sentiments. If India had more of a problem with Snoop's lyrics, it might be a sign of social progress.
India hip-hop insider DJ Sa, who spun for the b-boying contest, thought the Honey Singh to-do was a tempest in a chai pot and would ultimately blow over. Sa, wearing a T-shirt with a red, yellow, and black stencil of the African continent and a Black Power fist in the center—"since I'm supporting Snoop Lion, I went with the rasta colors"—thought the Punjabi impresario was being subjected to the usual media cycle of building up a star only to tear him down. "There's a phase every artist goes through when he has a lot of haters," he said, citing Snoop's own career trajectory as an example. But ultimately the true superstar can come back with hit after hit. "Haters can hate," he concluded, but "at the end of the day, money talks."