According to the website ComingSoon, Pixar recently sent out a holiday card that included concept art from some of the feature films it plans to release over the next few years. While the studio has spent a lot of time on sequels lately, these sketches suggest that Pixar isn't going to stop pushing itself creatively any time soon.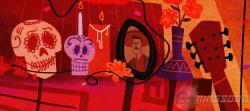 Perhaps the most interesting of the works-in-progress is a yet-to-be-named film centered around the festivities of the Mexican holiday Día de los Muertos. Set to be released sometime in 2016, the warm color palette and rougher quality of the drawing hints that the animators may depart from the crisp, sharp style of their previous efforts—though how closely this concept drawing will match the eventual film is unknown.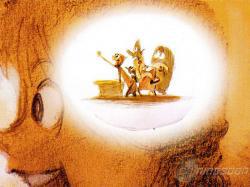 And the studio looks set to try new things story-wise, too: Another untitled project, slated for 2015, takes the viewer inside the human mind, Herman's Head-style. This movie, which may be called The Inside Out, will apparently have as its main characters the emotions of a young girl. According to John Lasseter, the movie will take place inside her head and show those emotions "control things that go on." For a studio that has taken heat in the past (especially pre-Brave) for not giving much time to girls or women, that's a pretty daring story to take on. (And unlike Brave, this one won't even be co-directed by a woman, it seems; Pete Docter is directing.)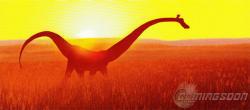 The work-in-progress we'll get to see soonest is The Good Dinosaur, which looks set to reach theaters next year. The concept art shows a large, prehistoric-looking creature silhouetted by the sun—with a not quite discernible shape on top of its head that appears to be a human child. The film will imagine what the world would be like if dinosaurs never became extinct.
In the meantime, the Monsters, Inc. prequel, Monsters University, was advertised in a new spot during the Rose Bowl, and rather than another straight-forward trailer, the studio opted for a clever mock promotional video advertising the institution of higher learning. It's a fun little spoof—although the Monsters University website is even better.