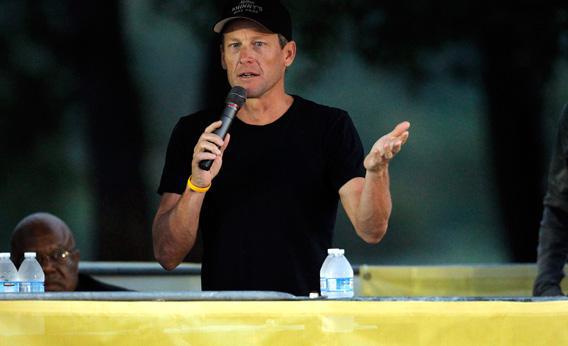 As the date of Lance Armstrong's televised confession draws closer, there is now word that the cyclist and the U.S. Anti-Doping Agency have discussed the outlines of a deal. The New York Times says Armstrong met last month with officials of the USADA to talk about what he could do to reduce his lifetime ban from competition, and that USADA boss Travis Tygart is willing to shorten the sentence in exchange for Armstrong's help in snaring his enablers. Those potential targets include the current, former, and honorary presidents of the International Cycling Union, known by its French acronym, UCI. The Times says that according to its sources, Armstrong is planning to testify about UCI officials' involvement in doping.
When we saw these reports last night, many of us at Slate went nuts. Wasn't Armstrong the kingpin of cycling's decades-long program of lying and cheating? Why would you cut him a deal to implicate anyone else? But when you study USADA's 200-page report on Armstrong's doping career (PDF), a deal begins to make sense. Yes, Armstrong deserves every day of his lifetime ban. But he's finished. His confession seals his guilt and disgrace. The problem now is UCI, which, according to USADA, masquerades as an adjudicating body while protecting dopers. To clean up cycling, and to keep it clean, you have to take down UCI, or at least its current leadership.

UCI presents itself as a drug cop. It claims its anti-doping program, designed to "get rid of cheats," administered more than 15,000 tests in 2009. It boasts that all its blood samples "are taken by UCI-approved officials," that all analysis is done by UCI-accredited labs, and that "the world's leading experts analyze abnormal blood profiles. They advise the UCI on whether to open disciplinary proceedings for a breach of the anti-doping regulations."
But according to USADA's report, UCI has routinely protected Armstrong instead of exposing him. In a 2002 meeting, Armstrong offered UCI at least $100,000. That fits with testimony from cyclists Floyd Landis and Tyler Hamilton—which Armstrong has denied—that Armstrong told them he "flew to the UCI headquarters and made a financial agreement to keep [a] positive test hidden." When a French newspaper reported in 2005 that six of Armstrong's 1999 blood samples showed EPO doping, UCI appointed an investigator who cleared Armstrong on a technicality. In 2009, the French anti-doping agency, known as AFLD, reported during its joint testing with UCI that Armstrong's team got "privileged information or timing advantages during doping control tests." When Landis implicated Armstrong in an April 30, 2010, email, UCI sued Landis instead of investigating Armstrong. In May 2011, when Hamilton publicly implicated Armstrong, UCI official Hein Verbruggen dismissed the idea, insisting "Lance Armstrong has never used doping." No UCI representative even met with Landis or Hamilton. And four days after Armstrong sued USADA last year, claiming it had no authority over him, UCI—suddenly reversing itself—sent USADA a letter agreeing with cycling's top dog.
Worse, the report indicates that UCI's protection of dopers extends beyond Armstrong:
As set forth in the affidavit of former professional cyclist Jörg Jaksche, the UCI has responded with similar disdain and disinterest towards other cyclists that have tried to bring forth evidence of the serious extent of doping within the peloton. After coming forward and admitting doping in 2007, Mr. Jaksche spoke with UCI lawyers and officials, including [UCI President Pat] McQuaid, seeking to explain the level of doping that had been taking place on Team Telekom, ONCE, CSC and Liberty Seguros, however, according to Mr. Jaksche, "the UCI showed zero interest in hearing the full story about doping on these teams and did not seek to follow up with me." Rather, Jaksche reports that "McQuaid told me he would have liked me to have handled things differently …"

If these allegations are true, UCI is like a dirty cop, or a police department gone rotten from the top down. In criminal cases, prosecutors concerned about corruption sometimes flip mobsters, even those high up in the food chain, to testify against police officers, if they see the crooked cop as the larger problem. After all, institutional corruption can pose the greater future threat. In the 2007 Chicago Mafia trial, for example, former mob boss Frank Calabrese Jr., author of the tell-all book Operation Family Secrets, was the star witness, and the five convicted men included retired Chicago police officer Anthony Doyle. The trial included testimony about Mafia payoffs to other officers, including former chief of detectives William Hanhardt, who'd been indicted for leading a $5 million jewelry theft ring at the end of a storied career in law enforcement. The woman who flipped on him was a former accomplice.
Institutional corruption is a known problem in doping. In 2003, a doctor who directed the United States Olympic Committee's drug control administration produced documents showing that 100 American athletes who competed in the Olympics had failed drug tests that should have disqualified them. The batch included Carl Lewis, the amazing sprinter and long jumper. He'd tested positive three times before the 1988 Olympics for banned stimulants. Lewis was initially banned from the Seoul Olympics in response to the doctor's revelations, but the USOC overturned that decision, accepting Lewis' explanation that he'd used the drugs inadvertently. Other athletes gave the same excuse and were also cleared. In a 2003 interview, Lewis admitted to testing positive three times but said he was just one of many American athletes to duck punishment. "There were hundreds of people getting off," he said. "Everyone was treated the same." By the time he admitted this, Lewis had retired, and the International Olympic Committee declined to review his case because a three-year statute of limitation had passed.
It's galling, for sure, to imagine Armstrong—the man who seems to have bullied an entire sport into doping—blowing the whistle on anyone else. But exposing UCI's brass could turn out to be more crucial to cleaning up the sport. The only way we'll know whether a deal is worthwhile is to see Armstrong's evidence against them. Let's hear what he has to say.
---