If you scroll down, you'll probably notice that you've seen most of these photographs—if not all of them—before.
What do they have in common? Each of these photos took the Internet by storm this year. Despite their differences, all of these images gained steam in just a few hours and were re-posted over and over (and over) again, making these photos our favorites of the countless viral images of year.
We picked each image here for a different reason. Some captured a historic moment, some made us laugh, some sparked fierce intellectual debate. And they all made us feel something. Each compelled us to want to share what we saw in front of us.
Obama's Victory Hug
When campaign photographer Scout Tufankjian snapped a photo of President Barack Obama hugging Michelle at an August rally in Iowa, she had no idea that the private moment would go viral just a few months later. But after news came that Obama had won re-election, his campaign tweeted out the image, captioned with the phrase: "Four more years." Within hours, the post went on to become the most retweeted in Twitter history, and the tender embrace quickly became Facebook's most-liked photo of all time. Tufankjian later admitted in an exclusive interview with Slate that she felt the photo's popularity lay within the image itself: "It's about the message and how people feel about the Obamas and especially how people feel about the Obamas in that moment. It's not the composition or anything." Composition or not, this photo of the president hugging his wife has became the one of the most iconic images of this year's election.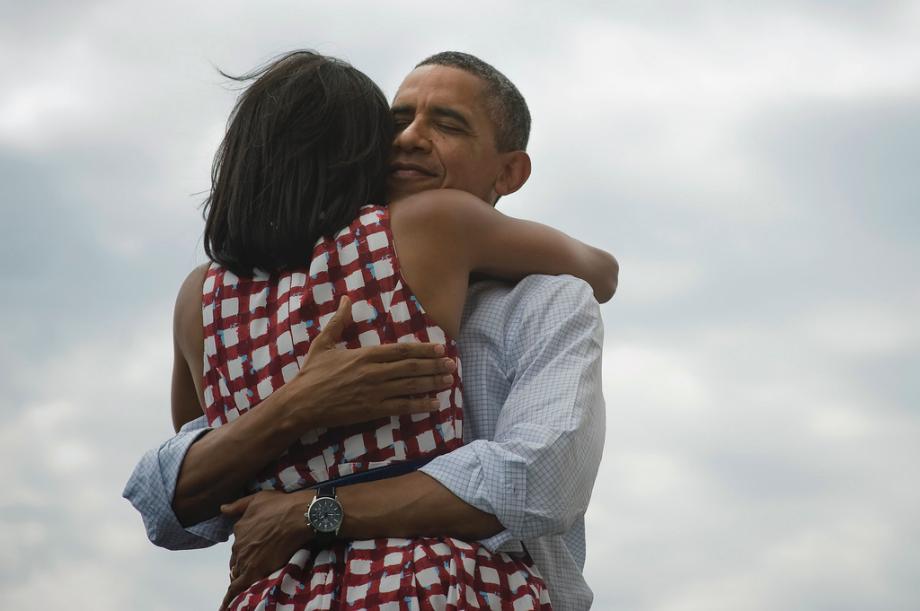 Hillary Clinton Checking Her Phone
In April, a seemingly ordinary photo of Secretary of State Hillary Clinton unleashed a flood of memes that would become shared all over the Internet. The simple image of the secretary of state, glancing down at her phone on a flight to Tripoli in October 2011, became a part of "Texts from Hillary," a string of user-generated memes that featured Clinton responding to various politicians and government officials with witty one-liners and clever quips via imagined texts. The official "Texts From Hillary Clinton" Tumblr account garnered attention from Clinton herself, who even acknowledged the existence of the funny meme—and sent in her own submission. According to the creators of the blog, 32 posts, 83,000 shares on Facebook, 8,400 Twitter followers, and more than 45K Tumblr followers were created within the first week that the Tumblr account went viral. This image captured a moment of Clinton's increasing rise in popularity, showcasing her as a fearless and strong female leader.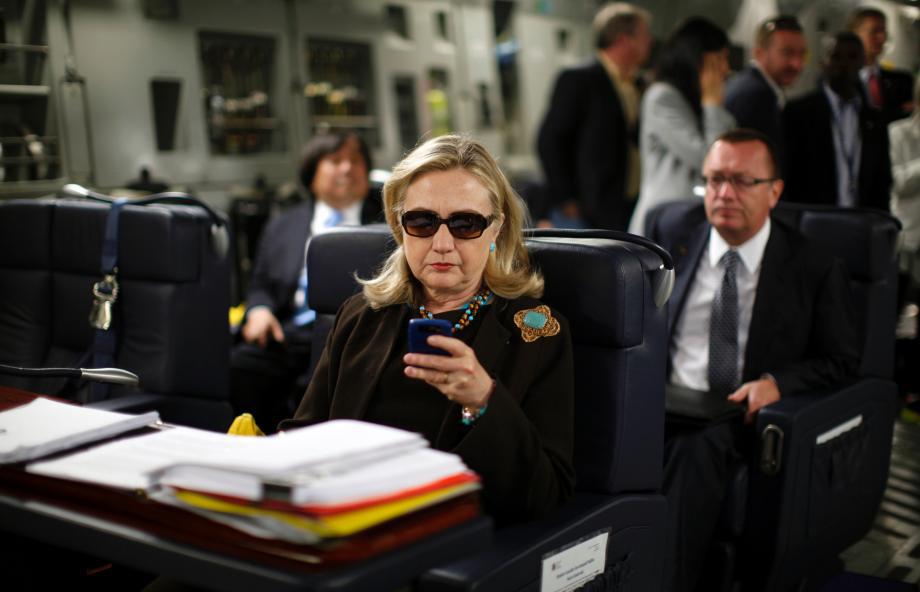 The Mysterious Blue Eyeball
When a giant blue eyeball washed up off the shore of Florida in October this year, this photograph of the mysteriously disembodied specimen gained popularity all over the Internet. Indeed, the image of the humongous eye (the size of a softball) cradled between two gloved hands piqued the curiosity of viewers everywhere—what kind of creature did it come from? And how did the slimy eyeball end up all by itself, on a sandy beach? Since then, scientists have concluded that the strange, almost human-like eye belonged to a swordfish—and that it was most likely severed from a dead swordfish by fishermen who intended to keep it as a some type of souvenir. But in some ways, it's more fun for the image to be left unexplained. It shows how interesting and mysterious the natural world around us can be.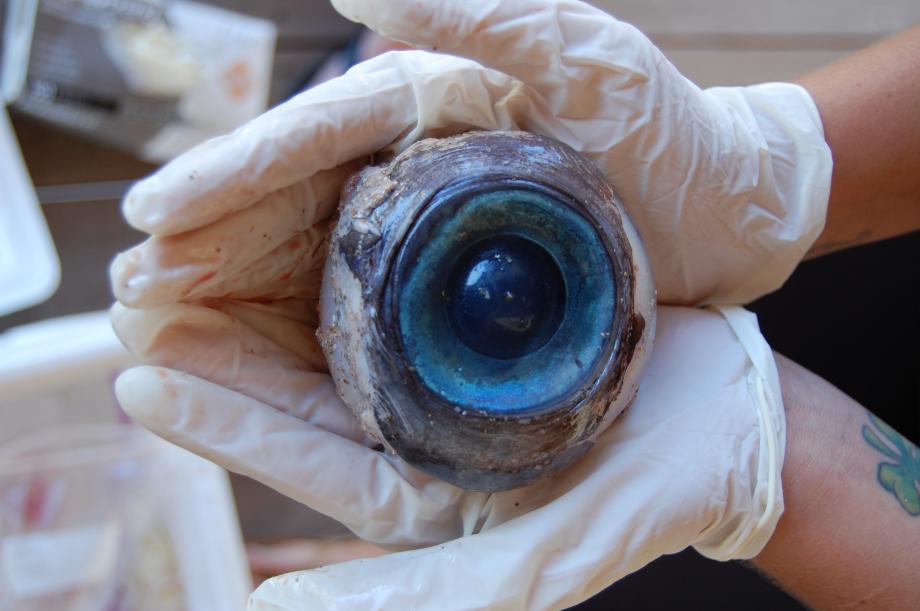 New York Post's Cover
On Dec. 3, 58-year-old Queens man Ki-Suck Han was struck and killed by a subway car after being pushed onto the tracks by a homeless man, Naeem Davis. The next day, a horrific image of Han, scrambling to escape from the tracks just seconds before the arrival of the train, appeared on the cover of the New York Post. The painfully real image of a person, frozen in the last moments of his life, shocked and disturbed viewers everywhere—drawing criticism from those who felt that the haunting cover, with the headline "DOOMED," had gone too far with sensationalism. R. Umar Abbasi, the freelance photojournalist who captured the now-famous image, also came under fire from many who felt that he had the opportunity to help Han, but chose to document the tragedy instead. Abbasi later defended his position to the Times: "Every time I close my eyes, I see the image of death," he said. "I don't care about a photograph."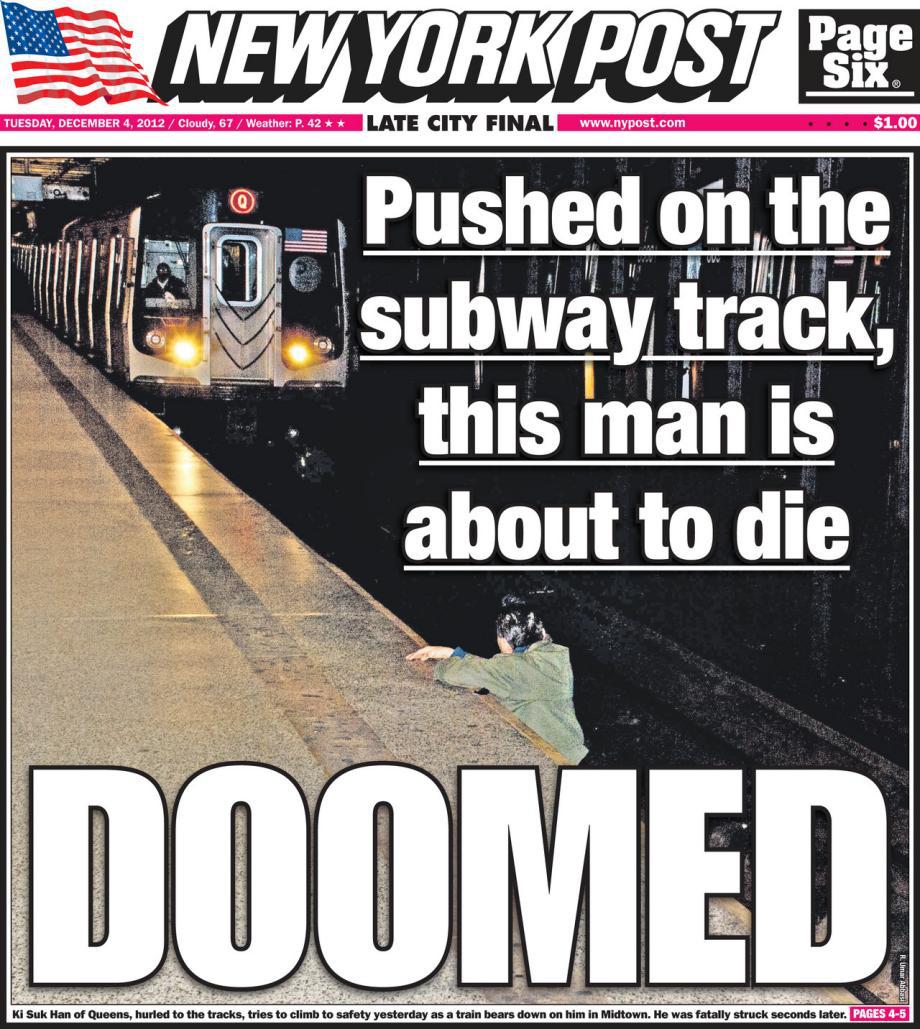 Paul Ryan Doing the Dishes
In October, a photograph of Republican vice presidential candidate Paul Ryan washing dishes at a soup kitchen gained steam around the Web—but not because netizens were proud of the former Wisconsin congressman for doing a good deed. After the Washington Post noted that the large metal pans "did not appear to be dirty," word spread far and wide that the Romney campaign had forced their way into the Mahoning County St. Vincent De Paul Society in Ohio without permission and that Ryan was actually rewashing already clean pots and pans—all for a staged photo op. But the claims that Ryan had been "pretending" to wash dishes was later dismissed when the soup kitchen confirmed that Ryan had, indeed, washed dirty dishes—but not in the way that they had wanted. Later, a local newspaper reported that Ryan's staff had asked volunteers "to leave some pots and pans unwashed so that the VP nominee and his family could do something when he arrived." Given the former VP's interest in cutting social programs, the charge that Ryan was a phony when it comes to helping others was one that firmly stuck.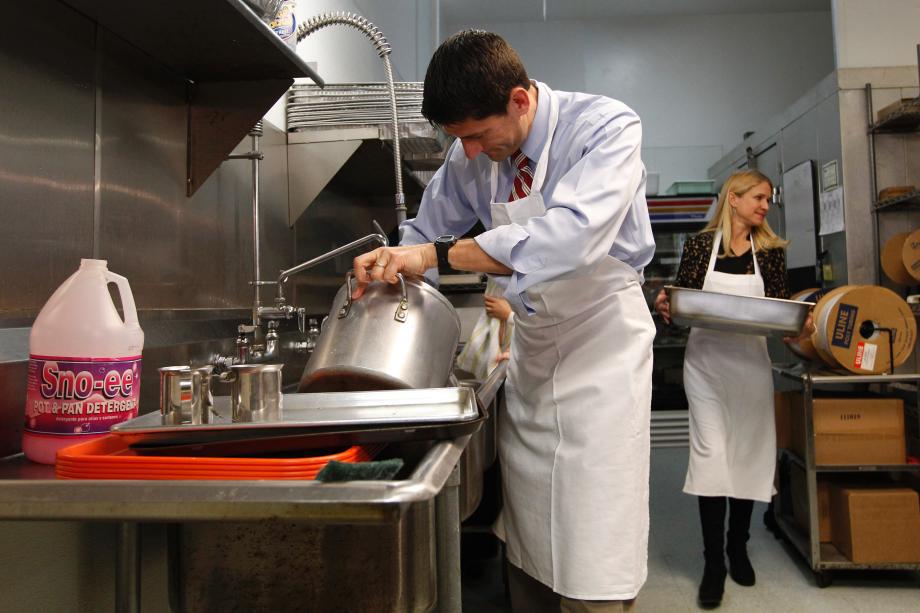 The Former NFL Player's Instagram Photo

Former NFL linebacker Dhani Jones just happened to be sitting on a Delta flight over Queens when a derecho hailstorm hit New York City in July. While his plane was circling LaGuardia Airport, Jones snapped a photo through his airplane window of the powerful storm brewing—and posted it on Twitter and on popular photo-sharing site Instagram. Within hours, the mesmerizing image was reposted all over the Internet, showing New Yorkers, East Coasters—and the world—what later turned out to be only a small taste of the extreme weather that would befall New York in 2012.
New York Magazine's Cover, Post-Sandy
In early November, Hurricane Sandy left large chunks of New York City—not to mention huge blocks of the Northeast—without power, water, or gas. Despite the widespread devastation, media organizations scrambled to survey the damage and report back to the public. And from the chaos emerged the unforgettable cover of New York Magazine—a striking aerial photo that revealed the eerie post-hurricane state of once-vibrant Manhattan: now half-shrouded in darkness. The powerful image, which was shot from a helicopter by Dutch architecture photographer Iwan Baan, captured the nation's attention immediately. New York Magazine editors wrote that the photo was the "clear choice" for the issue's cover: "It fit with the bigger story we have tried to tell here about a powerful city rendered powerless."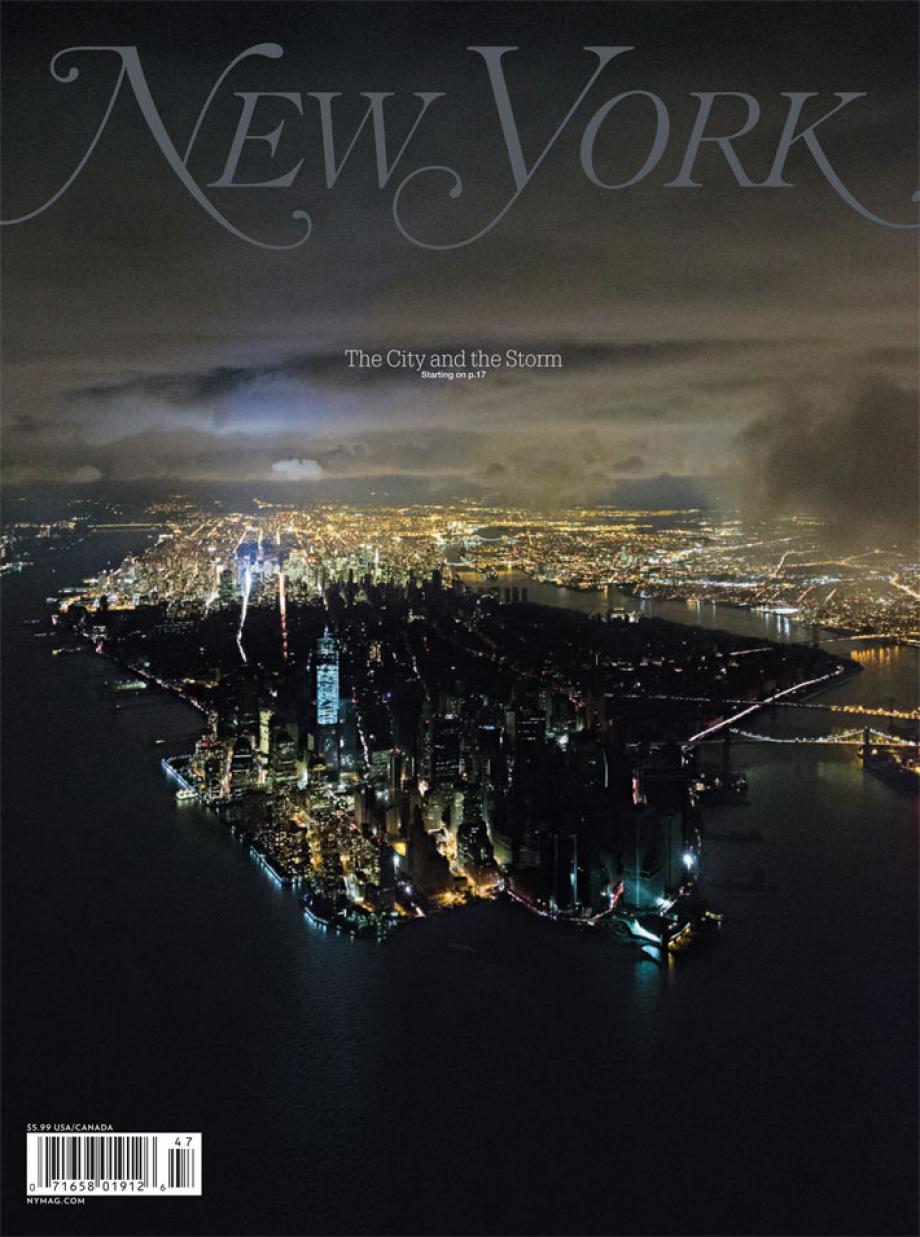 McKayla Maroney Is Not Impressed
At this year's Olympics, American gymnast McKayla Maroney won the silver medal for women's vault—no small feat by any means. But the 16-year-old was far from ecstatic, especially since the gold had seemingly slipped through her fingers. (Although Maroney was known for having executed the routine perfectly many times before, she fell unexpectedly the one time it counted, and it pushed her into second place.) Right before accepting her medal, a moment of disappointment crept across Maroney's face—and it was this look of frustration that spread like wildfire all across the Web. This photo of her dissatisfied expression—crossed arms, lips pursed to the side and all—soon brought on a storm of memes, all captioned: "McKayla is not impressed." Maroney was soon cast as being a "sore loser" and "brat" because of her reaction to the stunning loss, but she soon made it clear that it had nothing to do with feeling jealousy toward her Russian competitor—it was more about anger toward herself. "I didn't deserve to win gold if I landed on my butt. I'm not disappointed about the silver; I'm disappointed about my performance," Maroney said shortly after settling for the silver medal. While many continued to criticize Maroney for "poor sportsmanship," Salon's Mary Elizabeth Williams saw it quite differently: "She's a 16-year-old who got up from the kind of shocking, public, humiliating disappointment that few of us can even imagine, and, with every camera in the world trained on her face, couldn't plaster on a fake smile. That doesn't make her a sore loser. It makes her real and human."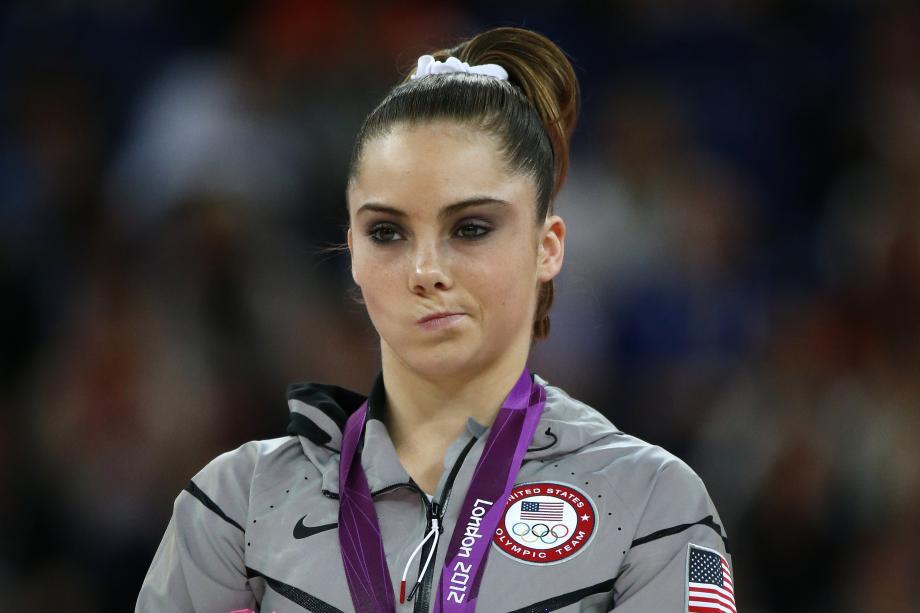 Stingray Photobomb
In September, a photo of a stingray sneaking up on a group of seemingly horrified vacationers went viral. After it was originally posted on Reddit, the stingray "photobomb" gained steam quickly—making viewers ask: Was it staged? Photoshopped? And what exactly was the story behind the image? As it turns out, the photo had been taken five years ago, when the three women in the photo—Sarah Bourland, Natalie Zaysoff, and Kendall Harlan—were on a spring break cruise in the Cayman Islands … at Stingray Island, to be exact. The three had been willingly taking photos with the stingray, but had no idea that their photographer would later unexpectedly put the slimy creature on their backs without them knowing, as a joke. Despite the fact that the image was somewhat staged (the smiling stingray is a fairly common Caribbean photo op, according to The New Yorker), Bourland told HuffPost in September: "Our reactions are genuine, and the photographer snapped the photo at the perfect time! We had no idea that the photo was so brilliant until later when he showed us the proof." The women had been trying to get the photo onto The Ellen DeGeneres Show for five years unsuccessfully before it finally became popular.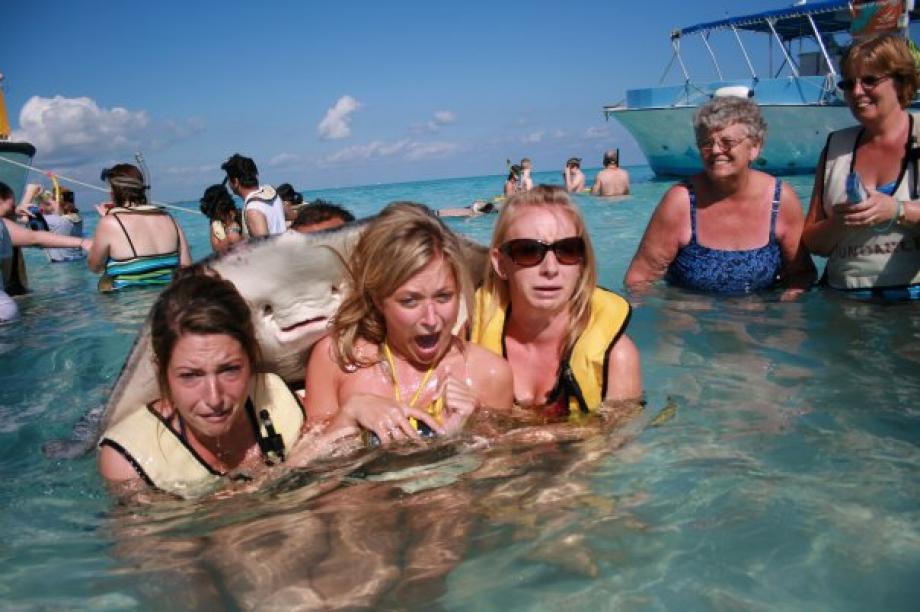 Time Magazine's Breast-Feeding Cover

In May, Time magazine pushed boundaries with their controversial cover—which featured a photo of 26-year-old mother Jamie Lynne Grumet breast-feeding her 3-year-old son. The provocative image, which broke social taboos about parenthood and breast-feeding older children, drew criticism from those who felt that the image was offensive and extreme. Nevertheless, the cover—titled "Are You Mom Enough?" became widely discussed and shared all over social media outlets."We knew exactly what we were going to get into," Grumet told USA Today in an interview. "I do understand why Time chose this picture because … it did create such a media craze to get the dialogue talking."