A funny thing happened the last time I was taking in a performance of Beethoven's Fifth Symphony (just a few minutes ago). Right smack in the middle of the blaring finale, the conductor reminded me that the composer's contemporaries "accused him of being drunk when he wrote these pieces."
The baton-swinger, Esa-Pekka Salonen, didn't have to stop the Philharmonia to tell me this, because the performance I was watching wasn't live, but playing on an iPad. Nor did the sound of his voice obscure the main aural attraction, since his words were running as a subtitle track sandwiched in between four different simultaneous views of the world-class ensemble and a "curated score" of Beethoven's famous work, its notes running across my screen in real time.
Welcome to The Orchestra—a flat-out astounding new app produced by Touch Press, the Philharmonia Orchestra and its principal conductor Salonen. At $13.99, it's not only one of the best albums—you know, a longish compilation of music—you could purchase for someone this holiday season; it's an app that could easily change how you consume classical music outside of the concert hall. Or how we introduce new listeners to symphonic works in the first place.
Aside from a chuckle over imagining Beethoven pounding back lager after lager and coming up with something as well-constructed as his Symphony No. 5—"which might actually be the case," Salonen allows—the value of the little history lesson was its reminder that orchestra music has been, and can continue to be, an audience-shocker. This argument has not always been the easiest one to make in recent decades. (How many times have you told yourself that a bit more classical music appreciation in your life would be good for you? And how persuasive was that approach?) Even needing to argue that the symphony isn't as tired a tradition as one might think is to have granted a fairly fatal premise right off the bat.
And yet, even in recent times, new media formats have tended to offer fresh opportunities for unusually powerful symphonic advocacy. The Orchestra, as it happens, harkens back to these past, populist efforts to democratize the public's understanding of classical music—think Leonard Bernstein's televised Young People's Concerts on CBS in the '60s, or Benjamin Britten's Young Person's Guide to the Orchestra (once again used to marvelous effect this year in Moonrise Kingdom). But Salonen's venture wisely avoids trying to recapture the form or mediated rhythms of those storied successes. Physical copies of recordings, after all, are pretty much dead. Conductors aren't going to be invited back to occupy whole hours of network TV time ever again. So: on to the app store.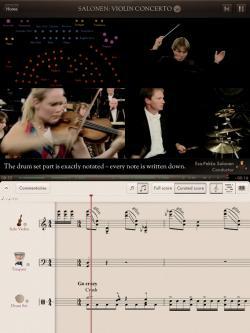 The Philharmonia's success here wasn't guaranteed merely by its being the first orchestra to upload some videos to a tablet's app store. Rather, their opening gambit was deeply thought through by people who understand both Mahler and the iPad. Because the best thing about the app is its synchronous way of making you feel and see various musical values at once, you will derive the best experience of The Orchestra by listening only to the musicians, and having the rest of the app's information delivered visually. The swooping and aggressive harp glissandos that come during the "Princesses Intercede …" movement of Igor Stravinsky's "Firebird" ballet are exciting enough as pure sound, but this app gets carried right along with the music's kinetic qualities: The score speeds expressively through each punchy liftoff in 6/8 time, while, above, a bird's-eye "BeatMap" graphic of the orchestra pulses to signal which instruments are required at each second in order to whip up the overall noise. The presentation of performance video and graphical information is where the app is elevated beyond being a pleasing curiosity and into something that feels legitimately groundbreaking in our appreciation of music—as though there might be a day when they give out Grammys for app-making. You needn't be totally comfortable reading musical notation in order to find value in looking at a score; at one vivid juncture of Salonen's own violin concerto, you can read how the drummer at a "heavy rock kit" is advised to "Go crazy." (And if you can't read music, there's a tablature-style reduction that drives home basic information, in a way that will feel familiar to users of GarageBand.)
Salonen's choices of repertoire are gratifyingly diverse: You get a taste of Haydn's Symphony No. 6, the march to the gallows in Berlioz's Symphonie Fantastique, and then a dive straight into the ever-more-complex orchestrations of the 20th and 21st centuries. Mahler likes his heavy-as-fuck marches; Stravinsky's "Firebird" is rhythm-mad and overflowing with folk tunes; and, brash though his self-anthologizing may seem, Salonen's recent concerto hangs surprisingly well with this exalted company. (A full recording of Salonen's new work was also released on regular old CDs and MP3s in 2012. It's hearable on Spotify, as well.) All this music is worthy, and all of it is strikingly performed, but more importantly, the app lets you into the music from many angles at once, giving new views on the artistry and technical prowess behind the writing, and playing, of some of the world's greatest music.
This is revolutionary, because in the half-century after Leonard Bernstein's famously telegenic lectures, conductors everywhere have followed Bernstein's example—connecting with audiences by talking at them in between bouts of actually making music. The problem is that hardly anyone is as charming as Leonard Bernstein. (Useful as it may be, it's also a momentum-killer for a conductor to stop a symphony rehearsal, turn to the audience, and talk about what just happened.)
Salonen isn't Bernstein, either—he's a bit icy, and even I wanted to mime drinking champagne from an imaginary glass, pinky extended, when I heard him describe himself as the conductor of the "Phil-har-MOANNN-ia" during a promotional video. But in The Orchestra all of that superficial stuff matters not at all. His commentary comes tied to the music and the visuals. Sometimes it's not even necessary for the conductor-composer, insightful as he is, to say much. ("There's a lot happening in this score," Salonen offers at one point, during some extravagantly virtuoso playing of the Stravinsky. Well, yes!)
The only downside, so far, is that because iPad apps are limited to sizes of 2 gigs and under, most of the pieces are delivered as fragments; only Debussy's short masterpiece Prélude à l'après-midi d'un Faune is played in its entirety. But the smashing success of The Orchestra in its debut form argues for future iterations—or even a subscription model—not least because the revelation here is how well partnered old-fashioned orchestral music can be with the requirements of modern, information-overload-style entertainment.
Best of all, The Orchestra is no techno-utopian attempt to do away with the concert hall. Rather, it's an invitation for new listeners to get comfortable with the density of informational delight that can be had there. Salonen and his Philharmonia have also been making that case on tour of late; I recently had a great evening at Lincoln Center when checking out their rigorously edgy performance of Alban Berg's opera Wozzeck. The live orchestra experience is always going to be the ideal for wallop and immersive pleasure. But until these musicians come around to your town, consider dropping $14 to meet them in app form. Think of The Orchestra, and the wave of symphony apps that ought to follow in its wake, the way you once did of "albums"—as exquisitely good advertisements for a product that still manages to best your expectations once you travel to get it in the real world.