Standing at an impressive 5-feet-8-inches high, Katrin Korfmann's photographs are hard to miss. Easier to miss—at first glance—are the details. Seen from a distance, Korfmann's images are often mistaken for abstract paintings with bold colors and radical brushstrokes. When examined closely, those brushstrokes become snow or ice, pavement or grass, or even a red carpet; the dots are often people.
Korfmann's work explores human similarities—when seen from hundreds of feet in the air.
"In the bird's-eye view people look alike," Korfmann said in a Skype interview from her home in Amsterdam (she grew up in Berlin). "The idea is to create two dimensions: one when you see it from far away and another when you zoom in and see it from very close. Then you see all the differences: in the clothes they wear, the things they carry."
Korfmann's work, Cobra, for example, could be a swooping gray brushstroke digging into a thick white impasto. On closer inspection, though, the blobs are, in fact, skaters on a frozen pond, the brushstroke is the path swept into the snow.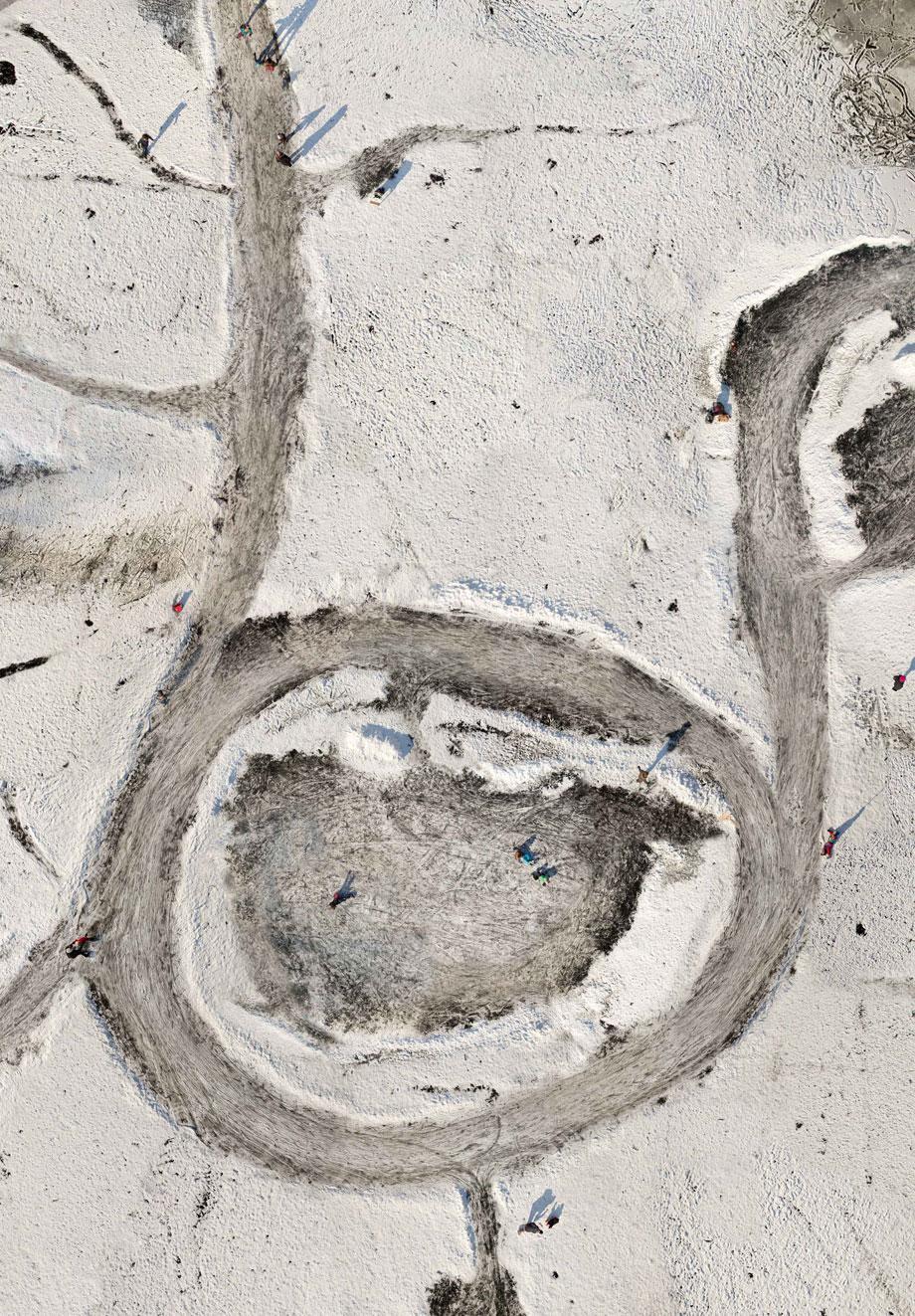 Waiting for Julia records three separate premières at the Berlinale, the international film festival in Berlin.
"I'm looking for locations where the ground is interesting, or where there's a pattern on the floor," Korfmann said, noting that the red carpet at the festival caught her attention. "I liked the idea with the red carpet that it could be anywhere. What I photographed was in Berlin, but actually it doesn't matter … what people do when they pose on the red carpet, the location doesn't matter anymore."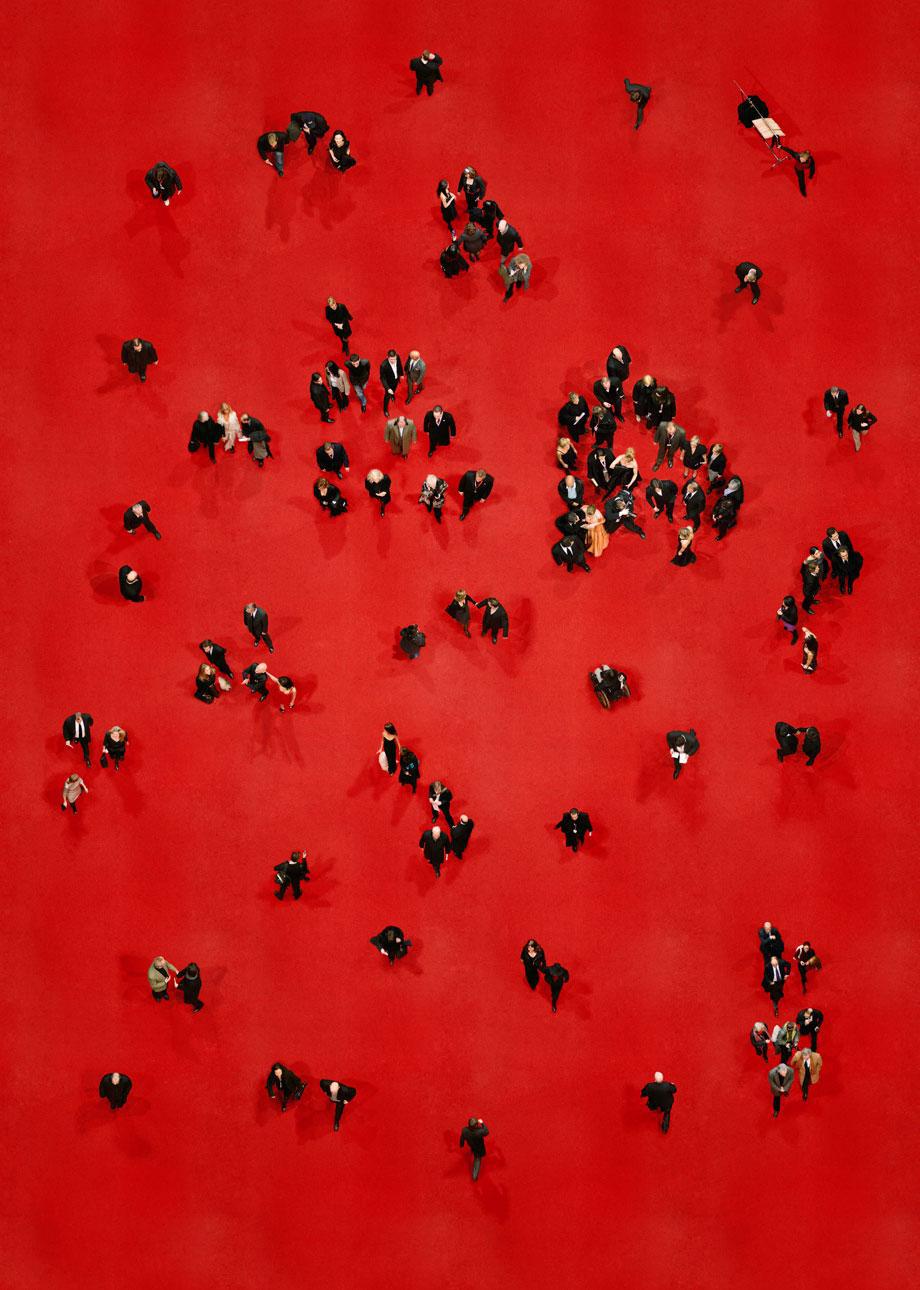 Korfmann knows how to keep her feet on the ground. When shooting, her cameras are elevated by a crane or they are operated by her from street-level using a remote-controlled helicam. While shooting, she is constantly surveying the scene, shooting from 10 minutes to several hours. Rather than capturing a moment with one snap of the shutter, Korfmann records the experience of being in a certain place by integrating multiple images.
Editing can take two or three months as she selects and blends the 500 to 2,000 shots that will make up the final image. Korfmann manipulates shadows and exposure to create an image that appears to have been taken at one point in time. She titles her images with numerals that detail the number and duration of the shooting sessions.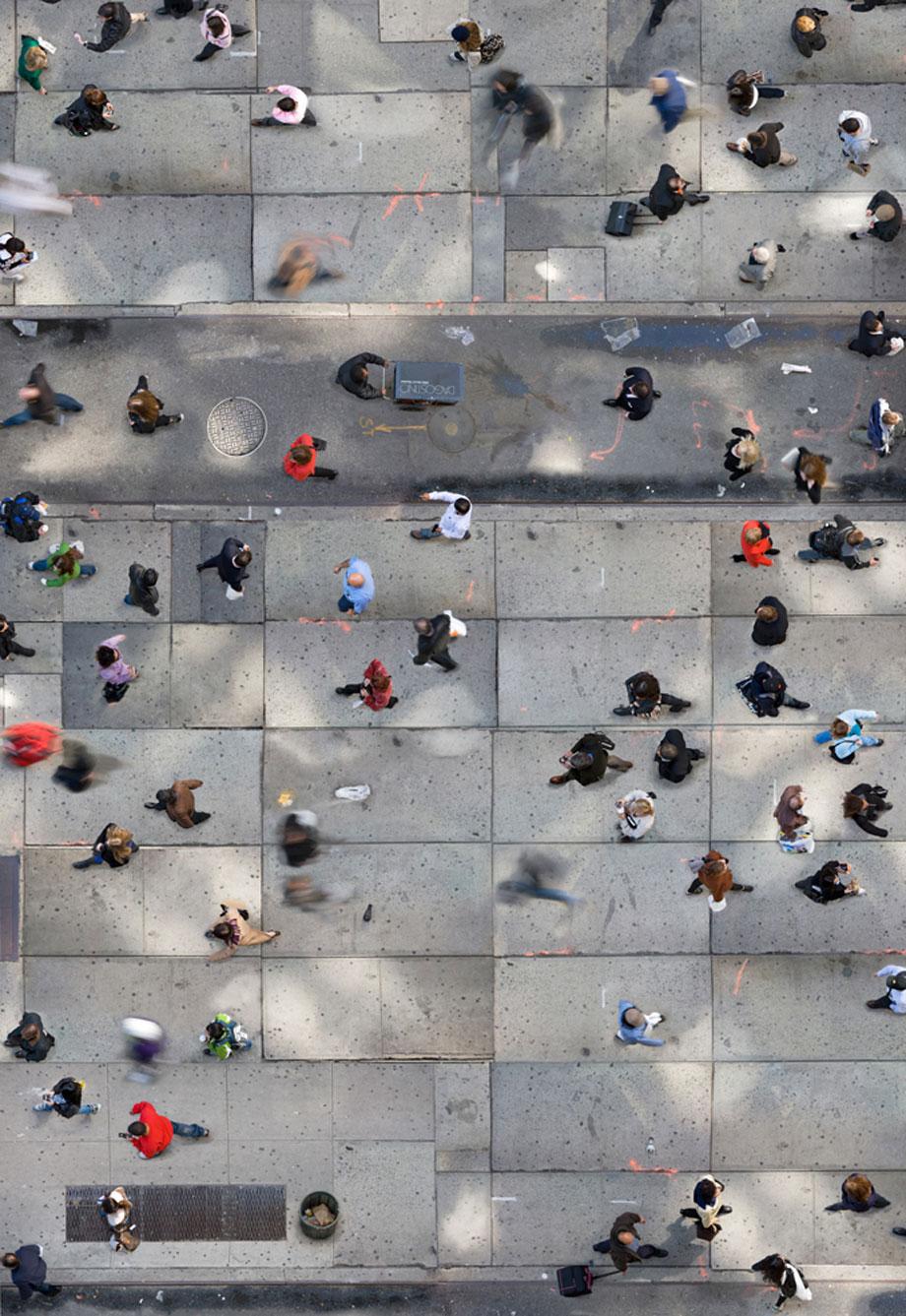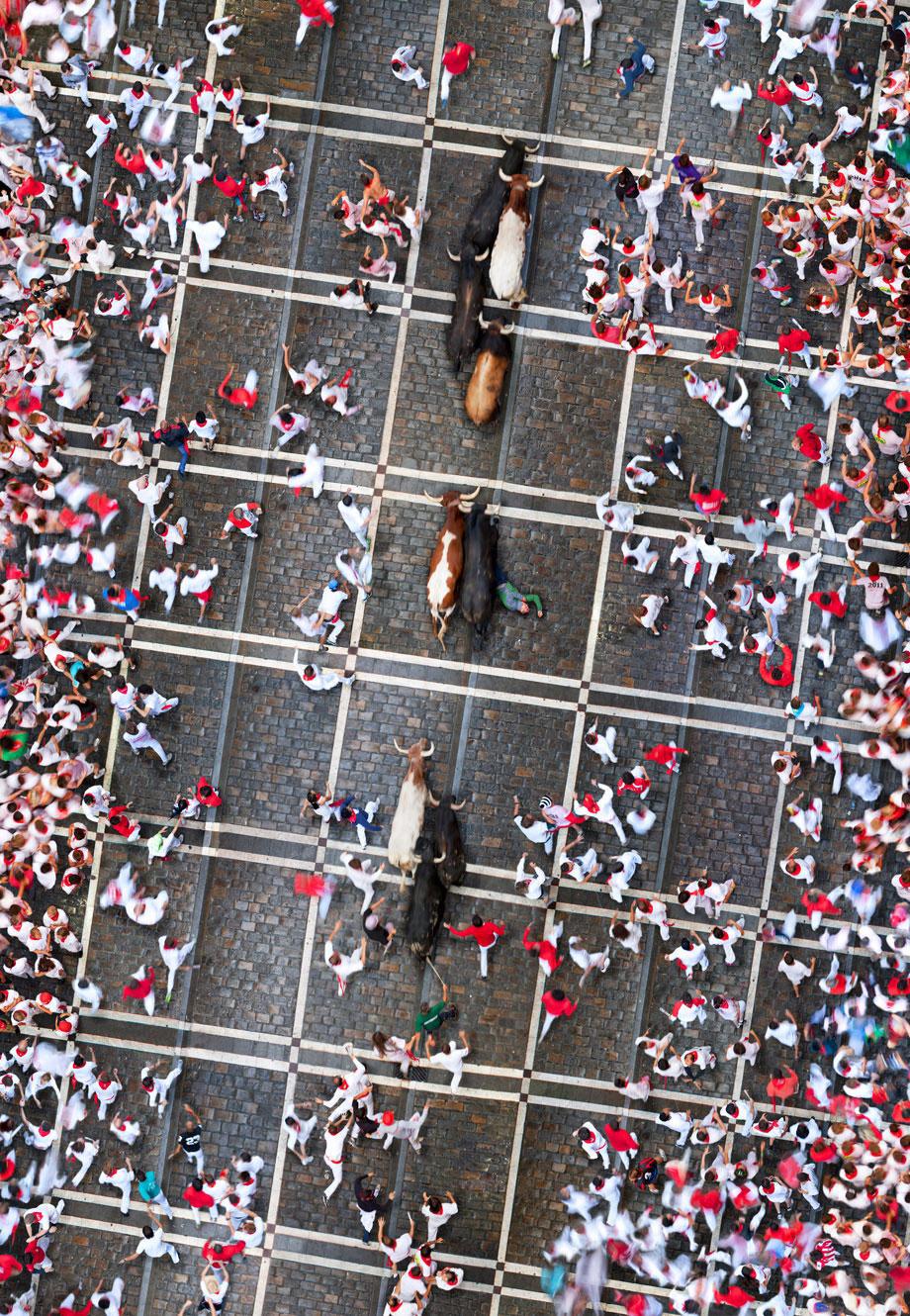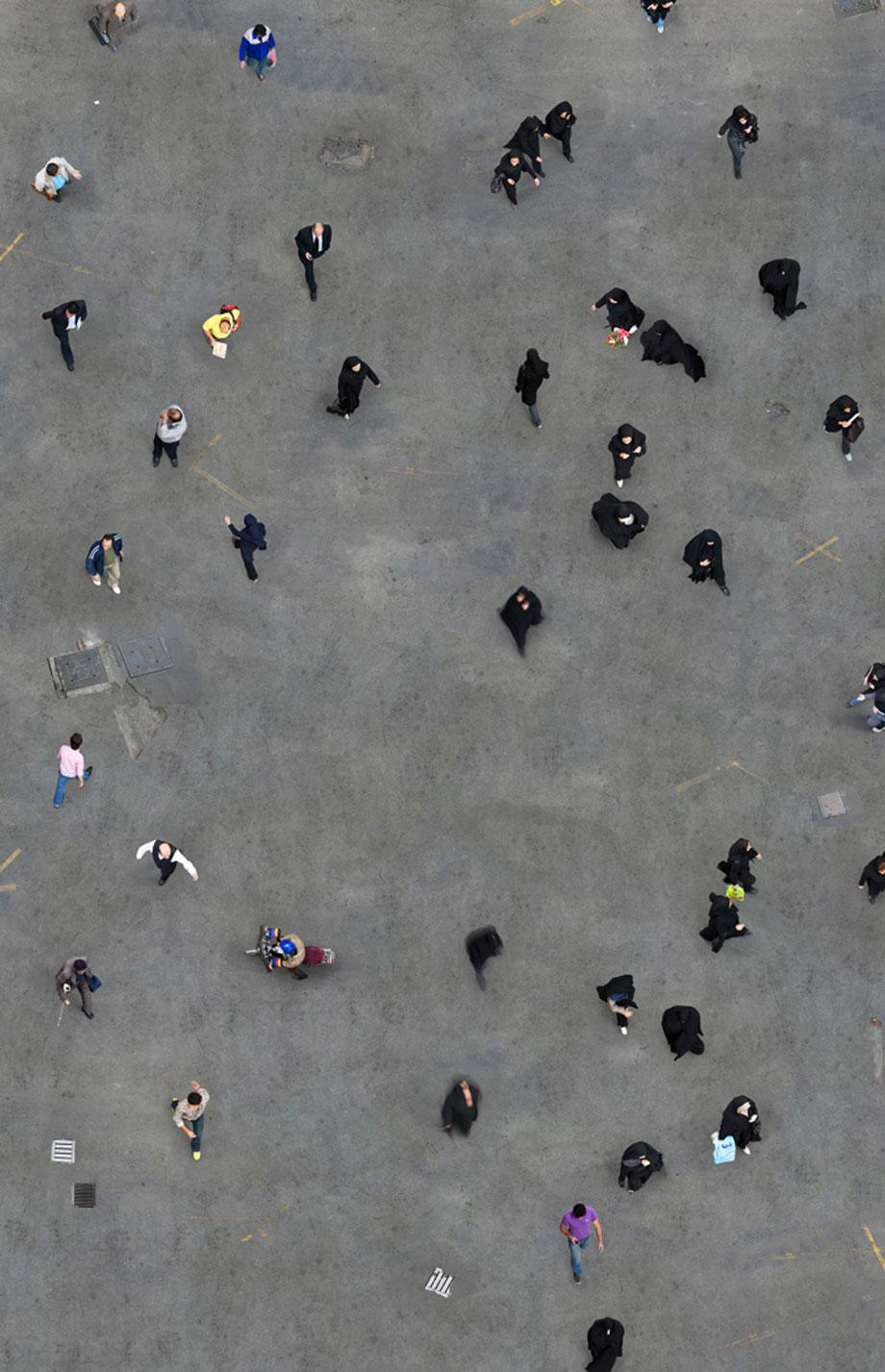 One of the issues she has explored in her photography is how people interact with the camera.
In Horizon Vanished, which was taken in a square in Amsterdam, three Turkish women looked up and started to wave.
"But when you see them in the shadow waving it looks like they are forming a fist," said Korfmann.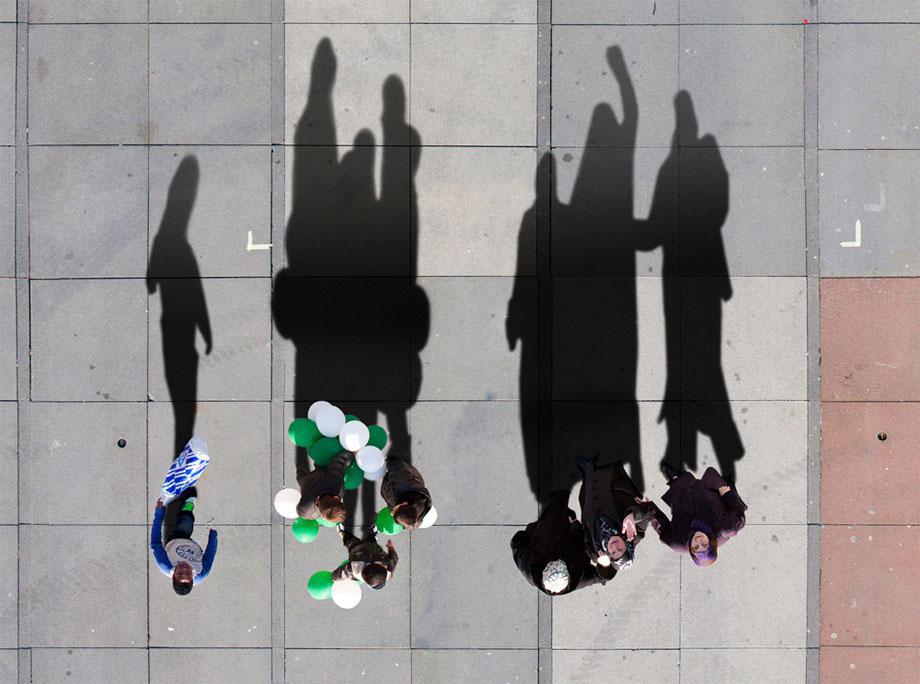 In Kolorit people literally color the scene. Celebrants are tossing colored powder at one another at the Hindu spring festival Holi. "With the 'Count for Nothing' series I'm always looking for this monochrome background," Korfmann said. "When I saw these pictures from India I thought, oh, that's so great because the background, the color, is actually on the people. The color becomes the surface of the people—becomes the foreground."Hed: It's a Helicam! It's a Crane! It's Thousands of Images Shot From Above