Donnie Andrews, the real-life inspiration for one of The Wire's most beloved characters, Omar Little, has passed away after an emergency heart surgery. Andrews, who spent his youth in Baltimore robbing drug dealers with a .44 magnum, first met David Simon, creator of the show, while he was serving a life sentence in a Phoenix prison for murder. Simon was then a reporter for The Baltimore Sun, and he would later become the writing partner of homicide detective Ed Burns, to whom Andrews turned himself in after what he says was his one and only murder. In prison, Andrews became one of the Baltimore Police Department's best informants for all of the gang and drug-related activity in the city.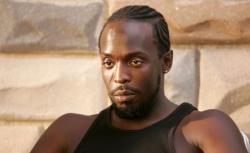 Andrews devoted his time in prison to rehabilitation, and, after serving only 17 years, he was released in 2005. He was helped by testimonies from several people who helped put him behind bars—as well as Fran Boyd, a recovering drug addict whom he later married, and who also collaborated with Simon. (She is one of the principal characters in the book he co-wrote with Burns, The Corner.) Boyd and the others convinced a judge that Andrews was reformed.
Once free, Andrews joined the writing staff of The Wire, using his personal experiences and stories to help create the character of Omar—a composite of Andrews and several other Baltimore stick-up men. He even landed a spot among the other local cast members, playing a character also named Donnie, a member the inner circle of Butchie, one of Omar's most trusted friends on the show. Andrews' final scene, in which Omar narrowly escapes an ambush by Marlo Stanfield's crew by jumping out of a fifth-story window, was based on Andrews' own alleged experience—though he claimed it was actually a sixth-story window.
Andrews was reportedly nearing 60. Earlier this year, DeAndre McCullough, who featured prominently in the Simon and Burns book The Corner and also played a part on The Wire, died at age 35.