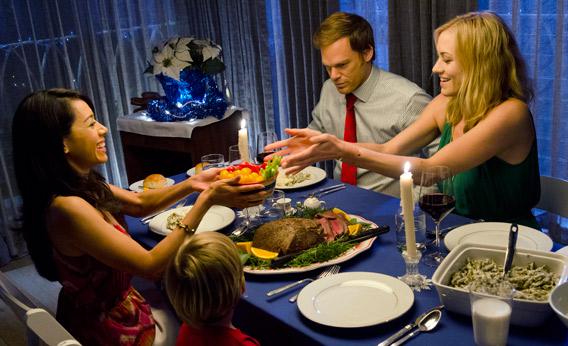 Here we are, Dexter viewers, waiting for the finale as questions hover like one of Dexter's ghost companions over our heads. Chief among them: Did Hannah actually sabotage Deb with a bottle of Xanax water? Or did a frantic Deb drug herself in order to place her brother's murderous girlfriend safely behind bars?
While HuffPo writer (and last week's TV club guest) Alex Moaba thinks the accident has "Hannah's fingerprints all over" it, Cory Barker at tv.com picks door number two—and quickly heads off our objections.
"Before you even say it, yes, I know that would mean that Deb stupidly put herself behind the wheel of a car and could have killed herself to prove a point. And I think that's why it happened: Deb wants to remove Hannah from the equation so badly that she took a really, really stupid risk. That's who she is, and that's the kind of thing she does for her brother."
On the comment boards, people are inclined to agree with Barker. AmyEM, nax, Darth and Good Eric all floated, with varying degrees of conviction, the same hypothesis, and several of them highlighted Deb's vow to "do whatever it takes" to keep Dexter and Hannah apart. Yet Darth also voices an intriguing alternative theory—that Arlene Shram, Hannah's roommate from the halfway house, tampered with the water out of loyalty to Hannah (not to mention that Deb threatened to separate her from her kids). Hey—Dexter did find a strand of blonde hair by the medicine cabinet in his sister's apartment, which could just as easily have come from Arlene as from Hannah. Perhaps the subtext of episode 11 has less to do with curdled love and more to do with the general murderous treachery of the towheaded.
Reviewers also latched onto the fidgety ambiguity of Hannah's parting words to Dexter. You should have killed me. For Cassandra Berube at the Baltimore Sun, the shock and hurt behind the line confirmed our heroine's innocence. "I hope Hannah will make it to next season," she writes. "I also hope for world peace and for a credit card with no limit." Moaba calls the moment "heartbreaking." But to Vulture's Richard Rys, the exchange is "shudder-worthy, the first time [Hannah] seems like a true threat, an unhinged psychopath." He continues, "It seems rather unwise to send your diabolical ex-girlfriend to jail when she knows you like to kill people (sometimes even on a first date)." Now there are four non-Morgans at large in Miami who know or strongly suspect Dexter's secret: Hannah, drug lord Hector Estrada, who slipped through Dexter's fingers during a police sting at the shipping yard, the Phantom Arsonist (remember him? He's still in custody!) and police captain Maria LaGuerta. Alyse Wax seems right when she notes on Fear Net that last night's "solid little hour of television" went light on the surprises in order to lay a truly involved groundwork for episode 12.
On another note, I was grateful to Cory Barker for pointing out that, regardless of how you feel about LaGuerta, Matthews' treatment of her is totally despicable. "Everything that comes out of [the retired police chief's] mouth is hateful, sexist and misogynistic," she writes. Yup! And racist too. The trend got so egregious last night that I wondered whether the garland of dead Christmas lights on Matthews' boat was supposed to be a metaphor for the dark synapses in his brain.
Also, I erroneously reported in my original post that a stripper at the Fox Hole paraphrased Nadia's Dear John letter to Quinn while writhing around on a pole. I am very sorry for the confusion: In fact, she was performing a lap dance. 
---