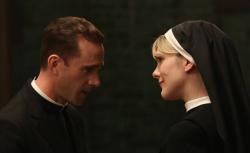 Reading over various recaps around the web this morning, my Christmas cheer has been dampened somewhat by the discovery that, like my chat partner Bryan Reid, most viewers of last night's episode found Santy Claus's visit to Briarcliff to be little more than a gruesome distraction. To be fair, I get the general reasoning: AHS is already a seething mass of storylines and half-explained characters, so do we really need to add another, especially one who takes up an entire episode? I guess I just loved Ian McShane's deranged performance so much that it didn't bother me.
As Chris Harnick theorized over at HuffPo, the producers may have done this "solely to show just how creepy McShane could be and to establish that watching people get murdered while wrapped in Christmas lights is upsetting." Surely that's justification enough, no? Both he and Brian Juergens of After Elton  kind of say "no," so perhaps we'll just have to agree to disagree.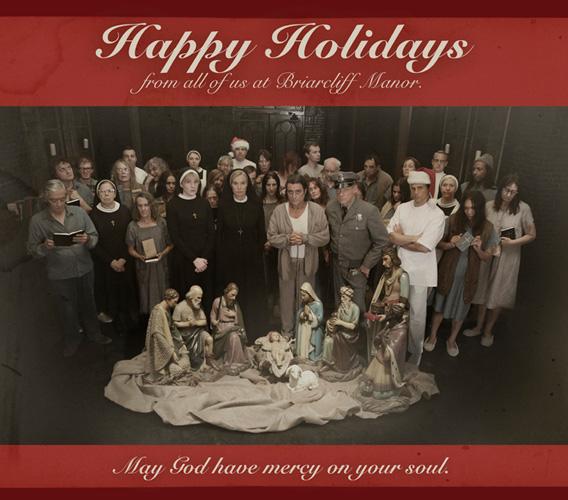 In other news, one glaring revelation that Bryan R. and I both missed last night was the fact that Lana is almost certainly pregnant by Dr. Thredson because, you know, she "forced" him to give her "his intimacy." (Is that not the sickest euphemism for rape you've ever heard?!) Both Harnick and Halle Kiefer of Rolling Stone offered this notion after noticing Lana's vomiting (even though she hadn't eaten anything), and Harnick goes a tantalizing step further, prophesying that "modern-day Bloody Face is growing inside her as we speak." The previews for next week's episode seem to indicate that Dylan McDermott (who Murphy has revealed is playing our modern day killer) will be discussing his "impulses" with a therapist in a nice reversal from last season, so Harnick's theory may be tested sooner rather than later.
Speaking of theories, I have one that I'd love our readers' help with vetting. Did anyone else notice how tweaked-out Sister Mary Demon got about those rubies? Girl looked like a cat to catnip. I googled around a little, but couldn't find for sure if demons are supposed to have a weakness for the red gemstones. If any of you out there are of the theological persuasion, satisfy my curiosity. I think that reaction to the "shit-stained earrings" may have been a clue to the demon's future downfall. Submit your research papers in the comments!
---