Behold is Slate's brand-new photo blog. Like us on Facebook, and follow us on Twitter @beholdphotos and Tumblr. Learn what this space is all about here.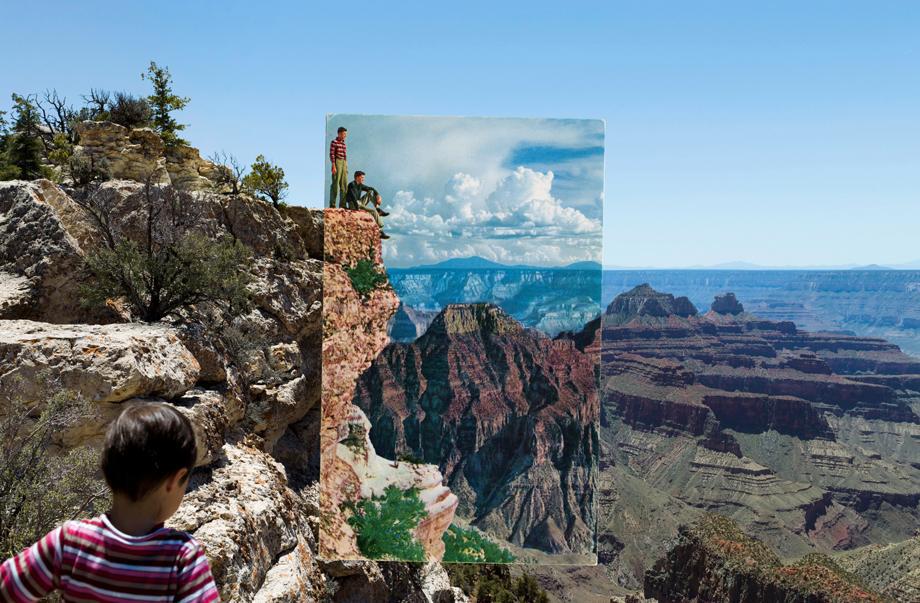 Photographers Mark Klett and Byron Wolfe are fascinated by time's imprint on natural wonders. In Reconstructing the View: The Grand Canyon Photographs of Mark Klett and Byron Wolfe, published in October by University of California Press, the duo spent five years focusing on past and present images of the Grand Canyon to create a whimsical view of one of America's most popular attractions.



In the book, Klett and Wolfe take a playful look at rephotography—a tool used in scientific research as a means of tracking elemental change in the environment by taking photographs from the same precise locations over time. Instead of presenting older and newer images as a continuum to show evidence of change, the duo place the historical image directly over their new photograph of the old location, thereby hiding the very information rephotography would normally provide. By doing this, they also create an entirely new landscape, one in which a window into the past has been opened and time passing can be seen as only part of the story.
It seems natural that their work would converge this way, since both photographers have a background in science (Klett in geology and Wolfe in biology and anthropology). They met when Wolfe was one of Klett's grad students in photography. Once they picked the Grand Canyon as a subject, they began the massive undertaking of choosing locations; hording source imagery they found online, in museums, and in antique stores; and eventually coming up with the best intersections between the various old and new materials.
Klett and Wolfe have developed a sort of visual encyclopedia of a place, with no rule as to how comprehensive it must be nor how few or many manners of representation are acceptable. In the end, their method of image combination leaves the viewer with the impression that time and space—at least at the Grand Canyon—isn't finite.