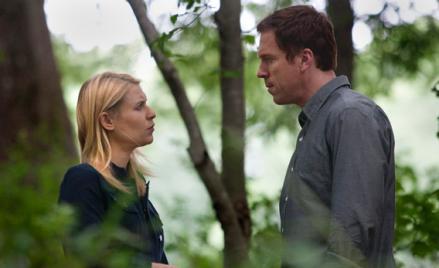 Never has an episode of Homeland garnered such contrasting responses. For some, like Esquire's Alex Berenson, it was a disappointment: Berenson reckoned it "featured some of the lousiest dialogue Homeland has had, flat speeches with painfully obvious subtexts." (Vulture's Matt Zoller Seitz said the "episode felt a bit like 90210 with security clearance," though, as he noted, that might be a realistic portrayal of the CIA these days.) Meanwhile, Grantland's Andy Greenwald called it his favorite episode of the season. He noted that like "The Weekend," Episode 7 of Season 1, which was also written by Meredith Stiehm, "Carrie and Brody found themselves Frenching amid foliage, turning each other on by toying with the truth. … And once again Saul accompanied Aileen Morgan on a critical, one-way journey."
Hitfix's Alan Sepinwall spotted some similarities among the show's characters: 
Brody and Aileen are both all-American types who, for different reasons and under different circumstances, wound up working with Abu Nazir. Both have suffered great loss as a result of that decision: Aileen's husband was gunned down by the very organization they were a part of, Brody endured years of physical and mental torture and later had to murder his partner (for the second time, as far as he was concerned). And both are now deeply unhappy with who and what they've become as a result of their choices: one a literal prisoner of the government, one figuratively.
Slate commenter Kristen Roupenian also focused on those characters' odd connection:
[T]he most powerful part of the hour, was the parallel between Aileen and Brody: both locked for years in a box underground and both broken by the experience, but Brody, unlike Aileen, holding on, at least, to the courage to live. He says that doesn't make him a hero, but by the end of the episode, I started thinking it did.  
Among the many plaudits for Mandy Patinkin's performance as Saul Berenson, Time's James Poniewozik was particularly perceptive:
The events of last season have left Saul in his own form of solitary confinement, alone without his wife; has he been kidding himself to believe he could survive that? The episode shows off Mandy Patinkin's brilliant, understated character work; he manages to show what effort it takes for Saul to maintain his constant front of unflappability, which makes it all the more effective when it fails him.
Finally, commenter BriefWit asks a question I've pondered myself:
Why can't the show bring interesting characters and/or actors back and keep them for more than one episode? First, the tailor, now Aileen Morgan. There was much more potential for her. A Caucasian American wife who becomes a zealous acolyte of Islamic fundamentalism begs for exposition almost as much as an American POW does. Plus the actress who plays her is quite good. 
Marin Ireland is indeed a wonderful actress. It's a shame there's now no chance of her returning—except, perhaps, in a flashback.
---