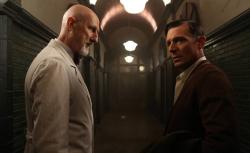 Reading AHS reviews around the web this morning, it's comforting to find that I was not alone in being basically blindsided by the reveal of Dr. Thredson as Bloody Face. Zach Sparks of the Baltimore Sun voiced this note of support:  "Last week, I guessed that Bloody Face could be the Monsignor. I was wrong, but Thredson was the least likely choice out of anyone in Briarcliff to be the serial killer." There was, of course, always a kind of clinical, cool undertone to Quinto's performance, but I will own the fact that I did not read it as sociopathic. Live and learn.
Though I guess I shouldn't say that in front of poor Lana, who had traded the prison of Briarcliff for an actual manacle and chain in Thredson's basement butchery. I am still reeling from that moment when he told Lana that they would be continuing her aversion therapy by making her kiss her dead girlfriend's now toothless mouth; I used to be a fan of that show Obsessed (in which real doctors use a version of Cognitive Behavioral Therapy to treat obsessive-compulsives), but now, I may be off it for good. Of course, I doubt Thredson has any real interest in "curing" Lana of her Sapphic tendencies, but he did mention wanting her to tell "his story." Anyone else predicting a little Misery action in the next few episodes?
One thing I didn't mention in last night's chat was the return of that odd little feminist streak we saw in earlier episodes. When Sister Jude concedes that her tenure at Briarcliff is at an end, the guard says she never had a chance as a woman with that much power and strength of will. Jude accepted that, but I have a feeling she'll reconsider soon. Jeff Jensen over at EW had a line in this vein I really liked: "As usual, the episode was a dark mirror to the dark stories that fill our culture, fictional and otherwise, including racism, homophobia, and misogyny. Especially misogyny." Hopefully Jude will find a way to shatter that mirror before the season's out.
Another aspect of this episode worth noting was its particularly striking cinematography, as Collider's Dave Trumbore ably explains: "It turns out that Alfonso Gomez-Rajon directed this episode and directed two of my favorites (Home Invasion, Birth) from the first season. There was something about the shot selection (the close-ups, the contrasts, the odd angles, the unconventional use of space within a frame, the tracking shots that wound throughout the asylum, etc) that stood out to me in 'Part 2.'" I couldn't agree more.
And finally, I have to give a shout-out to Jenna Mullins of Eonline for pointing out a great detail I totally, stupidly missed. At one point, Dr. Thredson has Kit record a confession as part of his "therapy", just so Kit can "hear himself" saying the words. That tape was then used to turn him in to the police! Such a crafty move from our little serial killer; let's just hope his cleverness runs out before Lana's incisors are added to the collection.
UPDATE, 11/15/12: Deadline is reporting that FX has just renewed American Horror Story for a third season, slated to begin production next summer. As with this season, Jessica Lange and other series veterans will be returning for the new installment. 
---