Slate's readers are either in full agreement with Asra and me, or they haven't yet caught up with the show—I'm guessing the former. (Thankfully, you can watch it online for free thanks to Showtime.) But the commenters who have spoken up make some great points.
BriefWit calls Homeland's creators "provocative" for making Israel's long-threatened bombing of Iranian nuclear facilities a TV reality and wonders "if they have given thought to the influential people who have made it known they watch the show." That would be Barack of Pennsylvania Avenue, I suppose. BriefWit also speaks an indisputable truth: "Saul continues to wear great hats. He also spots tails with unnatural speed."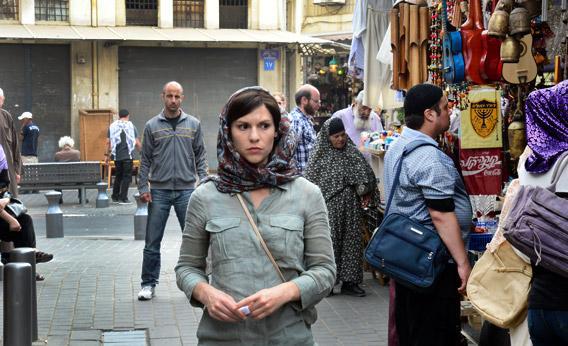 Nightsong says the show's writers "played to the audience with that scene in Dana's school, where the one kid was mistaking Arab with Muslim and insisting there's no difference between Persian and Arab. The audience gets to feel smart and Dana is endured to the audience by calling the kid an ignorant douche." In a great post about the Season 2 premiere, ThinkProgress' Alyssa Rosenberg also addresses that exchange. In response to a colleague who wondered why in that confrontation Dana Brody responded by revealing that her dad is a Muslim, rather than telling the credential-dropping kid that her father is a war hero. Alyssa says, "[I]t's significant that Dana reached for her father's faith instead. She understands, on some level, that it's a critical point of his identity. And she's appealing to her classmates to see the common humanity of the people they're reducing to abstractions, rather than speaking to them of strategic considerations."
A couple of commenters asked why it bothers me less when a white man is a double agent. It's that I worry—needlessly, I'm sure—that some viewers will mistake the show's dramatic truths for real-life facts. If people wonder if Arab-Americans secretly sympathize with terrorists, the nation will continue to suffer from the lack of trust that is a big reason our nation has such inadequate Arab-language skills. I don't think they'll start doubting the white dude war hero next door.
Some gems from other Homeland reviews and interviews: There's a fascinating line in Willa Paskin's New York Times interview with Howard Gordon and Alex Gansa, the show's creators: "We choose to ask questions and not answer them." (I also loved learning that, according to Gordon, "Carrie was based on Chicken Little and Fox Mulder. Saul Berenson is a combo of George Smiley and Günther Bachmann, from John le Carré's A Most Wanted Man, plus any number of characters from Graham Greene.)
The A.V. Club's Todd VanDerWerff hit on a profound truth when he observed, "This is a series obsessed with the differences between public and private spaces, that began with a woman invading a man's privacy … because she had a wild hunch." I'll address that in the coming weeks. Another great insight from VanDerWerff's review:
Jessica is less upset about [Brody] being a Muslim and more upset about her keeping what he was doing out in the garage from her. During their long separation, Brody and Jessica both had to turn to other places for solace and healing. But where Jessica's was Brody's best friend, his was another religion entirely, one that would instantly wipe out his political ambitions if anyone knew about them.
I loved the Huffington Post's Maureen Ryan's take on Carrie as a Cassandra figure: "The tragic irony of Homeland's first season finale was that Claire Danes' Carrie Mathison did, in fact, get things right. But she didn't know that; she didn't get the cathartic rush the audience did when she prevented Brody from blowing up a room full of high-ranking dignitaries."
Over at Cultural Learnings, Myles McNutt isolates an important interaction in the conversation between Nicholas Brody and David Estes:
[I]n a few brief moments you can see [Brody] make up his mind. When he discovers that Estes worked with the Vice-President on the drone program (which was responsible for killing Isa), and when he realizes that Estes doesn't even know how many drones they have, he knows that this is retribution for other innocent lives that the CIA perceives as everyday casualties of a successful, growing program.
James Poniewozik of Time points to another wonderful moment that revealed so much about the characters:
Homeland is about a lot of things, but on a personal level, it's about two people–Carrie and Brody–who find their individual lives, wishes and welfare subordinated to the needs and wants of a larger group. … [A]t this point, what they individually want is beside the point. Their country / cause wants them, and they're being reactivated.