In Slate's Walking Dead TV Club, Chris Kirk will IM each week with a different fan ofThe Walking Dead. This week, he discusses the first two episodes of the season with Slate political reporter Dave Weigel.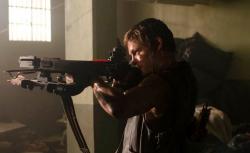 It's been months since the events of Season 2, and months of evading zombies has left Rick Grimes and his band of survivors hardened but intact. They're weary of life on the walker-infested road, and they're looking for a new home. In Episode 1, they find a prison that seems abandoned by all but the zombies—until they run into another group of survivors. In Episode 2, they deal with them.
Dave: Chris, I'm one of those irritating Walking Dead megafans who silently gripes to himself when a TV plot isn't as exciting as one of the comic plots. Example: The season we spent at the farm was not in the comics. The prison was. This is a roundabout way of saying: Woohoo, prison!
Chris: When the characters didn't say a word to one another in the first few minutes of the season premiere, I knew this season was going to be better—more zombies, less soap opera drama. And "Sick" reinforced the season premiere's message: This season is going to be darker, grittier, and gorier. Rick in particular has changed.
Dave: He played an impressive ruse on the prisoners. The five badasses—OK, four badasses and a guy who looks like Tim Blake Nelson in O Brother, Where Art Thou?—knew that Rick has a posse. But Rick made it look like it consists of nothing but armed hard-asses, when, at this point, he's looking out for a group of scared women, Hershel, and Glenn.
Chris: Rick's certainly become crafty. When one of the prisoners was wounded by a zombie, why do you think he told the others that the prisoner must die? It doesn't matter if you get bit anymore; as Rick revealed in Season 2, everyone has the zombie virus.
Dave: The prisoners don't know how the virus works. I felt like Rick saw a chance to thin the prisoner population with the advantage of their secret knowledge.
Chris: His cunning paid off. The way the prison group's pugnacious ringleader viciously kills the wounded one was shocking—but not as shocking as Rick burying his blade in the ringleader's skull, then chasing another ill-fated inmate into a courtyard full of zombies. But we already know that Rick is willing to kill survivors to protect his people from Season 2, when he shoots some threatening survivors in a bar. So what's different this time?
Dave: Those guys were menacing, had the upper hand, had them outnumbered, might have had backup. In this situation, Rick had the upper hand and killed three people. Rick is so cynically murderous that, I think, we're being dared to stay on his side as more characters come into the story.
Chris: The group dynamic has also changed a bit. "This isn't a democracy anymore," Rick said last season, and he meant it. Long gone are the days of drawn-out debates in Hershel's parlor. Now, Rick says what's to be done, and nobody questions him.
Dave: That was the theme of this episode: Rick is a dictator, and life for the people he's protecting is getting more pathetic. We know from the promo materials and the "on the next" trailer—which are so much more helpful for this show than for Mad Men—that we're going to meet another, more thriving troupe of people soon. I'm guessing we're being set up to like that civilization more than the Rickocracy. It can't last.
Chris: We'll see if it does. Until then, I'm zombie-ing out until next week's episode.