Free to be … who? All the musicians, artists, feminists, and other figures mentioned in this series.

Want to listen to Free To Be … You and Me? Here's a Spotify playlist.
The November 1972 issue of Ms.—just the magazine's fifth in its monthly format—featured a colorful pull-out section introducing Free To Be … You and Me: the first record "in the history of children's entertainment to contain no sex or race stereotypes." That month, the album's musical director, Stephen Lawrence, took it upon himself to call record stores around New York, a one-man PR machine making sure everyone had copies for sale. "I thought it needed to have some sort of buzz," he says now. "So I was single-handedly trying to create some buzz for it. I didn't know it was going to take off on its own."
On Christmas Eve, the New York Times ran a gentle profile of Marlo Thomas and a fascinating review of the album that goes a long way toward upending any concept I had of what the New York Times represented in 1972. Written by Deborah Jowitt, the review is mostly positive. The album "has obviously been put together with thought, integrity and skill," Jowitt wrote. "It's diverting, and I applaud its message." She had two quibbles, though. She thought that the album might have actually de-emphasized gender too much, to the point that "a child might—I'm serious—wonder why we have two sexes at all." After quoting the declaration in "Parents Are People" that the only things mommies can't be are "daddies … or grandfathers," Jowitt responded, "Why the hell not, one wonders." (!!!)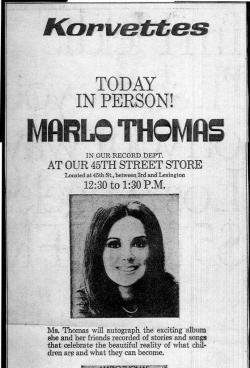 Jowitt also took issue with Carol Channing's "Housework," complaining that "the skit, unintentionally, I'm sure, demeans those who accept the clean-up chores without fuss, and makes those who take pleasure in such chores sound like real suckers." Jowitt's critique was not the last one that "Housework" would receive. In an essay in the upcoming book When We Were Free To Be, historian Lori Rotskoff reads letters that Ms. received in response to Free To Be that are now catalogued in the Schlesinger Library on the History of Women in America at Harvard's Radcliffe Institute. One listener related hearing the track while the family's paid housekeeper cleaned nearby. "It seemed too demeaning and insensitive to this woman, who does derive a sense of satisfaction and accomplishment from her work," the listener wrote. Another suggested that children should be taught that housework, "like brushing their teeth, needn't be glorified or expanded to fill the whole space of their lives," but by the same token "neither should it be negatively charged."
"There was a constituency of women," Gloria Steinem says today, "that felt that if you wanted to be anything other than, or in addition to, a homemaker, you were somehow saying it wasn't good to be a homemaker. So to say 'I hate housework'—we got negative letters about that." Carole Hart, the album's producer, is more blunt. "We didn't think it through," she says. "I think we missed the beat there. Had we been more thoughtful we probably wouldn't have done it in the first place." (It was left off the TV special.)
Criticism came from the other direction, too. Thomas held on to a review from the feminist newspaper Off Our Backs, which chided Free To Be for its focus on the nuclear family and hetero relationships. "The message is so upbeat and catchy and some of the messages so appealing," Fran Pollner wrote, "that the adult feminist listener may miss the first time around the basic idea of this one-hour album: that little boys and little girls should get together at a young age to ensure a solid and satisfying future marriage and family life."
"I think it was very hard in the 1970s to ever make any comment that was viewed as radical enough," laughs Laura Lovett, co-editor with Rotskoff of When We Were Free To Be. "People were holding one another to really hard and clear goals."
But of course part of the point of Free To Be was making radical feminist beliefs palatable to a broad audience that might otherwise reject them. "It was second-wave feminism that went mainstream," Rotskoff says. "It was packed with telegenic celebrities. It was performed by famous people. And the messages were both revolutionary and accessible enough for a mainstream audience."
"People say, 'I was raised on Free To Be,'" says Letty Cottin Pogrebin, a founding editor at Ms. and a driving force behind Free To Be … You and Me. "Which I find quite remarkable. You wouldn't say 'I was raised on Alice in Wonderland.' There's something about Free To Be: People feel it was a turning point, it changed their lives, it infused their general sensibilities."
"By the time I was a conscious human being, I knew all the rhythms of those songs," says the director Jason Reitman, who was born in 1977 and who used "When We Grow Up" in the closing credits of his scabrous comedy Young Adult. "I was part of that generation that was so inundated with equality rhetoric. Free To Be was the sneakiest, because it never felt like it was educating you. It was making you laugh, giving you great dance tunes, and at the end you're like, Of course we're equal, what else we would be?" He launches into a quick impression of Carol Channing in "Housework," nailing it word for word. "I had to relearn later on that this album was necessary to battle a pervasive inequality."
Trey McIntyre was a Free To Be kid, too. The choreographer's 6-foot-6-inch frame seems to fold into itself like origami as he settles into a flimsy chair, crosses his legs, and opens a water bottle. We're sitting in a clearing at Jacob's Pillow Dance Festival in the Berkshires. It's a bright summer day, and we're here because McIntyre's company, the Trey McIntyre Project, is premiering a new piece inspired by Free To Be. McIntyre is nervous; tonight Thomas, Alan Alda, and Pogrebin are coming to see the show.
Based in Boise, Idaho, TMP is a well-respected touring company whose charismatic, handsome leader has become something of a rock star in his adopted hometown. It was on the company's last visit to Jacob's Pillow, two years ago, that the idea for "Ladies and Gentle Men" was hatched. The Aldas and the Pogrebins, who've remained friends since Alan and Letty met in the MediaSound studio in 1972, were visiting the festival together and came backstage to meet McIntyre after the performance.
"I was so star-struck and dizzy-headed," McIntyre says. He told them he's always wanted to choreograph a piece to music from the album, and the two gave their blessing. A year later, Thomas watched McIntyre's company perform in a rainstorm at Lincoln Center Out of Doors and officially approved the project. McIntyre's piece uses music from the original album and TV special but also new versions of Free To Be songs by tUnE-yArDs' Merrill Garbus, of Montreal, and Kimya Dawson. (Dawson sings the cover of "Glad to Have a Friend Like You" in the clip from the Jacob's Pillow production above.)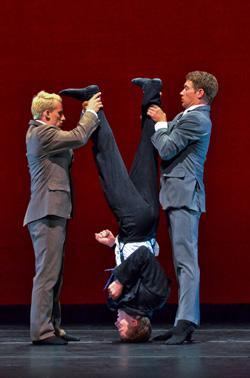 "My earliest memory," McIntyre says, "was Free To Be coming on TV. I was born in '69, so I must've been 4 or 5. My dad was a principal at a school, and he had access to technology, and he brought home a reel-to-reel video recorder. I remember we had one of those big old battleship TVs, bigger than a buffet, and he pointed the camera at the TV and recorded Free To Be. We had to be really quiet because he was recording the audio off the TV." He laughs, marveling at the memory. "It was a part of our family! We invented the VCR just so we could watch it again."
McIntyre's parents divorced when he was young; his mother was a committed feminist, and his more traditional father felt left behind, he says, by the changes happening even in Wichita, Kan. Free To Be became the soundtrack to McIntyre's childhood, and "William's Doll" had particular meaning. "That song was so revolutionary," he says. "It was such a dissonant message from most of what was out there. Hearing these famous people talk about this—There are other people in the world who feel that way."
"You don't find that song a little weird?" I ask. "How the reasons why it's OK for William to have a doll end up being"—I search for a word that sounds less ridiculous but cannot find one—"heteronormative? Like, it's OK to have a doll because at one point he might be a daddy, not just because sissyness is potentially positive or a way of being."
"I hear you," McIntyre says.
"I talked to Carole Hart about this too," I say. "Her take on it was basically, 'We felt like that was a bridge we could not cross in 1972. We hoped that the message in the song would mean something to kids anyway.' And, I mean, I think it did mean a lot to gay kids anyway. In that book that Laura and Lori edited, the one you wrote a chapter for, there's an essay by a gay scholar about his experience growing up with 'William's Doll' and the ways that it felt like a cop-out. But it still really meant something, too."
"I remember exactly the same internal conversation," McIntyre says. "For me it was a relief because it was like, 'Here's the way I can explain this and be accepted by people. Here's my side door that I can use to, like, escape this situation.' And I could, for example, talk to my dad. 'That's OK, I get that. You'll be a father one day, OK.' And we can move on from it."
That night at the "Ladies and Gentle Men" afterparty, before the dancing starts—there is literally no more intimidating social situation on Earth than the dance floor at Jacob's Pillow—McIntyre and his mom pose for photos with Thomas and Pogrebin. (The Aldas have already left, and Thomas' husband, Phil Donahue, hovers near the exit looking at his phone.) The head of Jacob's Pillow calls McIntyre to the front of the room, where McIntyre points out his mom to the crowd. "Thank you for raising me on Free To Be!"
"Yeah, Mom!" shouts Thomas. McIntyre's mother wipes a tear from her cheek. A few minutes later, Thomas, Pogrebin, and Donahue slip out the back door.
* * *

A year after its release, Free To Be had sold 95,000 copies. By then Thomas and Hart were planning a TV special featuring new songs sung by Dionne Warwick, Kris Kristofferson, and a dancing chorus of baby puppets. The special filmed during the fall and winter of '73 in locations around New York, as chronicled in a wire story hilariously headlined (in the Cincinnati Post) "All Sorts of Weird Things in Special." Thomas and Harry Belafonte pushed strollers and acted out the various jobs mommies and daddies could do on the Upper East Side; Pogrebin's daughters rode the carousel in Central Park; Dustin Hoffman recited an intense story in a Brooklyn rectory. (That scene was cut from the special at the last minute but can be seen on the DVD.)
ABC wasn't exactly thrilled. "I was with Marlo when we sold this," says Robert Levine, the project's longtime lawyer, "and I can assure you they were not jumping up and down at the idea of getting this kind of special in prime time. Marlo simply insisted on it. The network decided they'd rather keep Marlo and take the risk." When footage came in, nervous execs asked Thomas to cut "William's Doll." "They told me, 'You're going to make every kid in America a sissy'—and that's not the word they used," Thomas says. A toothpaste company dropped its sponsorship as a result of that song.
ABC also requested Thomas axe the Belafonte stroller footage and claimed scenes of a white woman and a black man pretending to be parents would never fly in the South. "The network had a fit about that. They felt that it looked like we were married. I said, 'A) It doesn't look like we're married. He has his own buggy, and I have my own buggy. And B) Who cares?'" Belafonte was unsurprised: "Marlo is a late player to what networks do when they get their own prejudices confronted. They take the ground of what they think is the best way to survive the moment." Thomas threatened to take the special—and her future projects—to CBS, where network president Bud Grant had been after her for years. "I knew Bud would do this even if he didn't want to do this," she says. "So I did have that in my back pocket." ABC relented. "And that's why," Belafonte says, "if ever Marlo calls, even if I'm required to do something so socially embarrassing that I would never live it down, I'll always respond to her."
The special was covered in nearly every Sunday newspaper TV insert in the country, thanks to a charm offensive launched by Thomas in January 1974. ABC flew critics to Los Angeles to meet Thomas in the backyard of her Beverly Hills home, where she served fresh-baked cookies under a tent in the pouring rain. "What we have given the network for a cut-rate price is a million-dollar special," she proclaimed, still smarting from the battle. Later, though, she told a reporter from Cashbox that the special cost $2 million to produce, compared to the usual price of about $400,000.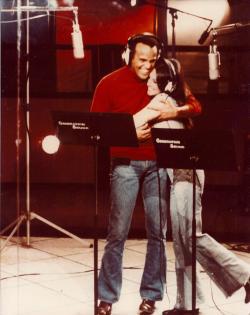 In the end it was worth it. The special aired on March 11, 1974, in prime time and won its time period handily; 1.2 million households turned on the show, beating Magician on NBC and Gunsmoke on CBS. In May, the special won an Emmy, awarded to a beaming Hart and Thomas by "Mr. and Mrs. Mark Spitz."
By June, the flood of publicity had boosted album sales to 250,000. The album went gold shortly afterward. And the songs just keep on selling: In 2010, spurred by a Target commercial, the title track was purchased for download 150,673 times. Revenues from the album, the book, the TV special, theatrical spinoffs, and 1988's followup Free To Be … A Family have netted millions of dollars for the Free To Be Foundation, which supports programs challenging stereotypes, fighting discrimination, and encouraging individual well-being in children.
* * *

"One, two, three, eyes on me!"
"One, two, eyes on you."
I am trying to get the attention of 12 elementary school students. "OK, we've given you pizza and ice cream because I really want to hear your opinions on some songs," I say. Their parents chuckle grimly; these are Northern Virginia kids, not typically difficult to extract opinions from. Our next-door neighbor Dave brought over his old, careworn, Bell Records LP of Free To Be… You and Me; I hold it up for the crowd. "This is the album I want to play for you."
"Whoa," says Lyra, 7, who stores her music on an iPod Mini.
Thomas told me that she and Carole Hart played the Free To Be songs for a roomful of kids in 1972 just to make sure they'd go over with their target audience. Now I'm planning do the same in 2012. Will kids who've grown up in the age of girl power be able to relate to a record from the women's lib era? Will kids who sing Katy Perry on the bus be willing to sit still for an album of '70s folk rock? On its 40th anniversary, is Free To Be still the revolutionary object it once was?
I don't actually own a turntable, so I just play a selection of Free To Be songs from our iPod speakers. The kids laugh heartily during "Boy Meets Girl." When he hears the first gentle guitar notes of "When We Grow Up", Henry, 7, immediately makes a face. "Is this classical music?" he asks.
After "Parents Are People" I ask the kids what their parents do. Everyone's parents work: "My mom's a teacher, and my dad's a cop." "Both my parents are lawyers." "My dad's trapped in a space about this big every day. My mom sings."
Are there any jobs that only men can have? Cam, 9, raises his hand. "No women play in the NHL," he points out. Zion, 10, suggests "Football player? Is that a real job?" OK, I say: Any jobs that aren't being a pro athlete? "Nurse?" Lyra asks. "No, there are male nurses," assures 11-year-old Katie. "I know," says Lyra quickly.
Several of the boys openly scoff at "It's All Right to Cry," until I tell them that an NFL player sang it. "When he says, 'I know some big boys who cry, too,' who do you think he's talking about?" I ask. The answers: "Him?" "His teammates?" "Santana Moss?"
"Raise your hand if your mom does most of the housework in your family," I say. More than half the kids raise their hands, including my own. When I ask whose dads do more housework, two kids raise their hands. "It's exactly even in our house," declares Sydney, 8. "Does yard work count as housework?" asks Cooper, 6. "Yes," declares his dad.
"William's Doll" launches intense debate among the kids, as both boys and girls stake out positions on either side of the doll-wanting/not-doll-wanting divide. "Action figures count, Cooper!" declares Cooper's brother, Cam. I declare that for our purposes they do not.
"I don't like dolls, and I don't care about them," proclaims Sydney. "You have an American Girl doll!" her sister, Katie, reminds her. "Yeah, but I don't play with her," says Sydney. Katie scoffs: "You dressed her up like last week."
Avery, 9, is mulling over why it is that boys don't like dolls. "They think that since girls have dolls they don't want someone to think they're a girl." Nine-year-old Elijah agrees. "Dolls are supposed to be dressed up pretty, so if you have one, you should be someone who likes to dress things up pretty." "You don't know any boys who liked to do that?" I ask him. "No," he says. "Boys don't like, like, pink and purple."
"I like pink!" Cam says. Asked if anyone makes fun of him about that, he says, "Nope. All the other boys in my class like it, too." Tell him about Adam, his parents urge. "Adam? Oh yeah! He's on my hockey team. He has hot pink hockey tape. It's awesome. You can always find him on the ice."
"What's the moral of these songs?" I ask as conversation winds down. Everyone agrees on some variation of "just be yourself," the ur-moral of all children's entertainment. No one, notably, says anything about gender, until the end, when Harper, 5, urgently raises her hand.
"Yes, Harper?"
"Girls go potty more than boys!"
"Thank you, Harper."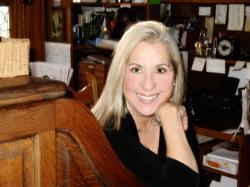 * * *

On nearly every front, American society is more gender-equal than it was 40 years ago. As a result, many of the songs in Free To Be had less impact on the kids in my living room they once did on me. My daughters and their friends cannot conceive of the possibility that any job is restricted to any one gender, or that mommies shouldn't work, or that daddies were once exempt from housecleaning. But any parent raising kids in 2012 knows that it's still not simple navigating a culture that seems intent on selling princess dresses to girls (even if the princesses who wear them are spunky, smart, and Brave) and superhero outfits to boys (even if the superheroes are—well, they're pretty much still all muscly dudes).
The second-wave feminists I talk to acknowledge that there is still a ways to go. "Things are a lot better than they were," says Justice Ruth Bader Ginsburg, a fan of the album since its release, "but we haven't reached nirvana yet." "Things aren't as bad as they used to be," agrees Gloria Steinem. "But if you go into FAO Schwarz, you still see that the toys are gender stereotyped."* Pogrebin, Steinem's co-editor at Ms., is more stark: "You go into a toy store or a Kmart and you just want to throw up," she tells me. "I do anyways. I feel like a complete failure when I go in there." She recently went to buy curtain rods for her grandchildren; rods for boys had little footballs at the ends, and rods for girls had little bows.
Back at my house, Zoe's dad, Ryan, said he had very firm ideas about the way he wanted to raise his girls. Most of those ideas came directly from his Free To Be childhood. "There was no way that, for example, a Barbie was gonna be in my house." And then, he sighed, they had Zoe. "There was this progression," he recalled as the parents debriefed while the kids watched a movie in my basement. "Firm ideas, yes. But then, certain things made her happy … so we relax said firm ideas … then we try to redirect while indulging the Disney princess phase." (Turns out, this princess thing is not new. "God," Pogrebin said during one of our interviews. "I used to have consciousness-raising groups with the most radical feminists on the planet in my living room, and upstairs hanging over the balcony would be my princesses in full regalia.")
"My mother was all about gender-neutral," said Cam and Cooper's mom, Ashley. "She would not let my brothers have guns, so they would take twigs and turn them into guns. She would not let me have dolls, so I would take a towel and hold it like a baby. It's just in there, man."
Is it just in there? Is that why, despite the fact that so many of us pay some attention to parenting without regard to gender, our kids wind up in their gender-specific toy aisle? The nature vs. nurture debate is one that will surely never end. Even Thomas herself struggles with it, describing her frustrations with her husband, Phil Donahue, and her stepsons in her memoir, Growing Up Laughing:
"Where are my shoes?" Phil would constantly ask. What is it about men? They think we women have a radar attached to our uterus. And the thing that killed me was that I knew where they were. I knew where all four boys' shoes were. How did this happen? Had my mother secretly planted a chip in me at birth that would activate when I said "I do?"
In her book Delusions of Gender, psychologist Cordelia Fine notes how early this all begins. In preschool, she says, children become "gender detectives," because they are organized by gender and referred to by gender constantly. "Everything around the child," Fine writes, "indicates that whether one is male or female is a matter of great importance."
Does that mean there's nothing we can do? Most parents, it seems, are engaged in a constant negotiation between encouraging their children to transcend gender and acceding to the cultural pressures that accompany it. In her book The Gender Trap, sociologist Emily W. Kane points out that many of the parents in her research study "creatively tweak and even revise" the gendered structures that society pushes on children, but she notes that this parental willingness to push back against gender norms is much stronger with daughters than with sons.
I see this every day. Girls are encouraged by parents and by organized initiatives to explore areas once considered the domain of boys: science and math, sports, leadership, business. But the converse isn't always true; it's much more unlikely that a boy will be encouraged to explore traits that are girlish: clothing and fashion, domestic work, nurturing and caregiving. Mothers worry about their daughters' pink princess phase, while no one seems too concerned about their son's toy chest full of cars and trucks.
Why is this? There is, of course, the entrenched cultural trope of a strong, heterosexual man taking care of a family and the discomfort that gender fluidity can raise in even the most loving parent of a boy. It's no accident, writes Fine, that "unlike the term 'tomboy' there is nothing positive implied by its male counterpart, the 'sissy.' " Danna'e, mom to Elijah and Zion, acknowledged that her religious beliefs and background as the daughter of Jamaican immigrants made her particularly nervous about her boys demonstrating "feminine" traits. "I don't really feel homosexuality is any more of a sin than anything else," she said with feeling. "But how do I have that conversation with my boys?"
"Boys still feel pressure to be a certain type," Justice Ginsburg says. "Perhaps even more than girls." This fact—that in many ways, girls can "cross over" more easily than boys—has quite a bit to do with the revolution of which Free To Be was a part. It's not a coincidence that the girls who visited our house for the Free To Be listening party showed a broad range of interests, and that even the ones who were obsessed with "girly" dolls, clothes, and hair also were confident, eager to speak up on their own behalf, and interested in sports and science. American society may still be hostile to women in political rhetoric, in equal pay for equal work, and in many other subtle ways, but the girls of America—or at least of our relatively well-off part of America—still receive a near-constant litany of messages about female empowerment. Much of this—both the informal changes in our general expectations of girls, and the formal initiatives and legislation increasing their opportunities—are directly traceable to the women's movement of the Ms. and Free To Be era.
Meanwhile, Free To Be seems, as my friend Dave said at our listening party, "like sensitivity training for boys." But what else have we had? There's been no equivalent organized political or social movement devoted to encouraging men to cross boundaries of gender expectations. We've worked it out ourselves, men of my generation, figuring out our set of beliefs and the ways we want to behave—at home, at work—based on our upbringings, our partnerships, and, yes, cultural artifacts like Free To Be that brought the feminist movement into our lives.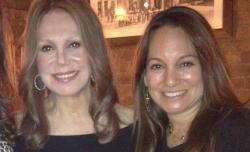 So could Free To Be happen today? And, if so, what injustice would it tackle, exactly? Guests at our party suggested gay rights, economic inequality, and body image. Marlo Thomas suggested bullying. Dave—Sydney and Katie's dad—thinks that a Free To Be might be happening under our nose, just not in the form we expect. "That's not the medium. No one's gonna get together to make … an album? An album that people would buy?" Instead, he pointed out the It Gets Better videos as an example of a burgeoning genre of activist work, created by both celebrities and everyday people, that could in 40 years be remembered as fondly as Free To Be is by us today.
For her part, though, Gloria Steinem doesn't think it's time yet to go casting about for a new wrong to right. Steinem, who lately has been actively advocating for domestic workers and paid sick leave—both gender rights issues at their core—responded instantly when I asked her if the 21st century could use a new Free To Be. "I think so," she said. "I think the greatest inhibitor is the myth that we don't need it."
And whatever happened to the little girl who started it all? Dionne Gordon Kirchner, Thomas' niece, remembers the pride she felt when her mother gave her a copy of Free To Be and she saw her name on the back cover. "I loved 'Atalanta,' " she says from her home in Los Angeles, where she's a line producer for TV comedies. "I loved that she didn't do what society said she had to do, what her parents said she had to do. Of course she reminded me of my aunt—she had my aunt's voice and the long dark hair, and that's what we all looked like in my family."
"When Dionne had her first child," Marlo says, "I just held my breath and thought, OK, so here we are. This is the moment in which it happens. But she said to me, 'Don't worry, Auntie Marlo. I'm free to be! I'm going to go back to work.' "
Correction, Oct. 25, 2012: This article originally misspelled the name of toy retailer FAO Schwarz. (Return to the corrected sentence.)
Previously: The origins of Free To Be and how the album was made.