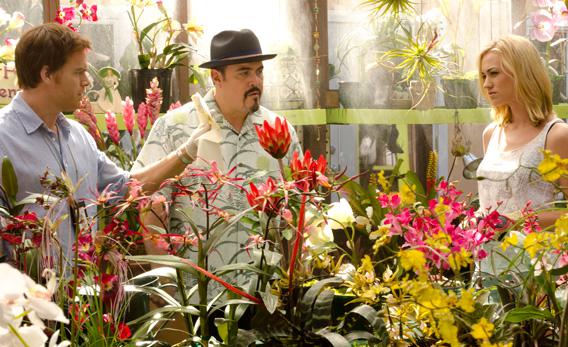 First things first: Dexter recaps across the web are ablaze with speculation about Yvonne Strahovski's Hannah McKay, who seems poised to become either a love interest or a fatally alluring nemesis. Strahovski told E! Magazine in an interview, "[Hannah is] a dark and mysterious woman. She doesn't come off that way initially [note: actually, she does], but she has a past and I can tell you that it's very different than anything I've played before." The actress's prior credits include Agent Sarah Walker, a CIA hero with shades of Deb Morgan, on the show Chuck. Most commenters praised the "inspired casting choice," noted that Hannah must have a thing for serial killers (she dated the late Wayne Randall during his spree of murders before making googly eyes at Dexter) and wondered whether she would graduate as the season unfolded from accomplice to something more sinister.
Cassandra Berube at the Baltimore Sun agrees with me that the chance conversation between Dexter and Isaac Pullo was "priceless," though my IM partner Chris found it hackneyed and unrealistic. ("Oh what a tangled web we weave, when all we want is to kill someone," Berube observed.) And she connected Dexter's clumsiness with the DNA swab in Hannah's greenhouse to the way he dropped a blood slide at the DDK crime scene—is Dexter losing his touch? Certainly his life is more chaotic than it has been for a while: Slate commenter Ami was one of many to bring up the proliferating plot lines that lend Season 7 its crazed momentum. Perhaps we should be grateful to Isaac for dispatching Louis, Ami said, especially if the showrunners plan to introduce a new flame for Dex.
By almost universal consensus, Detective Quinn is not long for this world. Here's how Tierney Bricker at E! summarizes the situation:
Continuing his campaign for cop with the least amount of common sense on TV, Quinn (Desmon Harrington) is still pursuing Nadia (Katia Winter), the stripper from Isaac's (Ray Stevenson) club. Though Isaac asked Nadia to get close to Quinn to see if the cops found a bracelet, which contained a GPS chip (Yes, the strippers are also drug mules in the mob's heroin business), she actually likes him and tells him the truth. They promise to give each other just enough information to please both their bosses and to keep Nadia safe. This should end well horribly.
Caleb Pass at Better With Popcorn also highlights Nadia's insanely poignant and unlikely dream of starting a dog walking business after she's done stripping. (Add that to the list of animal references in episode 3). Commenter Southern_Dandy suggests that the show writers are preparing to turn over the entire homicide department for Season 8. With Quinn entangling himself in the Koshka Brotherhood, LaGuerta hot on Dexter's trail, and Batista waxing philosophical about "something else" beyond police work, perhaps viewers should brace themselves for a wave of goodbyes—not to mention a new cast of supporting characters.
Speaking of supporting characters, the radiantly debauched Vince Masuka has splintered critics into pro- and anti-perv camps. "Mas Masuka!" cries Drusilla Moorhouse over at Zap2it. She argues that additional screen time for the clownish lab tech has so far benefited Season 7. Yet on the Television Without Pity blog, Couch Baron admits: [Dexter's] fantasy of stabbing Masuka may be audience pandering, but I'm not going to be the one to turn it down."
---