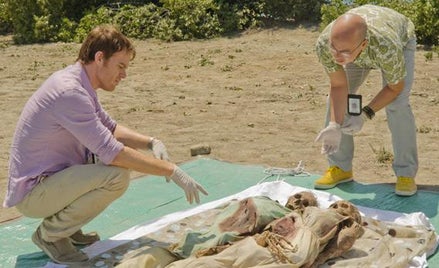 Slate commenters may be too busy weathering Sandy to chime in on the boards this morning, but in the infernal kitchen that is the Dexter writers' room, plots and subplots simmer apace. Last night's episode seemed all about development, about ratcheting up tensions and setting scenes. Actors had a unique opportunity to emote as they discovered what we, the viewers, already knew: that Isaak slaughtered Louis on Dexter's boat, that LaGuerta was re-circling the Bay Harbor Butcher, that Dexter occasionally swiped cases from Miami Metro Homicide. And then, some ghastly new seeds were planted. Hannah McKay's complicity in her old boyfriend's killing spree morphed from a feeling in our bones into a forensic fact. Dexter, the lovelight (or kill light?) glowing in his eyes, lied in order to cover for her. After tap dancing (and cursing) furiously to protect Dex from LaGuerta, Deb announced that she would go laissez-faire on her brother's nocturnal crusades—but given that she's changed her mind about how to deal with the dark passenger every episode so far, who knows how long that will last.  And Isaak—silky-voiced, endlessly recherché Isaak. In addition to having the snappiest wardrobe on television, he brought to the table a fierce appetite for vengeance, Terminator-like assassin skills and a long memory. He may have ended "Swim Deep" behind bars, but he put Dexter on notice in one of the most brilliantly sinister revenge speeches since the Oresteia.
So what do the recappers say? Richard Rys at Vulture seems to be thinking along the same lines as Christopher Ryan, setting up Hannah and Deb as alternate Bonnies to Dexter's Clyde. "It wouldn't be surprising to see [Dex] turn to Hannah as someone who might be able to accept him fully for who he is," Rys writes, after observing that "his insinuation that she's a murderer sounds more like foreplay between two psychos than an accusation." Their swapping of gore stories—"like we're on a date sharing our first sexual experience," Hannah says, in case that wasn't obvious—may prefigure a swapping of other things. (Would they be the type of couple to wear vials of each other's blood around their necks, like Angelina Jolie and Billy Bob Thornton?)
Zap2It's Drusilla Moorhouse is right to pluck out nostalgia as another theme in "Swim Deep." A giraffe toy sends Hannah into a daydream about the good old days murdering people with Wayne, but she's not the only one digging up the past. (Granted, the team of officers searching for her victims' bodies may be the only ones doing it literally.) Debra remembers the way Dexter watched over her on a family trip to Myrtle Beach, back when her older brother was still her hero. LaGuerta goes all soft and sad thinking of Doakes. Of course, despite characters' idealizations, the past may be more minefield than wonderland. Just ask Quinn, who again finds himself on a drug cartel's payroll after the guy with the stereotypical Russian name (Romanov? Nabokov?) informs Isaak he can be bought.
Side note: Rys asks, "Would anyone — cops, Eastern Bloc strippers, or us — care if Isaak trades paying [Quinn] off for bumping him off?" I would! I would care. Poor, hapless Quinn is a man of misdemeanors, not felonies, unlike practically every other character on the show. And all his poor decisions would make killing him so easy that doing it might actually reflect badly on the writers, implying something like a lack of imagination.
But anyway. To wax mystical for a moment, many critics saw Maria LaGuerta reincarnated in Deb during the lieutenant's chat with Angel Batista. Batista found the official explanation for Viktor's death—replete with a Koshka underling's confession and suicide—too neat. So he brought his doubts to Deb. She could not shut him down fast enough, using the same bureaucratic code-speak that LaGuerta so often fires at her. Is the sacrifice of your integrity just a rite of passage as you move up the police ranks? (Or does it have more to do with being the sister of an unrepentant serial killer?) These questions and more should percolate alongside all your hurricane-related stews and pots of boiling water.
And if you're feeling a bit stir-crazy, at least you're not hiding from the Ukrainian mob in a motel.
---