Carly Rae Jepsen went from Canadian Idol also-ran to bearer of the summer-anthem torch with the instacrush chronicle "Call Me Maybe," a sprightly, spunky ode to love at first sight spangled with disco strings and an eminently meme-able chorus. Last month, she followed up that single's millions of streams with Kiss, a collection of pop confections not entirely as sugary as "Call Me Maybe" but filled with pep and vim even at its most melancholic.
On the day of Kiss's release, the relative veteran Pink—her first album came out in 2000, and "Don't Let Me Get Me," the single in which she declared she was the anti-Britney, went Top 10 in 2002—put out The Truth About Love, her sixth full-length. Lyrically, Pink has pitched herself as a Real Talk specialist, with songs like the plainspoken "Please Don't Leave Me," in which she tries to salvage a fight-filled relationship, and the bittersweet "Who Knew," which looks back on a lost love that once held promise. Truth continues in that vein; the title track, for example, is written as a 3 a.m. confession to a failed romance that delves into how love involves "the smelling of armpits."
Both Kiss and The Truth About Love are in the upper echelon of 2012's pop albums; this is in large part because their assisting songwriters, who include fun. frontman Nate Ruess (on Pink's album) and Adam Young of Owl City (on Jepsen's), work with each singer's strengths, instead of trying to stuff them into the EDM box that has trapped the likes of Rihanna in recent years. Jepsen's album, in keeping with her airy yet precise soprano, is frothy and breathy, with arrangements that at times sound like they might float away; Pink's effort is solidly rooted on the "rock" side of the pop-rock genre, and it practically snarls at points—though that doesn't preclude her rich alto from soaring above balladry when it needs to.
The two albums share the common quality of sounding like definitive statements, yet listening to them back-to-back also results in a sort of dialogue on how heartbreak plays out in 2012. It's tempting to chalk Jepsen's hyperactive sound (which radiates hope even as it recounts tales of woe) and Pink's balls-out sound (which amplifies her plain-spokenness) to age, but this hypothesis falls apart a bit when you realize that only seven years separate the two singers. (Jepsen is 26; Pink is 33.) Then again, Pink's pop-star status was established long before YouTube was a glimmer in the Internet's all-seeing eye—perhaps her world-weariness can be chalked up to having more time under the spotlight's harshest glare.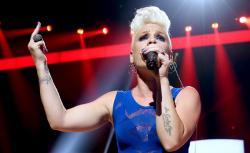 "Call Me Maybe" put Jepsen on the map, but Kiss certainly isn't all sunshine and rainbows. It does open with a sped-up sample of Sam Cooke's "Cupid," specifically his instruction to "draw back your bow," and the track that follows, the button-cute "Tiny Little Bows," isn't a love letter as much as it is a series of postcards that consist solely of "xo." But much of Kiss is about what happens in the spaces between those missives, the silences that seem made of sweet taffy that seems endlessly stretchable, but can snap at any moment.
Jepsen has a knack for singing with a certain melancholy, putting a quiet, downcast glance at the core of what sounds on the surface like a happy pop song. As a result, the strongest songs on Kiss are the ones with just a touch of wistfulness. "This Kiss" has a punchy beat while spinning a tale in which infidelity makes the physical contact that much sweeter; "Tonight I'm Getting Over You" and "Turn Me Up" confront the types of fuzzy relationships that cross the boundaries between friendship and romance. "Over" sets the liberation of a breakup to a grinding club-ready beat, while the gently pulsing "Turn" has a gauzy yet sparkling quality to it that brings to mind Eric Prydz's "Call On Me," which distilled Steve Winwood's "Valerie" to its chorus's soaring essence and then set the result to a pulsing club beat. Place them side by side with Pink's "Try," in which the singer travels through the stages of grief with an unnamed victim of heartbreak over a spacey piano ballad, and you'll almost think that Jepsen was taking her elder's advice to "get up and try" by going out to the club and losing herself in the music.
That advice, judging by the lyrics on The Truth About Love, was borne from much experience. It's by no means a perfect album; the lead single, the Modest Mouse-biting "Blow Me (One Last Kiss)," is a bit hollow, the self-satisfaction of its titular pun supplanting the need to connect, and the cameo by Eminem on "Here Comes the Weekend" seems utterly superfluous. But Pink has always been about facing her flaws head-on, and what makes Truth so solid is its willingness—or, perhaps, its need?—to be unpretty. Many listeners will recognize themselves in the characters sketched out by the lyrics, which eschew the cardboard-cutout types who populate typical happily-ever-after depictions of romance. "Slut Like You" (co-written by Max Martin) whoops and hollers its way through its recounting of a love binge; "How Come You're Not Here" is equal parts brave and bruised, possessing the arena-sized chorus of a jock jam even though it contains the plain-as-day line "I miss you, baby/ Come home to me." It's radical honesty as gut-punch, and Pink's hard-bitten willingness to just drop the defenses and snipes at her ex's new partner and say what she means is a quality that more pop stars should embrace.