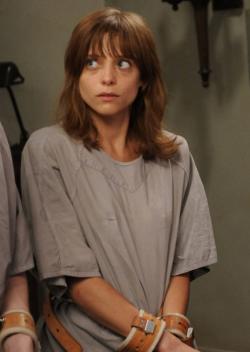 Who is Bloody Face? That's the question that's preoccupying many around the Web this morning, following last evening's exposition-heavy episode of American Horror Story: Asylum. The conventional wisdom—which Abby and I shared in our chat—is that we're meant to believe its Dr. Arden, given his demonstrated interest in bondage and forced power-play with prostitutes, but that it's actually probably someone else. After all, Arden's already pretty old in 1964, so for him to hang around long enough to stab Adam Levine (good riddance) in 2012 would require some truly miraculous feats of science. Jen Chaney over at the Washington Post has floated the intriguing notion that perhaps our skin-masked killer is none other than the good Monsignor, who, as we learned over he and Sister Jude's dinner of Julia Child's coq au vin in Episode 1, possesses a hunger for power as well as perfectly browned mushrooms. I'll definitely be keeping an eye on him in future episodes.
Reviewers are also really keying in to how much of this show's tension comes from the guilt-complex inherent to certain brand of Catholicism. This episode saw a gauzy flash-back to Sister Jude's years of … indiscretion, a moment which led Sister Chaney to the following analysis: "Sister Jude is, herself, a sinner, as worthy of having her head shaved as Shelley the Nymphomaniac. So when she's punishing her charges, really, she's punishing herself." That hits the nail on the head, or is it the patient on the ass?
Speaking of bare bottoms, if you're wondering how awkward it was to film all those scenes of chastisement, check out this … revealing … interview with actor Evan Peters in Vulture. Sounds like the cast of American Horror Story has to get comfortable with one another's dark secrets pretty quickly on set.
Now, before we leave Briarcliff, I have a question to pose to our commenters. Since we all know that Sister Mary Eunice is clearly the victim of some demon-hopping, what do you think her/its next steps are going to be? I noted with interest her intensified curiosity about the creatures in that Arden's keeping in the woods outside the asylum. Does anyone else remember that story from Bible school about Jesus driving demons from two men into a herd of pigs? If the creatures in the woods are powerful, maybe the demon would prefer them to Sister Mary's mortal coil. Or maybe he just wants to arrange for them to be homes for his hellish friends Legion and Beelzebub. In any case, just something to gnaw on while we wait for next week's episode.
---