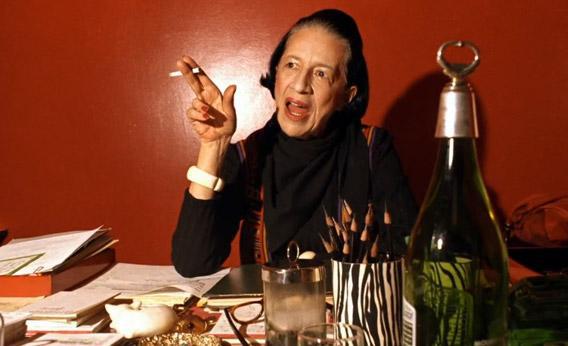 Fashion documentaries seem to be experiencing a belle époque. Between The September Issue, Valentino: The Last Emperor and Bill Cunningham New York, we're awash lately in fascinating portraits of artists whose medium is clothes—designing them, photographing them, thinking about them. Diana Vreeland: The Eye Has to Travel, a documentary about the late Harpers Bazaar and Vogue editor directed by her granddaughter-in-law Lisa Immordino Vreeland, may not be the most tough-minded of the bunch; the filmmaker (who married into the family too late to meet Vreeland) paints a portrait of her subject that's so unreservedly affectionate, it's just this side of gushy. But the movie is saved from feeling like a promotional puff piece by the legitimate fabulousness of Vreeland herself, who, even in still photos with an actress reading from her transcribed interviews, leaps vibrantly off the screen.
Tiny and frog-voiced, Vreeland spoke in an apparently effortless stream of pull-quote-ready epigrams. We get to hear her deliver a few of these in person, in clips of old interviews with Jane Pauley and Diane Sawyer. But most of what we hear of Vreeland comes via the voice-over of actress Annette Miller, who can't quite capture Vreeland's particular style of passionate, italics-strewn speech, not to mention that ineffable quality Vreeland refers to frequently, and reverently, as "pizazz." Along with the voic-eover, there are vivid, if sometimes overedited, interviews with figures from the fashion and entertainment world who worked with Vreeland—Anna Sui, Calvin Klein, Diane von Furstenberg, Anjelica Huston—along with Vreeland's two sons.

All this interview footage leaves the director with a lot of visual space to fill. That's a familiar documentary problem—what to give audiences to look at while they listen to someone talk—and this director tackles it in ways that are sometimes satisfying, sometimes not. Along with stills from Vreeland's life and splashy spreads from the magazines she curated, there are clips—sometimes extended ones—from old movies that seem to mimic the events being described in voice-over, sometimes with a corny literality. As we hear about Vreeland's takeover of Harper's Bazaar, the "Think Pink" number from the fashion-themed musical Funny Face appears on the screen; during a discussion of Vreeland's knack for working with models, we cut to a scene from the 1966 film Qui Etes-Vous, Polly Maggoo?, which featured an editor character based on Vreeland. Some of these clips (like the Polly Maggoo one) are apposite, but many others feel distractingly tangential to Vreeland's life story, which is already cinematic enough not to need any help from Hollywood.
"How does one become Diana Vreeland?" George Plimpton (or an actor reading his words) asks Vreeland in an interview for the memoir he helped her write. "The first thing to do, my love," she responds, "is to arrange to be born in Paris." Born to a wealthy expat couple there in 1903, Vreeland grew up with the 20th century (a century that, as she astutely observes, didn't really begin until the cultural awakening of the 20s). As a child, she was taken to the Ballet Russe and hung out with Diaghilev and Nijinsky. After studying dance at a Russian school in Paris, she apprenticed with Coco Chanel, and eventually wound up in New York, where she started at Harper's Bazaar with a whimsical fashion-tip column called "Why Don't You …". (In one charming scene, the filmmaker's young daughter reads a few of these tips out loud, sounding confused by her great-grandmother's suggestion that readers wash their hair in champagne and "[wear] violet velvet mittens with everything.") Vreeland rose to the top of her field very quickly, thanks to her boundless energy and unerring editorial eye—a kind of zeitgeist prophet, she advised Jackie Kennedy on how to put together a White House wardrobe, and was the first to publish photographs of countless enduring icons of style: Lauren Bacall, Mick Jagger, Twiggy, Cher, and (in a controversial 1950s spread) the bikini.
I would have liked to have heard more about the personal side of Vreeland's life, the kind of revelation that she herself nimbly ducked in interviews (encouraged by Plimpton to discuss her sons, she demands, "Why all this family talk, George?"). No doubt the fact that the filmmaker is related to her subject placed some constraint on how far she could go, say, in interviewing her father- and uncle-in-law, Vreeland's sons, who admit to envying their classmates' more traditional, less daunting mothers. There's also virtually nothing said about her 46-year marriage to the banker Thomas Reed Vreeland, nor of the fact that, after Vreeland's mother, a notorious beauty, was involved in a very public adultery scandal, the two remained estranged until the end of her mother's life. Still, this is a documentary whose subject is magnetic enough to make you forgive everything. "She made it OK for women to be ambitious," says Anjelica Huston in one interview, sounding moved as she remembers working with Vreeland in her early days as a model. "She made it OK for women to be outrageous, extraordinary." The Eye Has to Travel is at its best when its documenting Vreeland's extraordinary life and outrageous passions, listening to her extol the divine beauty she saw in everything from leopards to racehorses to surfing to Penelope Tree to Jack Nicholson in Chinatown.

---