Usain Bolt cemented his status as history's greatest sprinter on Thursday, becoming the first man to win the "sprint double"—the 100 meters and 200 meters—in two separate Olympics. After his victory in the 200, Bolt took a moment to denounce another all-time great. "Carl Lewis, I have no respect for him," Bolt said, explaining that he was perturbed by the American sprinter's past comments about Jamaicans and performance-enhancing drugs.
In 2008, Lewis publicly questioned Jamaica's doping regulations, saying, "Countries like Jamaica do not have a random program, so they can go months without being tested. I'm not saying anyone is on anything, but everyone needs to be on a level playing field." He's not the only person to raise questions about Jamaica's testing protocols. In a 2011 interview with La Gazetta dello Sport, BALCO founder Victor Conte said he believed the Jamaicans were somehow flouting the rules. (Conte also said this week that 60 percent of athletes at the Olympics are on drugs.) Apart from speculation, is there any evidence that Jamaican doping regulations fall behind the international standard?
In an article published yesterday by Jamaica's RJR News, Jamaica Anti-Doping Commission doping control officer Paul Wright refuted claims that the country doesn't police drug use. According to Wright, JADCO administers tests up to five times a day for 40 weeks during the athletic season. In a direct contradiction of Lewis' 2008 gripe, Wright also asserts that JADCO carries out unannounced tests.
Internationally, Jamaica complies with doping regulations as defined by the World Anti-Doping Agency, an independent body founded in 1999 and partially funded by the International Olympic Committee. In 2003, Jamaica signed the Copenhagen Declaration on Anti-Doping in Sport, agreeing to recognize and implement an international standard of anti-doping regulations as defined by the WADA. The United States was also a signatory, along with 191 other nations.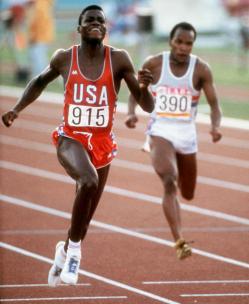 It wasn't until four years ago, however—just days before the opening ceremony of the Beijing Games—that the Jamaican congress approved the Anti-Doping in Sport Act, which created the country's anti-doping commission. (Prior to that, Jamaican athletes were subject to testing by one of WADA's regional anti-doping organizations.) When Lewis talked to SI in 2008, the Jamaican Anti-Doping Commission was only in its second month of existence. At that point, there were questions about how much out-of-competition testing was being done in Jamaica. And Frank Shorter, the American distance runner who served a term as chairman of the U.S. Anti-Doping Agency, told the Denver Post that he wasn't sure how independent the Jamaican commission would be: "When they have a positive test, do they adjudicate it? Do they enforce it? Do they take it to appeal? Or does it go back to the Jamaican federation [to be buried]?"
JADCO has now had four years to exert its influence. During this time period, a healthy number of Jamaican track stars have been banned or suspended for drug infractions. In 2011, sprinter Steve Mullings was banned from competition for life after a banned diuretic was found in his system. (Mullings had previously been suspended for two years after he was found to have elevated testosterone levels.) A year prior, Shelly-Ann Fraser was suspended for six months for taking oxycodone, a drug that is not considered to be performance-enhancing. The Beijing and London 100-meter gold medalist was the eighth Jamaican athlete in a 12-month period to get nabbed for drug violations. Among those was Bolt's training partner and double London silver medalist Yohan Blake, who was benched for three months for taking a banned stimulant. (Bolt himself has never failed a drug test.)
Following Fraser's 2010 suspension in 2010, WADA's director-general David Howman defended the country's program, saying "there was nothing that made the [Jamaican] agency non-compliant with the WADA Code." Last year, in a report delivered by WADA to its board, the Jamaican Anti-Doping Commission was found to be a WADA-compliant organization. (National organizations must perform a certain amount of out-of-competition testing to meet the criteria for compliancy.) And following Bolt's 200-meter race last night, London Olympics chief organizer Sebastian Coe also assured naysayers that Jamaica's anti-doping regulations were compliant with Olympic standards.
Carl Lewis, who won 100-meter gold in 1988 after steroid user Ben Johnson was stripped of the title, has been the subject of drug controversies himself. According to documents released in 2003 by the U.S. Olympic Committee's former director of drug control administration, Lewis tested positive for stimulants and bronchodilators three times in the run-up to the 1988 Olympics. USOC, however, decided to overturn the results after Lewis said he had taken the drugs inadvertently.