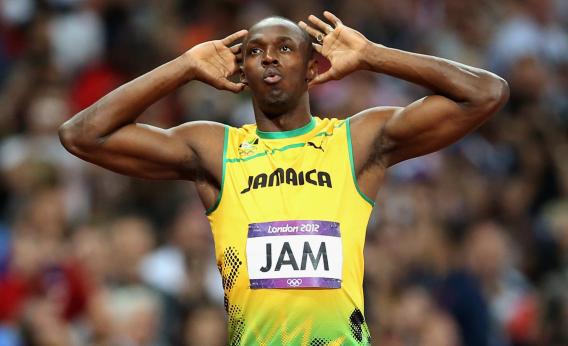 Usain Bolt exited the London Games in a familiar position: alone, in first place, basking in the glory of an audience that can't believe what it had just seen. Pressed by Ryan Bailey and the rest of the United States' 4-by-100 relay team, the now six-time gold medalist ran all the way through the line on Saturday night, a rare all-out effort that pushed Jamaica to a new world record of 36.84 seconds. The Americans finished in 37.04, a mark that tied the old record while still leaving them to inhale Bolt's fumes.
Add together his six Olympic finals, and the world's fastest man covered 800 meters in a little more than 75 seconds. (Match that, David Rudisha.) Never before has a single athlete made such a powerful impression in so little time. Don't blink, or you'll miss the rest of his career. Most likely, the 25-year-old Jamaican will be at the height of his powers for just three more grand occasions: the 2013 track and field world championships in Moscow, the 2015 world championships back in Beijing's National Stadium, and the 2016 Olympics in Rio. After that, he'll be gone, a blur in yellow, green, and black that the next generation of sprinters will chase but never catch.
In Beijing and London, Bolt rose to the occasion every time he stepped on to the track. The shame of his career is that the occasion doesn't often rise to meet his superhuman level. The 6-foot-5 sprinter, taller by a head than the supposed speedsters he never fails to leave behind, is a man before his time. He's also a man in search of another planet. The people of earth circa 2012 are no competition for Usain Bolt, which means he is always competing against some combination of himself and the clock. The best we can hope for, as was the case on Saturday, is that whoever comes in second entices the showman to run his hardest before he starts preening for the crowd.
This year, the also-rans—Bolt's training partner Yohan Blake, and the USA's Bailey, Justin Gatlin, and Tyson Gay—got a little faster, but they're still not nearly fast enough. Unless Blake, his closest rival, gets a lot better very soon, Bolt will spend his remaining time on the track in a race against boredom. If Bolt stays interested, we'll marvel as he continues to stretch the boundaries of human ability. But will there be any reason for a man who holds every record he's ever chased to keep on sprinting through the tape?
One enticing possibility is that Bolt could return to his roots and start training for the 400 meters. Michael Johnson's world record in the event, 43.18 seconds, has stood since 1999. It could use a Bolt-sized push into the 21st century. And how about the long jump? Mike Powell has said that Bolt could break his record if he deigned to try—that "he could jump so far that it will be crazy."
Shifting his attention to new events could detract from Bolt's sprinting. But continuing to run the same races he's already mastered might not serve him any better. When a kid is too advanced for the rest of the class, you skip him to the next grade. But for Bolt, there is no next grade. As a selfish sports-watching populace, we need to hope that Bolt decides to build himself a new school. If he picks up the 400 or the long jump or both, the Jamaican legend will have to push himself to become the best in the world. And when Usain Bolt pushes himself, we see things that we've never seen before.
---