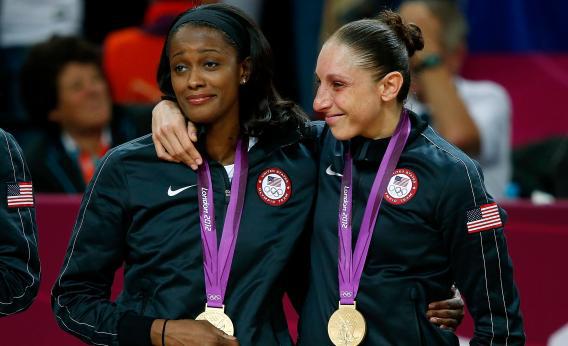 In an outcome that surprised no one, the U.S. women's basketball team won its fifth straight gold on Saturday, beating France by 36 points. In an Olympics filled with dominant athletes, the U.S. women can play rock, paper, scissors with the Chinese table tennis team to figure out who was the best of the best. In the qualifying rounds, Team USA beat their opponents by a combined 183 points; the next highest point differential was 37. They played one close game in the entire Olympics, against Australia, and it wasn't even that close: They won by 13.
The U.S. has won seven of the 10 gold medals ever awarded in women's basketball and has lost one Olympic game in the past 30 years. And yet, few people seem to care. As Yahoo's Les Carpenter wrote, "the U.S. women's basketball team will stand on the podium, as it has done for the past four Olympics, watch its flag rise, and wonder why dominance doesn't matter in a basketball country in love with winning." Some, including coach Geno Auriemma, think it's because Team USA is too good—that their dominance dissuades people from watching. But that doesn't make any sense. Sports fans love dominant performances. If people didn't like to watch athletes who were too good for their own good, then they'd pay no attention to Usain Bolt.
Let's not over-analyze this: It's not that Team USA is too dominant, it's just that women's basketball isn't popular. Regular-season WNBA attendance has steadily declined since 1998, the league's second year in existence. In 2011, the 11 WNBA games broadcast on ESPN2 averaged 270,000 viewers, slightly less than the year's lowest rated network TV program, the CW's L.A. Complex.
I'd bet that most people could only name a couple of active women's basketball players. The most famous player on Team USA, Candace Parker, occasionally makes headlines when she dunks in a game. But almost every player in the NBA can dunk a basketball—even the bad ones, like Brian Scalabrine. I've dunked a basketball before, and I'm horrible at basketball.
This is why, even though professional women's soccer has had a rocky history in the United States, the future looks brighter for Alex Morgan and co. than for Parker and her teammates. Women's soccer doesn't look substantially different from the men's version. But as the Olympics have shown, there is an unbridgeable chasm between men's and women's hoops.
The American men have run up the score in London and they've done it with panache. Kevin Durant, LeBron James, et al., have shot 53 percent from the field in seven games while making 45 percent of their three pointers, an impressive shooting display befitting the best team in the world. The women, by contrast, shot under 50 percent from the field in six of their eight wins. And from behind the three-point line, Team USA shot a not-so-impressive 30 percent. In the end, they destroyed the competition and didn't look all that amazing doing it.
"I'm sure if we were to lose a game we would become way more famous than we are now," said Auriemma before today's gold medal match. But it seems more likely that, if Team USA lost a game, they'd remain what they are today: a very good team that not that many people care to watch.
---