Here is a list of the musicians, artists, and other figures mentioned in this series, along with brief bios. Listen along to this series with Weigel's Spotify playlist.
The order, Rick Wakeman remembers, was for chicken vindaloo, rice pilau, six papadums, bhindi bhaji, Bombay aloo, and a stuffed paratha. This was November 1973 and Yes had sold out the Manchester Free Trade Hall for a performance of Tales From Topographic Oceans. The album consisted of four songs that rolled gently together, over four sides of vinyl, for 83 minutes. "There were a couple of pieces where I hadn't got much to do," Wakeman would recall, "and it was all a bit dull.
During every show, a keyboard tech reclined underneath Wakeman's Hammond organ, ready to fix broken hammers or ribbons and to "continually hand me my alcoholic beverages." That night in Manchester, the tech asked the bored Wakeman what he wanted to eat after the show. Wakeman, the lone carnivore in Yes, ordered the curry. "Half the audience were in narcotic rapture on some far-off planet," Wakeman wrote in his 2007 memoir, "and the other half were asleep, bored shitless."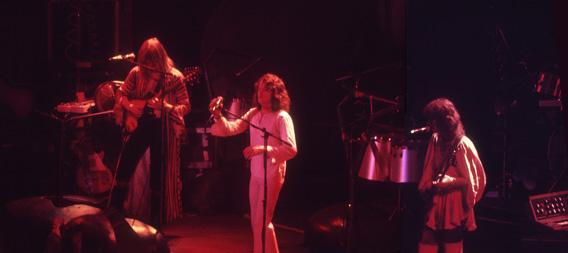 Wakeman kept on at the keyboards, adding gossamer organ melodies and ambient passages to the songs. And then, around 30 minutes later, his tech started handing up "little foil trays" of curry, and Wakeman began placing them on top of his keyboards. "I still didn't have a lot to do," he wrote, "so I thought I might as well tuck in." The food was obscured by the instrument stacks, further obscured by Wakeman's cape, but the aroma danced over to Yes's lead singer, Jon Anderson. He took a good look at the culinary insult. Shrug. Papadum in hand, he returned to his microphone to sing his next part.

Tales From Topographic Oceans just might be the recorded ur-text of prog rock excess. No band had ever tried to fill each side of two LPs with long, multisection suites. Yes did it, and voila—a No. 1 album. They went on tour with a sci-fi lullaby backdrop, designed by their three-time album cover artist Roger Dean. He had seen the sort of enormous venues they'd booked, realized how hard it now was for faraway audiences to see the band, and so voila—phantasmagoric eye candy. Their set began with 82 minutes of new music before they played an old familiar tune. They played in their biggest-ever concert halls, and they sold them out.
But as the tour went on, Yes dropped the third section of the album from the show, then the second. Soon, Wakeman vented to reporters about the band's screw-up. "Tales From Topographic Oceans is like a woman's padded bra," he told one interviewer. "The cover looks good but when you peel off the padding there's not a lot there." Yes had gotten too damn silly. The music had collapsed in on itself.

This is what the most spiteful critics of prog say. With the decades behind them, it's what even the other members of Yes say. "We'd made the decision that all the music we'd ever write for the band would be for stage, not for radio," says Jon Anderson. Their music became more virtuoso, more ambitious, more spiritual, with even denser transcendental lyrics. Yes's long pieces were just that—pieces, not jamming. This, they discovered, was just a little more ambitious than audiences wanted. Just as they'd rebelled against the three-minute pop song, so did their ornate music give the next wave something to rebel against. "When we were stretching our musical wings, that's when punk and disco came in heavily. People gravitate to that—Oh, that's what we're supposed to listen to!"
Is that why audiences turned on them? The most successful prog stars (and the ones who took longest to adapt) are convinced of it. They were sold out. "None of those genres had any musical or cultural or intellectual foundation," says Greg Lake. "They were all propositions of the media or record company/media conspiracies."
But Lake and Anderson are describing changes to which their bands attempted to adapt. By 1977, Yes and ELP and Genesis were writing shorter pop songs. Less popular, wildly divergent bands like Camel, Caravan, the Soft Machine, and Renaissance went the same route. The second wave of progressive bands, North Americans like Rush and Kansas, wrote thoughtful hard rock in the form of suites and epics. They didn't much expand on what the English bands had built. The prog wave was rolling back.

Tales was recorded in the summer of 1973. The shared goal of Yes members: Outdo themselves, again. Their previous album, Close to the Edge, had consisted of one compelling side-long symphony (the title track) and two shorter songs that stayed consistently catchy. Surely the songs could get longer.
There were signs from the start that this might not go over. Jethro Tull had just put out A Passion Play, full of metaphor-rich wordplay and surprise-twist melodies. It got panned on the front page of Melody Maker by a critic who'd wanted to like it. "If this is where ten years of 'progression' have taken us," wrote Chris Welch, "then it's time to go backwards." But Yes never thought about scaling back. They wanted to reach transcendence, not radio. "We're close to the edge of spiritual awareness within the framework of the group, making music," vocalist Jon Anderson told the New Musical Express. "We have this long song, which we felt could hold a listener's ear for the whole length, rather than just a track here and there that they like."

The band debated whether to record in the country, for inspiration, or in the city, for convenience. The compromise: They booked London's Morgan Studios and made it look like the country. Drummer Alan White remembers placing his kit "inside a picket fence, facing a cardboard cow someone had brought in." Rick Wakeman's keyboards were balanced on hay bales, near potted plants. When Anderson decided that white tiles would enhance the acoustics, gaffers put up a bathroom wall.
"About halfway through the album," producer Mike Offord would tell the author Paul Stump, "the cow was covered in graffiti and all the plants had died. That just kind of sums up the whole album."
Offord put on a braver face for the contemporary press, inviting an NME writer to hear the work in progress. "You cannot turn on creativity at the turn of a studio clock," he proclaimed. "No one would have asked Picasso to start work at 2 o'clock and paint a masterpiece by five." The interviewer bought it. "Yes," he wrote, "sounded gutsier than I've ever heard them before."

Everything was hyper-ambitious. "We got Slinkys, put mikes on them, and threw them down stairs," said Steve Howe in a 2009 BBC interview. "If you put a lot of reverb on it, it sounds great. … It's a nice kind of insanity." The gatefold cover, Roger Dean's third for the band, smashed together wonders from all over the planet. Here was a rock from Stonehenge, there were the plains of Nazca, over in the back was the temple at Chichen Itza. "I was accompanying the band to Japan," he recalls, "and the wives and girlfriends put whatever dope they had into a cake, which nobody knew about. On the flight, Jon served us slices of the cake. And so, from Alaska to Tokyo, I was talking for hour after hour after about this book I was working on about landscapes. I talked his ear off about religious-spiritual significance of them, of ley lines, of dragon lines, while all the while the most beautiful landscapes of Siberia were passing underneath us.
Inside the sleeve was Anderson's spiritual schematic for the album. "Leafing through Paramhansa Yoganda's Autobiography of a Yogi," he wrote, "I got caught up in the lengthy footnote on page 83." He had thought deeply, then taken his ideas into the studio, and then the band had composed on the spot, standing or sitting amid the cows.
Here's where the album's reputation betrays it. At first, the music produced by those sessions sounds fantastic.
"The Revealing Science Of God / Dance Of The Dawn" starts with 30 seconds of soft sounds meant to evoke lapping waves. Then comes Steve Howe's guitar, playing sustained, single notes, imitating whalesong. Wakeman—who, remember, would claim to have hated every minute of this—arrives on an organ and quickly dominates the mix. At two minutes, Anderson's high, Welsh whistle of a voice starts in on a chant.

Dawn of light lying between silence and sold sources
Chased amid fusions of wonder in moments hardly seen forgotten
Coloured in pastures of chance dancing leaving cast spells of challenge

The rest of the band arrives until every instrument is engaged. Alan White frantically hits his cymbals. Chris Squire plunks the bass, faster and faster. Anderson picks up the pace, too: Dawn of our power we amuse redescending as fast as misused. At 3:33, Wakeman bends a note on the synthesizer and the song transforms into 4/4 pop. The band bears a load, moves it slowly in one direction, snaps back quickly, and moves again. You can listen but you can't relax. For twenty minutes, the experiment comes off.
We eventually reach the limits of rambling composition and ramped-up mysticism. There are dull stretches of music, like the vaguely Eastern drum pattern and whining Howe guitar lines that dominate the beginning and middle of Part 3, "'The Ancient' / Giants Under The Sun." But the band scattered hooks in every song. The  vocal/organ duet in "Ritual / Nous Sommes du Soleil" sounds like Funkadelic. It would show up three decades later as the key sample in De La Soul's "The Grind Date."

The record went gold in the U.K. based on advance sales alone—75,000 copies. Yes sold out everywhere, booking three nights at the Royal Festival Hall in London. Audiences at the Tales shows were given a warning: There would be no seating after the performance had started. You grabbed your place for the show, and you were locked in to a piece of music longer than almost any individual baroque symphony.
"Already the piece is being applauded as a masterpiece of contemporary music," wrote Tony Palmer in the Observer, "classical in structure, mystical in realization." But in concert, he continued, "the players themselves appeared confused as to what was expected of them, the lead singer being unsure whether each section should be described as, for example, the second movement or the second side of the record. … No amount of frenzied presentation … could hide the paucity of musical invention."

As the tour went on, Yes faced up and started dropping sections of the suite. "We could tell the audience wasn't reacting," says Anderson. By the end, they were only playing the energetic first and fourth sections, then switching over to the hits. They rented a 63-foot-high balloon with the Yes logo, hoping it would follow them around the country. They scrapped it when the balloon and their bus nearly crashed. Wakeman finished the tour, and then, in June, quit the band with a phone call.
Here's the oddity of Wakeman's solo career. Tales, he would say, was too pretentious—boring, pompous, obese music. That wasn't for him. He was going to write concept albums based on classic British themes. His first attempt, 1973's  The Six Wives of Henry VIII, had gone gold everywhere, eventually selling 15 million copies. His second, Journey to the Centre of the Earth, was recorded during a pause in the Tales tour, and it went to No. 1 in the U.K. the very day he quit Yes.
British audiences weren't yet done with pomp. Wakeman's excess was just more accessible than Yes's excess. Journey, a four-part compression of the Jules Verne story, was recorded live with the London Symphony Orchestra, who beefed up Wakeman's 12 keyboards—three of them, Mellotrons. There are no strange time signatures in Wakeman's first solo songs. This is pop music.

Yes, minus Wakeman, worked with the experimental Swiss-born keyboard player Patrick Moraz and produced Relayer, with some songs as ambitious as anything on Tales ("The Gates of Delirium" interprets scenes from War and Peace), and others that shrank their ambitions back to single-length ("Sound Chaser").* Wakeman, meanwhile, performed The Myths and Legends of King Arthur and the Knights of the Round Table outdoors at Wembley Stadium with a full cast, ending in a fight sequence for "The Last Battle." The stage couldn't be de-iced before the show. So he hired skaters instead of dancers. "Lancelot," wearing a dummy horse on his torso, glided back and forth across the ice to battle a similarly attired "Black Knight," as Wakeman commanded the action behind his tripartite wall of keyboards.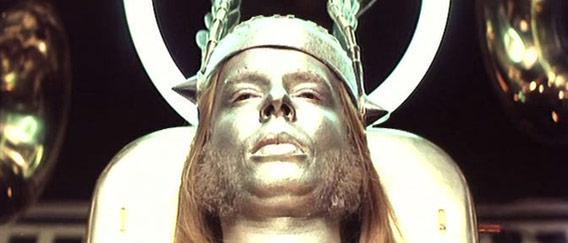 Then came Lisztomania. Ken Russell had just directed Tommy, the hit adaptation of the Who's quasi-plotless rock opera. The natural follow-up was an impressionist biopic about Franz Liszt, the pianist who made European audiences lose control and applaud after every piece. Wasn't he the true ancestor of the sexualized rock star? And if it was 1975, and you were looking for a keyboard player, how could you not choose Wakeman? Russell gave him control of the entire soundtrack.
"Liszt was a bit of a rock and roller at heart," said Wakeman in a Creem interview, "but he was a bit of a puritan on his sounds. I just had to update the guy's music to fit his image." He wrote a score to accompany scenes in which Liszt (Roger Daltry) rode a hippo-sized rubber penis, and a gigantism-afflicted Nazi slaughtered Hasidic Jews with a guitar/machine gun, the victims dropping gold on the ground as they fell. "I think the sun shines out of Ken Russell's asshole," said Wakeman.

The movie is basically unwatchable by humans. That doesn't mean that Russell failed. His vision of rock excess and brain-dead rock fandom is bleak and cruelly cynical. In his world, pompous music is produced by men with monster egos and unresolved sexual hang-ups. Wakeman, who appeared on some promotional posters, got one of the strangest cameos. (We can't forget Ringo Starr, who plays the pope.) At the start of the film's third act, Richard Wagner summons Liszt to his lair, over to an operating table surrounded by Hammer Horror electric poles.
"We need a superman," cries Wagner. "Such virtue will never be born of woman, Franz! Such a creature must be—created!" He turns the levers. "They do say music is the gay science, Franz! My music, and my philosophy, will give him—life!"

Wagner's machinery emits beeps and fart noises as his sheet music is fed into it. Thus arises Siegfried—Rick Wakeman, painted in silver and dressed to look exactly like the Marvel Comics version of Thor. He stands up, his 6-foot-3-inch height elevated by golden boots with elevator heels. He drains a stein of beer before Wagner commands him to "go forth!" Wakeman/Siegfried trudges out of the laboratory. He stops at a fireplace, grabs his crotch, and urinates all over the flames.
"Who's going to follow him?" laughs Daltry-as-Liszt.
Wagner, chagrined, puts Siegfried back on the operating table. The experiment was over.
Next: Prog lives!
Correction, Aug. 16, 2012: This article originally described Patrick Moraz as Dutch. He is Swiss. (Return to the corrected sentence.)
SlateV imagines the definitive collection of progressive rock, for any (semi) serious fan: Now That's What I Call Prog!