The fencing mask is the best piece of equipment in the Olympics. Fencers wear wire mesh masks to protect themselves from the sun's deadly UV rays, and also from the swords that their opponents are trying to stab them with. When you're wearing one, you look like a microphone with legs. Even better, a handful Olympic fencers have customized their masks like fifth graders at a sweatshirt-decorating party.
Athletes in other sports have been wearing frightening masks for years, striking fear into the hearts of their opponents and of any unsuspecting children who happen to be in the arena. Hockey goalies have a long, silly tradition of painting their masks. Former NHL goaltender Patrick Lalime decorated his mask to look like the cartoon character Marvin the Martian; Ed Belfour painted eagles on the sides of his.
Marlins catcher John Buck is the only active backstop who's allowed to have elaborate designs on his masks. (He got grandfathered in before a new MLB licensing deal that banned facial decoration.)
Fencers have been painting their masks for at least a decade, as far as I can tell. While many fencers find the practice tacky, online fencing message boards are nevertheless filled with advice about how to do it ("any non metallic-based hobby paint will do in a pinch, as will most kinds of spray paint") and whether doing so might send paint chips flying into the wearer's eyes (yes, it might). Though the official rule book of the International Fencing Federation spends an inordinate number of pages regulating a mask's mesh spacing, wire gauge, and conductivity, it covers the matter of mask decorating with a brisk note: "Masks may feature coloured designs, on condition that they are approved by the FIE Executive Committee at least 30 days before being used for the first time in an official FIE competition."
Though most Olympic fencers haven't decorated their masks, the ones who have tricked out their face shields have come up with some striking designs. A few American fencers have the American flag printed on their masks, probably in honor of Betsy Ross, the grand old lady of fencing.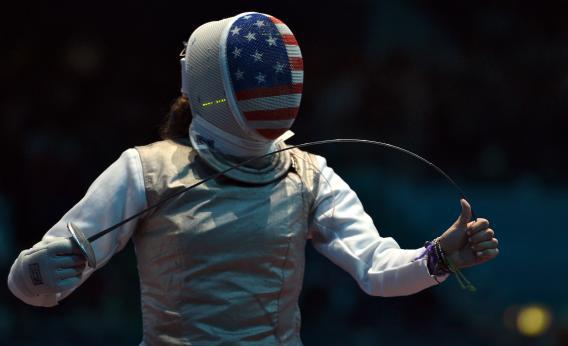 A couple of British fencers, not to be outdone, have the Union Jack on their masks. (If you've got 200 pounds to spare, you can buy your own Team GB mask.) Here, Britain's Sophie Troiano and Natalia Sheppard look like nothing so much as a pair of sword-toting, flash-dancing British astronauts. (Coming in 2013 to a theater near you.)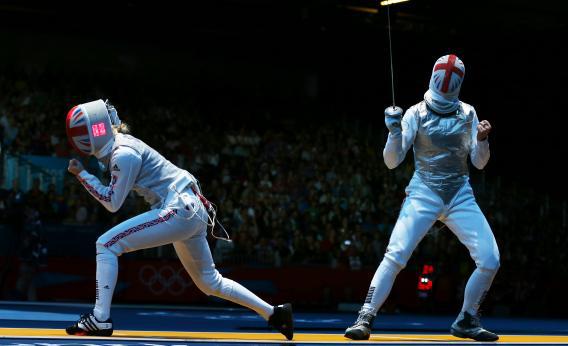 Other fencers, apparently unable to obtain more than one color of ink, have opted for simple dye jobs. Ines Boubakri of Tunisia colored her mask blood red. Intimidating!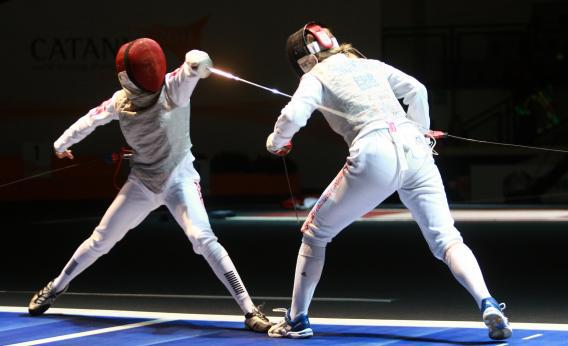 Flags and solid colors, however, are tame compared to other fencing mask designs. There are masks that resemble medieval armor, a smirking wolf, a hammer-and-sickle where the sickle is a martini glass, Spider-Man, and an utterly terrifying clown.
Whether it's the IFF or the fencers themselves who've kept things relatively tame in the Olympics, I'd encourage them to let loose in 2016. This is the best fencing competition in the world. It deserves the best masks in the world. Here are some ideas for 2016:
A skull: Will convince your opponent that his sabre is made of flesh-melting acid. The only way this could backfire is if you're going up against a homicidal maniac. And if you are going up against a homicidal maniac, good thing you're wearing a mask.
A slightly modified version of your nation's flag: Distract your opponent by covering your mask with an American flag containing, say, 12 stripes. She'll spend the entire match trying to figure out what exactly is wrong with that flag on your face.
A football helmet: The man at the other end of the piste will be confused about what sport you're playing, giving you a huge mental edge. Just hope that you don't also confuse the officials, who could mark off 15-yard unsportsmanlike conduct penalties every time you celebrate a touch and/or eject you from the arena for stabbing someone.
Bob Costas' face: This would intimidate the shy opponents, who would worry that Costas is coming to interview them, and it would distract the vain opponents, who would spend the match obsessing about how their hair looked. It would probably have no effect on opponents from faraway lands who don't know who Bob Costas is.