In the next few days in London, the three young women who make up the first U.S. women's Olympic boxing team will fight amid much hype and media attention for the world's first-ever Olympic medals in that sport. Yesterday, 3,500 miles away in New York City, 30-year-old Heather Hardy made her professional boxing debut in the sweaty, buzzing confines of the Roseland Ballroom. What do all of these women have in common? None of them is making any money.
"It's not even a question of whether—they do treat [women] differently," Hardy told me after a recent workout, referring to the promoters who make pro boxing happen. As the only American woman to make her pro debut while the Olympics are actually in progress, one would think that her timing was rather auspicious. One would think. "To get on this card, they're making me sell a ridiculous number of tickets," she told me. "I'm gonna end up paying to fight." She shook her head and muttered, "I'm a former Golden Gloves champ. Not some person off the street."
***********
One need not invoke gender to begin cataloging boxing's woes. Its popularity in America has plummeted to all-time lows as fans flock to the more marketing-savvy world of mixed martial arts. The sport's professional ranks are organized not as a proper league, but as a series of feuding, promoter-controlled fiefdoms, in which huge amounts of money are filtered to a tiny handful of fighters and their handlers—the two highest-paid athletes in the world last year were Floyd Mayweather and Manny Pacquiao—as the vast majority divide up the crumbs left behind. Its amateur ranks are so poorly funded and poorly organized that USA Boxing couldn't even afford to give its Olympic team a proper training camp. And hanging over it all is the omnipresent specter of traumatic brain injury, which only grows more terrifying with every passing year of scientific research.
It is, in short, a dysfunctional sport that needs all the good PR it can get. In this context, the decision to include women's boxing in the Olympics has been a godsend. The three women who make up the U.S. Olympic team have attracted a raft of rarefied publicity that would make anyone (including their male counterparts) jealous: long profiles in the New Yorker, the New York Times, the Atlantic, and other decidedly non-boxing-centric elite publications, to say nothing of the deluge of momentary mainstream media attention for a sport that is usually consigned to undercards. This is clearly an inflection point for women's boxing. But what comes next—for these Olympic women, and for their sport? Will the Olympics be a step up, or a plateau that will lead, in short order, right back down to obscurity?
This question may be easily answered by either a) declaring that women's sports should and shall be the equal of men's sports, one day, because everything should be fair, or b) declaring that women's sports will never achieve popularity, either because they are boring or because they are somehow improper. Either of these views will soothe the politically agitated mind without actually providing any insight. A more useful way to answer the question is to ask: Is there anything about women's boxing that should prevent it from becoming, at least, as popular as men's boxing?
The WNBA, the best-promoted and well-organized women's pro sports league in America, suffers from the fundamental problem that its games are less exciting than NBA games. But might women's tennis, which has managed to create stars on par with the men's game, serve as a better comparison? Women, as a class, will never be as physically powerful as men. But boxing is a sport in which the skilled and savvy routinely defeat the hulking and monstrous. Though women fighters often lack the explosive fast-twitch muscle mass that can make knockouts easier to come by, they lack none of the speed, quickness, and defensive skills that make high-level boxing enthralling. In short, there is nothing about the sport itself that precludes women from becoming highly regarded pros.
Is there anything intrinsically different between male and female boxers? "I think women are more technical boxers," says Keisher "Fire" McLeod-Wells, a professional super flyweight female boxer based in New York (and, it must be said, quite a technical fighter herself). "Men are more emotional, so it can become a slugfest." Heather Hardy disagrees, describing her style as aggressive—predisposed to slugfests. "It's not a gender difference, it's a personal difference," says Hardy (who survived an early knockdown to win last night). "I don't want to say it like this, but … some men fight like women, and some women fight like men."
The fact is that female boxers run the gamut from power-punching brawlers to slick stick-and-move wizards, just like men. The U.S. Olympic team features Marlen Esparza, the brash, Napoleonic flyweight; Quanita "Queen" Underwood, the methodical, search-and-destroy lightweight; and Claressa Shields, the gritty, overachieving middleweight. Three women, three styles.
Though pro women's boxing does feature fewer highlight-reel knockouts than men's boxing, it's certainly not free of knockouts. More importantly, it matches the intensity of men's boxing. Punches are punches. (I'm constantly reminded of this fact by a persistent low-grade deafness I sustained from a right hook to the ear while sparring with a smaller woman years ago.) There are never any main-event women's pro fights these days, but they do show up on undercards with regularity, and I can say from experience that they are just as much of a hit-or-miss proposition as men's undercard fights—sometimes phenomenal, sometimes gross mismatches, sometimes workmanlike. A pro undercard full of women's bouts, if it could be assembled, would bear the same similarity to a scratch-off lottery ticket that any other undercard does. Styles make fights, as the saying goes. Not relative breast size.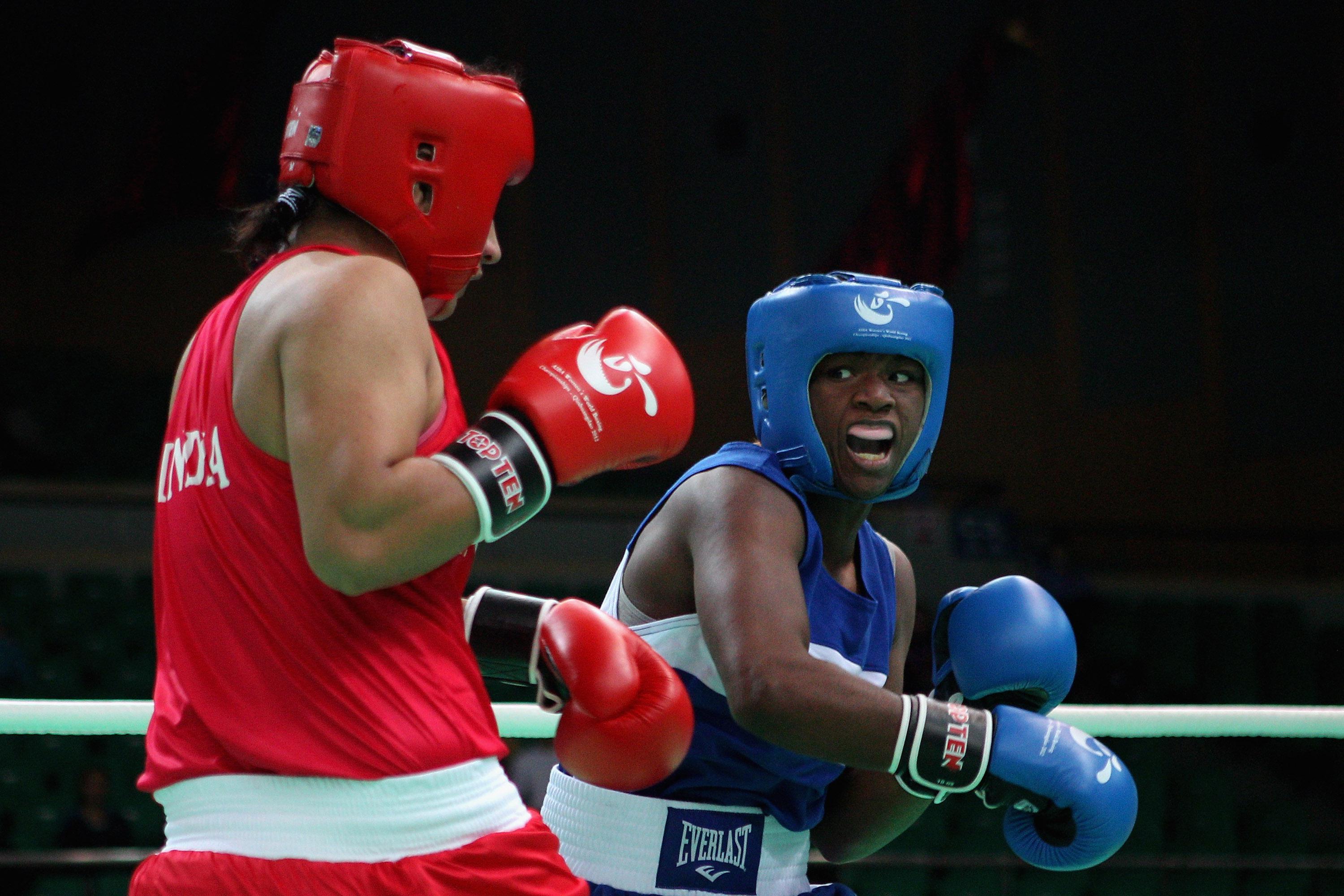 What women boxers do have in common is their struggle to make a living. Instead of being developed as prospects, they are asked to pay their own way. "Promoters are still reluctant," says McLeod-Wells. "I had to prove to [my promoter] that I could sell a lot of tickets." For serious female fighters unwilling (with good reason) to rely on their sex appeal to broaden their fan base, economically justifying themselves to promoters can amount to a full-time job itself.
The fact that Olympian Marlen Esparza has a Cover Girl modeling contract is great—for Marlen Esparza. It may even help some old-school types get over their stereotypes of women boxers, who knows. But the unavoidable big picture, for the Olympic women's stars and the struggling no-name female amateurs and pros alike is this: Unless women's boxing can be built into a viable spectator sport, our quadrennial national orgy of athletic feel-good self-congratulation will be for naught. Olympic boxing is nice. But it is and always has been a mere prelude to a professional career. It's rather patronizing of us to pat female boxers on the head, compliment their medals, and then shrug and tell them that their fighting days are over, because the general public has gotten over the novelty factor. Prizefighting is what every boxer, male and female alike, aspires to. And in order for there to be female prizefighting, there must be money for a prize.
Need it be tens of millions of dollars in pay-per-view riches? No. But it should be a living wage. To expect female—but not male—fighters to rely on product endorsement money tied, implicitly, to sex appeal smacks of the despicable. Boxers, generally speaking, carry an extra measure of pride and fierce self-determination. It's why we admire them, and why they're able to persist in a sport that weeds out weakness in a brutal fashion. It is this that boxers get paid for. To the extent that we require fighters to become spokespersons and models and coaches and all-around hustlers to cobble together a living, we detract from the quality and safety of the sport. Male pro fighters make, at least, a living. That's not too much for their female counterparts to ask. Yes, boxing's riches are a pie unequally divided. But as it stands, women are still trying to get a fork.
Considering how downright dangerous boxing is, the very least we can give the women coming back from the Olympics is a decent set of paying fans. Fortunately, there may be a simple path to building a viable audience for women's boxing: women, boxing. Though the link between female participation in a sport and the success of a pro version of that sport is muddy, something about being punched in the face tends to inspire a romantic lifelong affinity. And there is a broadening group of women who've given boxing a try. Darius Forde, a trainer at New York's famous Gleason's Gym, says more women than men have come into the gym as new students in the past six months. "Most come in to get in shape," he says, "and then stay to fight, once they see the competitive drive."
If America doesn't find a way to build a viable support system, it may soon find that poorer countries have used women's boxing as a good arbitrage opportunity for Olympic glory. In India, for example, "the government has been spending money on a year-round boxing program for more than a decade," says Anna Sarkisian, a Canadian filmmaker who has been following women's boxing in India for years for the upcoming documentary With This Ring. "Forty boxers train, with at least five coaches, six days a week, 2-3 times a day. They travel many times a year, all expenses paid, for training and competitions."
In America, of course, earning power rules. Government support for boxing is paltry. America's professional male boxing ranks are full of former Olympians, like Muhammad Ali and George Foreman and Roy Jones Jr. and Oscar De La Hoya, who stepped off the medal platform and into the primetime world of pay-per-view violence. There's no real pathway for women boxers to do the same thing—and little indication that there will be the kind of sustained public enthusiasm that would entice tight-fisted promoters to gamble on the less-flashy female game. So perhaps a little bit of priming the pump is in order: a minimum of one female fight (assuming fighters are available) on all major fight cards, as a condition of the license. There's no shame in a bit of affirmative action to build a fan base. Otherwise, opportunities are sure to remain scarce.
Professional boxing, with all of its flaws, may be a dubious reward to hold out to female Olympians. But it's all we've got. And until pro boxing fans open their minds and wallets enough to give women's boxing true viability as a business, even our ballyhooed and empowering Olympic women will remain prizefighters without a prize.
Read the rest of Slate's coverage of the London Olympics.