Update, Aug. 4: On Saturday, Great Britain's Greg Rutherford won the gold medal in the long jump with the shortest winning leap in 40 years.
Something odd is happening in the long jump. As Chris Kirk's Slate interactive shows, today's Olympians run and swim faster and throw further than their predecessors. What they don't do is jump longer. The performance of both male and female Olympic leapers seems to be regressing—or, at best, not getting any better. In the men's event, American Bob Beamon leapt more than 29 feet in the 1968 Olympics to win the gold. In 1988, Carl Lewis won the same event with a jump of about 28 feet 7 1/4 inches, while the 2008 Olympic champion, Panama's Irving Saladino, cleared just more than 27 feet 4 inches for the win. And there's a similar pattern of decreasing jump distances in the women's competition, where Jackie Joyner-Kersee's 1988 leap would've bested the field in the 2008 Olympics by more than a foot.
Though nothing is guaranteed at the Olympics, this is pretty much a lock: When the men's and women's long jumpers take flight this weekend, nobody will set a world record. Why aren't long jumpers leaping as far as they used to? The most obvious reason is money: Jumping long doesn't pay.
Todd Lane, who coaches college jumpers at LSU, told me that one of the keys to being a fantastic long jumper is having world-class speed. But these days, he explained, you can make more money being an average 100-meter runner than you can as a great long jumper. This problem has made it difficult for colleges to recruit athletes who would rather use their speed for sprinting or to play football. (The United States' best long jump hope in London, Marquise Goodwin, also plays wide receiver for the University of Texas.) As a result, close competition—the key to breaking records and pushing a sport to new heights (or distances)—has disappeared.
Lane's theory might be right. The competition needed to push long jumpers longer isn't what it was in the late '80s and early '90s. This recent competitive void could explain the lack of records. After a string of 11 women's long jump world records in the '80s, record breaking just seemed to stop. In 1988, Russia's Galina Chistyakova jumped 24 feet 8 1/16 inches, a record that still stands.
On the men's side, the long jump record has stood for nearly as long. During a famous duel between Carl Lewis and Mike Powell at the 1991 World Championships in Tokyo, Powell leapt 29 feet 4 3/8 inches to set the mark. (Lewis believes he once jumped 30 feet, though a 1983 20/20 segment on "the perfect jump" disputes that claim.) By contrast, the record in the 100-meter sprint has been broken repeatedly over the last two decades, most recently in 2009 by Jamaica's Usain Bolt.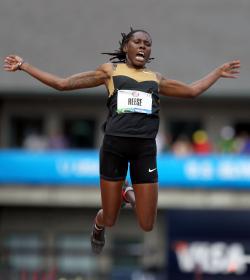 Powell told Reuters last year that Bolt could probably break his long jump record if only he'd give the sport a serious try. But the toll the long jump takes on the body would surely affect his sprinting, and Bolt's sprinting pays the bills: In 2010, he signed a three-year contract with Puma for a rumored $32 million. At the time, the Guardian called the deal the biggest sponsorship in track and field history.
The idea that the long jump can't attract top talent isn't universally accepted. Joe Walker, who coaches U.S. Olympic long jumper Brittney Reese, thinks the women's long jump—especially among American athletes—is more competitive than ever. "If you say, someone who runs the 100-meter [dash] could come in and out jump Brittney, well, I don't buy that," Walker says. As he sees it, the long jump marks aren't exceptional in sticking around for a while. The record in the women's 100-meter sprint, for instance, hasn't been broken since 1988. The men's and women's high jump marks haven't been broken since 1993 and 1987 respectively—right around the time the long-jump marks last fell. (So it's not just that we're jumping shorter distances—we're also stuck closer to the ground.)
But this isn't about a lack of world records—it's about not being anywhere close to the world records. The best jumps by men this year are around two feet behind Powell's all-time mark. And though Reese—the current world champion and favorite to win gold—is not that far off, her best jump outdoors is more than a foot behind Chistyakova's record.
If lack of competition doesn't explain this, it might be explained by the fact that track and field has cleaned up its act in recent years. Two long jump coaches I spoke with cited a lack of performance-enhancing drugs as a reason for the unimpressive distances in recent years. (Neither wanted their name attached to this claim.) Doping, they said, was easier to get away with in the '80s and '90s. They're probably right.
In 2004, Dick Pound, at the time the president of the World Anti-Doping Agency, told the New York Times that records in track and field were no longer being broken because "there were a lot of doped-up performances out there." If that's the case, perhaps the state of the long jump isn't that remarkable. Rather, it's amazing that records are broken so frequently in other track events.