Over the weekend, as Olympic gymnastics and swimming competitions wound down and London and the world geared up for track and field, the New York Times published one of the nastiest profiles I've ever seen of an athlete, or really anyone, an indictment of the media presence of hurdler Lolo Jones. "Jones has decided she will be whatever anyone wants her to be—vixen, virgin, victim—to draw attention to herself and the many products she endorses," wrote Jere Longman, in a piece that flayed Jones, while passing less judgment on the media outlets that have asked her to pose while scantily dressed or the companies that have purchased her endorsement.

In an Olympics that's been marked by stories about the financial woes of athletes, and the financial disparities between the families of competitors, there's something deeply strange about condemning a competitor for doing what it takes to fund a rigorous training program and to stay financially afloat. Should weightlifter Sarah Robles be condemned for taking an endorsement deal with an online advertising firm after living on just $400 a month and taking food donations so she could consume enough calories to support her training regimen? It's hard to believe that anyone would dare paint Gabby Douglas as a venal brat for taking endorsement deals—especially after her mother filed for bankruptcy earlier this year—or Ryan Lochte for saving his family's home from foreclosure. Missy Franklin, meanwhile, is getting credit for turning down prize money and endorsement deals to preserve her college eligibility, which is wonderful, but also a product of the fact that her parents can afford to spend $100,000 a year to support her career. If Longman is disgusted by the sight of Jones or any other athlete on the hustle, he might consider the structural changes that would make access to the resources to support Olympic training more universally available.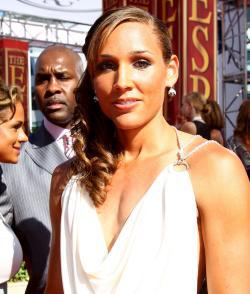 Longman excoriates Jones in large measure for taking advantage of her good looks—for "play[ing] into the persistent, demeaning notion that women are worthy as athletes only if they have sex appeal." He writes, "In 2009, Jones posed nude for ESPN the Magazine. This year, she appeared on the cover of Outside magazine seeming to wear a bathing suit made of nothing but strategically placed ribbon. At the same time, she has proclaimed herself to be a 30-year-old virgin and a Christian. And oh, by the way, a big fan of Tim Tebow."
While the piece quotes an Olympic studies professor who discusses how depressing it is that women often must "sell themselves as sex kittens or virgins for sale," Longman doesn't report out whether Jones offered to pose nearly nude or agreed to the magazines' requests, something that might have been relevant in a piece that rains condemnation down on her. (Longman also criticizes her for discussing her impoverished upbringing in interviews, as well as for making an "insensitive Twitter remark" that he seems to have taken willifully out of context.) Sports magazines have a long, ignoble history of making money off of cheesecake, but apparently the greater temerity is going along with the powerful demands of the market, rather than creating that market in the first place.
All of this criticism of Jones builds to the implication that she is somehow undeserving of not just the attention she receives, but a spot in London at all. "She barely made the 2012 Olympic team with a third-place finish at the United States trials," Longman grouses. "Nineteen hurdlers internationally have posted faster times this year than Jones's best, 12.74 seconds, including the other two Americans in the field." But Jones did qualify: There are no free passes into the Olympics for pretty girls or hard cases. And it's egregious of Longman not to mention that Jones had surgery for a painful spinal condition in August 2011, leaving her a short window to both recover and train to qualify for the Olympics.
At the end of his piece, Longman judgily declares that if "Jones can remain composed and improve her technique and speed, she can also write a great and improbably story of Olympic redemption. … Back in position to be appreciated for her athletic skill, not merely her sex appeal."
Today, Jones did just that, qualifying for the semifinals of the 100-meter hurdles with the day's second-fastest time. And in a classy move, she comforted Brigitte Foster-Hylton, the Jamaican hurdler who was considered a medal contender but suffered the same fate Jones did in Beijing, tripping on a hurdle and ending her dream of ascending the podium. Posing with slightly fewer clothes on than she wears in competition doesn't seem to have harmed Jones' capacity for empathy. But it appears that those pictures, and the way Jones tells the story of her own life, diminished Longman's critical faculties.