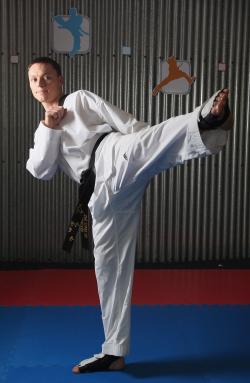 Nominee: Logan Campbell
Home country: New Zealand
Known for: Taekwondo-ing, creative fundraising, pimping.
Why he might be a jerk: In 2009, the taekwondo competitor opened a brothel to raise money so he could train for the London Games. (Apparently the old saying about how sex dulls the athletic impulse is true: Campbell lost in the first round in London.) The brothel—or "high class escort agency," as Campbell preferred to call it—had 14 rooms that rented for up to $2500 a night, plenty of condoms at the ready, and tigers on the blankets and pillows. Campbell told the Sunday Star-Times that he only employed "smart, attractive" girls, and that he and his partner "don't treat them like pieces of meat." In what appears to be a prostitute recruitment video posted to YouTube under the account "logancampbellnz," various women extol the virtues of an unnamed job that "allows you to shop whenever you want, take luxurious holidays," and so on. "I didn't used to have enough money to pay the bills," one woman says. "Now I make in one day what I used to make in a week. I'm living the dream."
Perhaps worried that sports fans would get the wrong idea, Campbell assured the Star-Times that he was not a pimp: "When people think of a pimp they think of a guy standing around on a street corner with gold chains. Pimps are more tough-type guys. … I'm an owner of an escort agency." The New Zealand Olympic Committee wasn't convinced, and sent Campbell a strongly worded letter saying that "your open solicitation of 'clients' for your 'business' while using the Olympic or Olympian connection must cease immediately, or the NZOC will be forced to consider taking legal action against you." Campbell sold the brothel and today refuses to talk about his experiences in the sex trade. When asked about it by the Guardian recently, he responded: "I'll answer if you want to pay me."
Why he might not be a jerk: Well, prostitution is legal in New Zealand, so he wasn't breaking any laws. At the time, Campbell told the AP that he opened the brothel so as not to be a burden on his parents. So, really, he was just doing what any good son would do. And there's something very endearing about Campbell's efforts to differentiate his brothel from the seedy sin-palaces against which he was presumably competing.
Jerk score: I'll give him 1 out of 3 for style, because he could've gone much, much seedier if he really wanted to embarrass the New Zealand Olympic officials. He gets 3 out of 3 for technical merit, because it's really hard to find tiger-themed bedding these days. 1 out of 3 for consistency, because a true jerk would have opened two brothels. And 1 out of 1 in the "have you ever tried to fund your Olympic dreams by opening a whorehouse" category. 6 out of 10 for Logan Campbell.
Previous Olympics Jerk Watch entries: Michael Phelps, Mahiedine Mekhissi-Benabbad,
Ahmad Saber Hamcho, Ben Ainslie, Ezekiel Kemboi, Rick Suhr

---