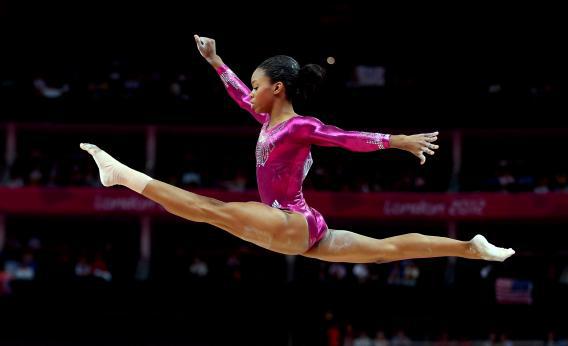 I'd known that Gabby Douglas had become the first black woman to win an Olympic all-around individual gymnastics gold medal before I actually watched her do it last night. And I'd already read Juliet Macur's beautiful piece about Douglas' decision to move away from home at age 14 to train in West Des Moines, Iowa and live with a white family—an act of dedication that meant she saw her mother Natalie Hawkins only four times in two years—before I saw Hawkins cry with joy at her daughter's victory. But in that moment, as Douglas' coach Liang Chow hugged her on the floor and Hawkins celebrated in the stands, I realized I was glad not only for Douglas' unexpected victory, not only for her newly minted status as a groundbreaking African-American woman, but for the fact that, if she wants to, she can move home from Iowa to Virginia Beach, back to a place where she is not one of only a few African-American girls and back to her mother.
It can be a little corny to hear heartwarming stories about athletes' journeys, and to see their friends and family reacting in the stands. But for athletes who move away from home to train for the Olympics, it's the specificity of their stories, and the length of their voyages, that move the Olympics beyond just a nationalist medal count and give us a sense of what it means to be an extraordinary person in a very big country, and how special the people are who help them on their way.

In Maira Kalman's 1990 picture book Max Makes a Million, the titular dog struggles with his desire to move away from home over his parents' objections. "There is an old Chinese proverb that says parents must give their children two things, roots and wings. I have the roots. Now I want the wings." The parents of Olympians who allow them to move away from home give them wings in a way and at an age that is almost unfathomable, in a gesture of profound respect to their children's talent and ambition. They also rely on the goodness of the people who meet their children on the other end of the journey.

In some cases, athletes are leaving situations that hardly could have been worse. Kayla Harrison, the American woman who won a gold medal in judo on Thursday, moved to Marblehead, Mass., from Middletown, Ohio at 16 to continue her training after she had been sexually abused by her former coach, David Doyle, who is now in prison for his crimes against her. It's one thing to encourage a child to move away from her family to pursue a hugely competitive activity with significant risks and low probability of high rewards. It's another entirely to have her leave home, as Harrison did, because she needs to rebuild her life and confidence in a setting where dreadful old memories cannot haunt her. And despite what happened to her in Ohio, Harrison's been able to take good things from the place where she suffered so much. She is engaged to Aaron Handy, who trained with her before she moved to Massachusetts, and who was the first person who she told about the abuse she was experiencing.
Stories of athletic immigration aren't just a part of the current Olympic system—they've existed for decades. The Soviet Olympic reserve boarding schools housed children from rural parts of the USSR away from their parents so they could be fully absorbed in that country's intensive training program. Gymnast Oksana Chusovitina, who now competes for Germany, began her career in those schools, but moved to Germany and eventually became a citizen after both Uzbekistan and Russia refused to help her obtain treatment for her son when he was diagnosed with leukemia at age 3. And it's hard to think of a more striking contrast between the American Olympic system than the experience of Wu Minxia, the Chinese diver who moved into a state-sponsored training facility at 16 and learned only after winning three-meter springboard gold in London that her grandparents had died and her mother had undergone a battle with breast cancer without ever informing her daughter she was ill. "We accepted a long time ago that she doesn't belong entirely to us," Yahoo reported that her father Wu Yuming told a paper in Shanghai. "I don't even dare to think about things like enjoying family happiness."

Douglas and Harrison belong to the nation, too, but we accept that they belong to their families as well, and our vicarious experience of their biological and surrogate families' joy is part of what makes their victory so significant. It's a reaffirmation of the wisdom and generosity of those terribly difficult decisions to give a 14-year-old and a 16-year-old wings, trusting that their roots were sunk deep enough that they would not wither away from home.

We'll never see Douglas' bedroom in Iowa, or know what it was like for Harrison to move halfway across the country, except for in what's presented to us in carefully edited clip reels. But what they did in their adopted states is a critical part of their stories, even if it doesn't produce an image as indelible as Douglas' astonishing flight above the beam. Those journeys and everything it took to make them are what give heft and specificity to the otherwise abstract idea of what we're cheering for when we chant for Team USA. It's the places and distances between them that matter, the miles between Virginia Beach and West Des Moines, Middletown and Marblehead, the cultural gap between the family who took in a young African-American girl and the bridge they built between her and the Midwest, and the judo coach who helped an abuse survivor become a woman who could say of her gold medal match, "I imposed my will."

---