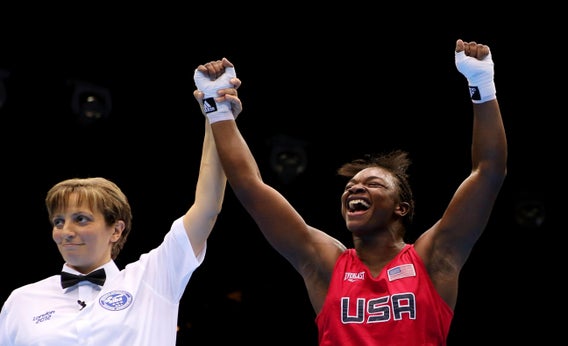 Claressa Shields' star is on the rise after she captured a historic gold medal on Thursday. She is the first-ever Olympic women's middleweight champion and the only American, male or female, to win gold in London. On the women's side, the USA had entrants in all three Olympic weight classes, as Shields was joined by flyweight Marlen Esparza (who nabbed bronze) and lightweight Queen Underwood. On the men's side, by contrast, medals were awarded in 10 different weight classes: light flyweight, flyweight, bantamweight, lightweight, light welterweight, welterweight, middleweight, light heavyweight, heavyweight, and super heavyweight. Why the big disparity?
Because the International Olympic Committee puts a limit on how many Olympians compete in any given games. The IOC, which is committed to a cap of about 10,000 Olympians all together, decreed that only 286 boxers could compete in London. When the ring was opened up to women for the 2012 tournament, AIBA, the international governing body for boxing, decided to add a total of 36 women in three divisions, with each country getting a maximum of one entrant per weight class. That left room for a field of 250 men in 10 weight classes, rather than the 11 from 2008. AIBA officials considered this a fair compromise, though those numbers still seem a little lopsided to us.
There are 10 distinct weight categories for amateur women and youth girl's boxing. When deciding which three divisions to include in London, AIBA wanted to draw from the largest pool of women to spotlight the brightest talent. The organization explains via email that it selected its three women's weight categories—flyweight (between 48 and 51 kilograms), lightweight (56-60 kg), and middleweight (69-75 kg)—to "cover the … maximum number of women boxers."
Women's boxing has the fewest weight divisions of any Olympic combat sport. Judo offers seven categories for each sex, and wrestling includes four events for women and seven for men (though the sport's governing body is petitioning the IOC to allow seven for women as well at the 2016 Games). Even if AIBA has pinpointed the three divisions that include the most boxers, their current system has drawn fire for its lack of continuity. Given that there's no Olympic division for those who weigh between 51 and 56 kilograms or between 60 and 69 kilograms, women in those ranges who wanted to compete in the games were forced to embark on unhealthy weight gain or weight loss programs.
Bonus boxing weight class fact: How are Olympic boxers weighed? There are weigh-ins at the start of the tournament (the "general weigh-in") and once every morning (the "daily weigh-in"). Unlike in the professional ranks, Olympians don't get a second chance to make weight if they initially fail the test. Olympic boxing is also notable in that its weight categories have ceilings and floors. Paid fighters need not meet a minimum poundage requirement, although "punching up" is usually a bad idea.
Bonus boxing weight class fact #2: A bantam—the namesake of boxing bantamweight division—is a small chicken-like bird. Many types of large poultry have bantam (or miniature) counterparts, although a true bantam is its own species. The word bantam comes from an Indonesian city, Bantam, that bred the tiny fowl for European sailors who ate them on sea journeys.
Wallace Stevens has a great poem called "Bantams in Pine-Woods" that ends:
You ten-foot poet among inchlings. Fat!
Begone! An inchling bristles in these pines,
Bristles, and points their Appalachian tangs,
And fears not portly Azcan nor his hoos.
Try watching bantamweight boxers with those lines running through your head. You'll be glad you did.
---