Oh, Mike, if only you could've swallowed your annoyance at Walt for just a few more minutes, you could've driven off into the Mexican sunshine. You were so close. You got through that clenched-teeth conversation with Walter after he delivered your go bag, but his sarcastic "You're welcome" was the straw that broke the camel's back.
Then it was a face-off between the O.G. and the wannabe. Everything Mike threw at Walt was true: "You and your pride and ego. You had to be the man. If you'd done your job, and known your place, we'd all be fine right now." But the same could be said of Mike. He was an awesome security consultant and an excellent henchman to Gus Fring; if he'd stayed at that level, he'd still be doing the crossword while Kaylee enjoyed the swings. But when he tried to be a partner—especially with a man he hated and didn't trust—there was no way things could work out well.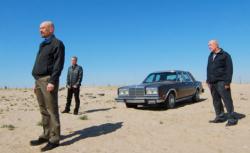 And has there ever been a more considerate assassin? It's rare that a dying man hears an apology as he draws his final breaths. But Walt was just being his usual self-involved self. Walt can only think if he thinks aloud, and his final speech to Mike—"I just realized that Lydia has the names. I can get them from her. I'm sorry, Mike. This whole thing could've been avoided"—were part of his process of thinking things through. He addressed his words to Mike, but they were for his own benefit.
I wonder how long it will take Walt to work out how dangerous Todd will be after a few more repetitions, when he knows how to make Heisenberg's blue meth. Walt needs a pupil—or, at least, someone to listen to his words of wisdom—as much as he needs an assistant. But once Todd knows the secrets of the cook, the only mystery will be where the methylamine is hidden, and Walt doesn't have Mike's ability to throw off a tail.
Matt, I'm curious to hear what you thought of Walt's soft-drinks speech. He asked Declan, "Do you really want to live in a world without Coca-Cola?" I mean, I don't, but I bet the guys who make Pepsi and RC sure do.
Appreciate the kind words, but I'm out,
June