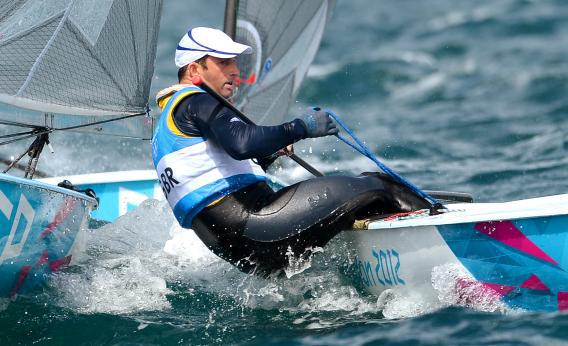 Nominee: Ben Ainslie
Home Country: Great Britain
Known for: Sailing, water rage, complaining.
Why he might be a jerk: While sailing at the world championships in Perth last year, Ainslie grew angry at a media boat that he believed had come too close to his own. He decided to express his dismay by leaping into the water, climbing aboard the media boat, and angrily confronting its passengers. Ainslie's rage isn't limited to the media: On Thursday, while sailing in the Olympics' Finn event, Ainslie gestured angrily at his closest competitor, Danish sailor Jonas Hogh-Christensen. After the race, Ainslie accused Hogh-Christensen and the Netherlands' Pieter Jan Postma of conspiring to accuse him of a violation he didn't commit. "He and the Dutch guy teamed up to claim I hit the mark when I didn't, which seriously pissed me off," Ainslie told the Guardian. Everyone's got it in for Ben Ainslie! Also, he called his autobiography Close to the Wind: The Autobiography of Britain's Greatest Olympic Sailor, which is a pretty jerky title.
Why he might not be a jerk: It's not bragging if it's true: Ainslie is Britain's greatest Olympic sailor, with three gold medals to his name. While some might find it rude to publicly accuse a fellow competitor of unsportsmanlike conduct, raise your hand if you haven't been pissed off by Jonas Hogh-Christensen. Yeah, I thought so. And a few months before the Perth incident, a Telegraph profile of Ainslie revealed that an unfortunate sun allergy "made him a spotty figure of fun" as a child. The allergy persists, and Ainslie's arms are still covered in splotchy red marks that he describes as "very itchy." If you itched all the time, you'd be angry, too.
Jerk score: I'll give him 2 out of 3 for style, because in order to get full credit Ainslie should have referred to Hogh-Christensen as "that po-faced Danish bastard" or something like that. I'll give him 2 out of 3 for technical merit, because he could have set fire to that press boat in Perth but didn't. I'll give him a 2 out of 3 for consistency, because I've identified plenty of races where Ainslie didn't loudly berate someone. And he gets 0 out of 1 in the "have you ever pushed a fellow competitor off a boat and into the sea" category, though I expect him to do that before the Olympics are over. 6 out of 10 for Ben Ainslie.
Previous Olympics Jerk Watch entries: Michael Phelps, Mahiedine Mekhissi-Benabbad, Ahmad Saber Hamcho
---