The United States' Ashton Eaton won gold in the decathlon on Thursday after a dominant performance that fell just short of the Olympic record. The young, photogenic Eaton—the 12th different American to win the Olympic decathlon—could help bring some glamour to what used to be one of the games' marquee events. When and why did its popularity decline?
1912: The first Olympic decathlon that uses today's format—10 events held over multiple days—is won by Jim Thorpe, a Native American whose impressive performance leads Sweden's King Gustav V to declare, "You, sir, are the world's greatest athlete." An endorsement from King Gustav meant a lot in the pre-broadcast era. Decathlon popularity rises 80 percent.
1913: Thorpe is forced to return his medals after officials learn that, prior to the Olympics, he had compromised his amateur status by playing semi-professional baseball. A nation of credulous track-and-field fans loses its innocence. Decathlon popularity drops 30 percent.
1954: After winning gold as a 17-year-old in London in 1948 and repeating the feat four years later in Helsinki, American decathlete Bob Mathias stars in a biographical film, The Bob Mathias Story, which one IMDB user describes as "interesting." Decathlon popularity rises 25 percent.
1966: Bob Mathias is elected to Congress as a Republican from California's San Joaquin Valley. He spends eight years in office, during which he directs a suspicious number of government subsidies to the discus industry and loses his seat in the wake of the Watergate scandal. Richard Nixon could ruin any sport's reputation. Decathlon popularity drops 20 percent.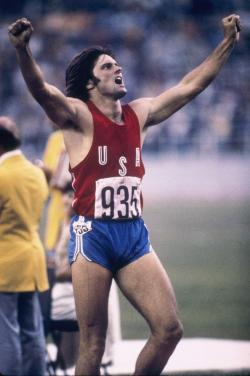 1976: Bruce Jenner captures the public imagination after setting the decathlon world record at the Montreal Games. The young, good-looking Jenner succeeds in helping everybody forget the last big Olympic hero, creepy mustache-jockey Mark Spitz. Decathlon popularity rises 70 percent.
1977: Jenner proceeds to squander his goodwill by setting the record for blatant post-Olympic cash-ins. The world's greatest pitchman shills for Wheaties, Norelco, and the Brown Shoe Company and lends his name to a board game called the "Bruce Jenner Decathlon Game." Later, he will co-star with The Village People in a disco-themed movie called Can't Stop the Music, which one IMDB user describes as a "glorious trainwreck of a film." Decathlon popularity drops 30 percent.
1979: The animated special "You're the Greatest, Charlie Brown" airs, teaching a generation of children that the decathlon is for wishy-washy, prematurely bald losers. The show revolves around Charlie Brown's efforts to train for and compete in the Junior Olympics decathlon. (LUCY: "Boy, who would be that dumb? To want to enter the decathlon?" CHARLIE BROWN: "Hi, everybody!") The youth of America recoil in horror. Decathlon popularity drops 15 percent.
1984: The brash British athlete Daley Thompson wins his second consecutive decathlon at the Los Angeles Games. Thompson, who sort of looks like Richard Pryor, appeals to Hollywood types, who speculate that he might combine athletic prowess with pointed racial humor to carry decathlon to new heights. Also, Daley Thompson's Decathlon wins the 1984 Golden Joystick Award for best arcade-style game of the year. Decathlon popularity rises 10 percent.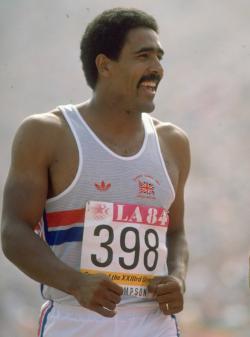 1984: Daley Thompson proves to be something of a jerk, shocking audiences by whistling "God Save the Queen" on the medals podium rather than singing along, and by questioning Carl Lewis' sexuality by wearing a T-shirt asking "Is the world's 2nd greatest athlete gay?" Hollywood switches its attentions to a Belgian sprinter who resembles Michael J. Fox. Decathlon popularity drops 10 percent.
1992: American rivals Dan O'Brien and Dave Johnson star in a series of Reebok commercials promising that "this summer they'll battle it out in Barcelona for the title of 'World's Greatest Athlete.'" The commercials are a bit premature: O'Brien doesn't even qualify for the American team. If there's one thing Americans hate, it's false advertising. Decathlon popularity drops 20 percent.
1996: O'Brien makes a stirring comeback, winning gold in Atlanta four years after his shocking failure to make the Olympics. An American populace that's still struggling to throw the tiny yellow discus in that Bruce Jenner board game fails to notice. Decathlon popularity drops 10 percent.
2009: A year after he won gold in Beijing, the New York Times reports that Bryan Clay has 1,197 Twitter followers and has launched a campaign to add 7,635 more to match his high score in the decathlon. Meanwhile, Jenner finds new fame as the doddering stepfather on Keeping Up with the Kardashians, the reality show in which he relentlessly spouts his famous catchphrase: "Who's up for another stirring round of the Bruce Jenner Decathlon Game? It will only take two full days!" Decathlon popularity drops 10 percent.
2012: At the U.S. Olympic Trials in June, 24-year-old Ashton Eaton sets a new decathlon world record. On Aug. 9, he wins the Olympic gold medal and the media dubs him the "world's greatest athlete." Assuming he keeps his medals and doesn't star in any disco-themed movies, decathlon popularity ought to rise at least 15 percent.