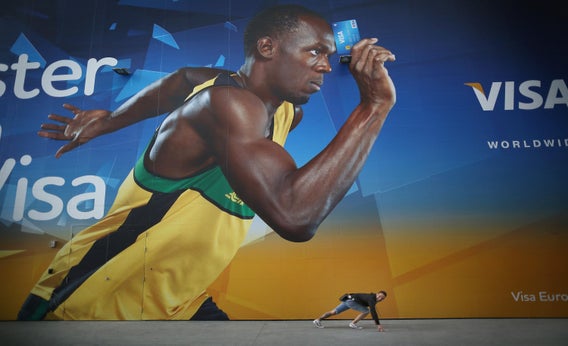 Dear Olympic medalist,
Congratulations! You've succeeded at your sport and are headed back to your homeland in prime shape to profit from your accomplishments. Be sure to strike quickly, though. Unless you are a swimmer, a gymnast, or a basketball player, your fame will fade. And even then, Olympic gold is no guarantee of a lifetime of endorsement riches. If you're not careful, you could be as obscure as Carly Patterson by October.
Whereas primetime superstars like Michael Phelps and Ryan Lochte don't need much help leveraging their medals into cold, hard cash, the rest of you might find it harder to extract value from your brief window of stardom. Here's a rough guide for how to profit from your Olympic heroics.
Don't take every offer that comes along: You're a champion! Negotiate until you get an offer that aligns with your image. Are you the "cool" Olympian who doesn't take any guff? Well, sir, get busy shilling to the skateboarding crowd. Are you the chaste Olympian? Sell T-shirts saying "I'm waiting for marriage—and for Rio 2016!" The singing Olympian? There are lots of national anthem gigs available at sporting events across America.
Sell your sport: It'll probably be easiest for you to find opportunities that are close to home. And don't be afraid to think big. If you're Reese Hoffa, don't just shill for shot put manufacturers. Why, you can endorse all sorts of shot put accessories: shot put neck chalk, shot put shoes, shot put leggings. There's a multi-hundred-thousand-dollar shot put industry out there just waiting to stick your face on their shot put stuff.
Second-tier foodstuffs are your friend: Not famous enough to make it onto a Wheaties box? Not to worry. There are plenty of other, lesser-known cereal brands that'd probably be happy to have you. Think Malt-O-Meal and Kashi. And though Subway likes to stick with Phelps-level Olympians, you'd better believe that Quiznos would love to have Brittney Reese as the bright, triple-jumping face of their new California Chicken Club sandwich.
Be a hometown hero: Don't overlook local merchants. There's money to be made from mom-and-pop restaurants and dry cleaners. Well, maybe not much money, but you could probably get some free sandwiches and wash-and-folds out of it, if you're a smart negotiator. "I'm decathlete Ashton Eaton, and I send my clothes to ABC Dry Cleaning" is a phrase that will get you clean pants for life.
Start an academy: You can give back to the community and make money by teaching kids the skills that made you a medalist. Rent a warehouse somewhere, paint inspirational sayings on the walls, print up some tri-fold brochures, and wait for the gravy train to get rolling. What aspiring young Olympic female hammer thrower wouldn't want to pay big bucks to attend Amber Campbell's Hammerological Institute?
Take your talents to the people: In pre-broadcast days, it wasn't unusual for sports stars to travel the country in the off-season, lecturing or performing feats of strength and agility to packed houses on the vaudeville circuit. Though the vaudeville circuit no longer exists, there's still plenty of money to be made in street-corner busking. Hand-letter a cardboard sign, find an intersection that's got room for a wrestling mat, and watch the spare change roll in!
Tell the story of your life: If you were ever going to write an autobiography, now's the time to do it—and by now, I mean right now, because people are going to stop caring in a few weeks. As soon as you board the plane, scribble some rough notes about anecdotes from your youth. Then find a competent ghostwriter who can turn your ramblings into a heartwarming narrative, fast! Another strategy is to take an existing Olympic biography—Canadian trampolinist Karen Cockburn's Karen Cockburn: Soaring High, for example—and do a quick search-and-replace, swapping out your name for hers and changing every jump to run, throw, or swim. Trust me, no one will be the wiser.
Become a virtual hero: Lots of Olympians have capitalized on their fame by releasing video games based on their athletic exploits. (Who among us didn't grow up playing Daley Thompson's Decathlon?) With mobile and Facebook gaming so popular, the time's never been better for you to jump on the game train. Find some nerds to handle the coding, and watch as Vincent Hancock's Skeet Meet makes you the next video-game millionaire.
Marry into a family of vapid, materialistic harpies and sell it as a TV show: Hey, it worked for Bruce Jenner.
---