When the usual grumps began their grousing about Beijing's 2008 Olympic mascots, I took a bold stand in defense of those cute little pandas and antelopes. My argument: 1) Hey, they're really cute. 2) End of argument. For it is cuteness and cuteness alone that marks a mascot's worthiness.
The Olympics require no auxiliary visual symbols. The five rings—which officially debuted at the Antwerp Games in 1920—are elegant, attractive, and widely recognized. They're thick with gravitas thanks to their association with nearly a century of international sporting excellence.
Mascots, on the other hand, are silly. Over the decades, they have included many misguided abominations.
Roni, Lake Placid's cartoon raccoon, was in itself inoffensive. The problem is that Roni replaced Rocky, an actual, deceased raccoon that had been slated for mascot duties but died ingloriously before the Olympics began.
The Atlanta Games brought us Izzy, a shape-shifting blob that appeared to have Olympic rings fused to its eyeballs.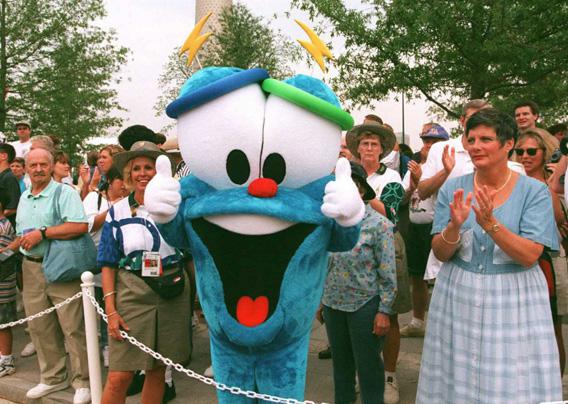 Neve and Gliz, the motile snowball/ice cube pair from the Turin Winter Olympics, were a step in the right direction. But their gaping maws unfortunately reveal that each is equipped with a single, frozen, presumably razor-sharp icicle tooth.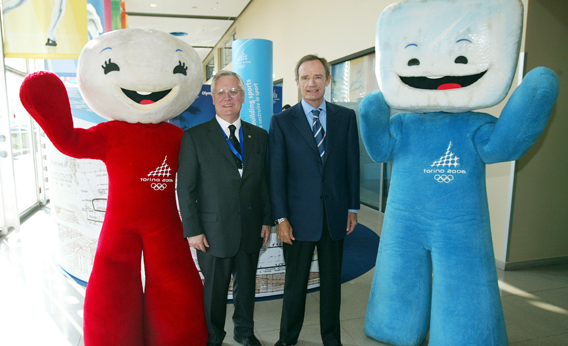 Mascots have only one natural role: They help sell boatloads of officially licensed plush toys, children's T-shirts, and infant onesies. Recognizing their kiddie customer base, designers have made sure that most newer mascot creatures are adorable and cuddly. Here, I would direct your attention to Jingjing (the panda of Beijing) and Quatchi (the sasquatch of Vancouver). Key attributes in ascendance have included furriness, smileyness, and singsong-y name-y-ness.
Here's Quatchi on the left—dig his mellow, toker/snowboarder vibe.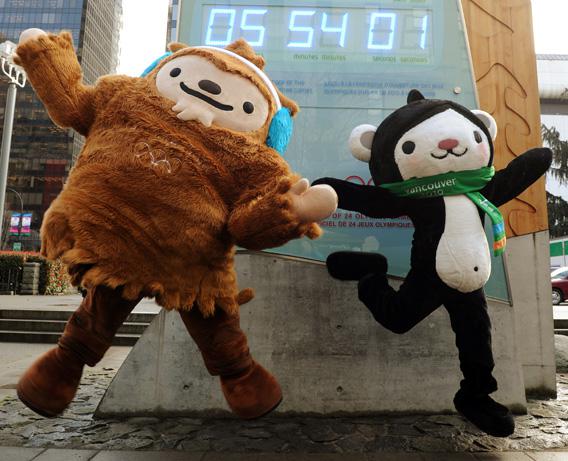 The Sydney Summer Games of 2000 chose an echidna (along with a platypus and kookaburra) as a figurehead, but the orange thingy seen below features soft instead of spiky spines, and does not appear to be displaying the echidna's legendary four-headed penis.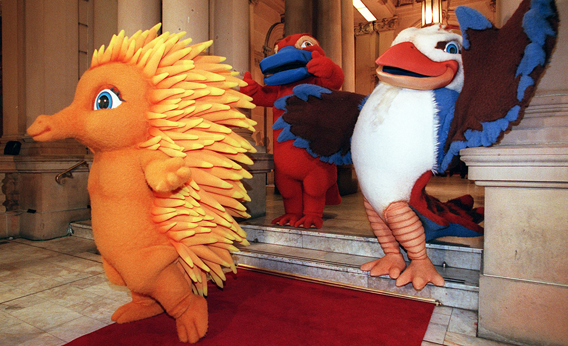 Athens' gargantuan-footed mascots, Athena and Phevos, welcome us with friendly smiles and goofy demeanors. Their provenance as ancient children's dolls lends them instant kiddie cred.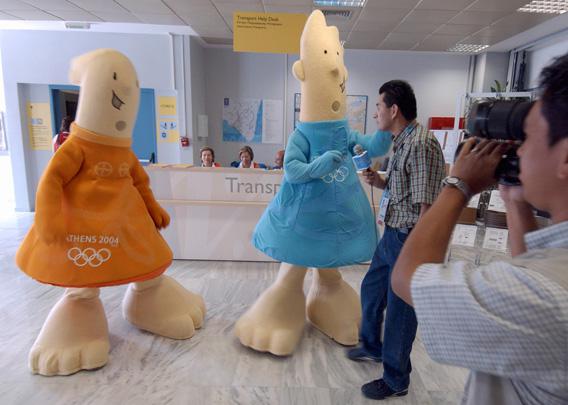 Sadly, Wenlock and Mandeville, the new London mascots, mark a regression to the terrifying mascot designs of yore. Those dark days when children's dreams were haunted by creations like Schuss (the "skiing sperm" of Grenoble) and Schneemann (Innsbruck's lumbering snowman, who sported two soulless, coal eyes).
According to their backstory, Wenlock and Mandeville are drops of molten steel. They flecked off a structural beam during the building of London's Olympic Stadium. Perhaps you feel differently, but in my experience there is nothing soft or furry about molten metal. Which makes me wonder whether children will be eager to cuddle with this pair of congealed steel pellets.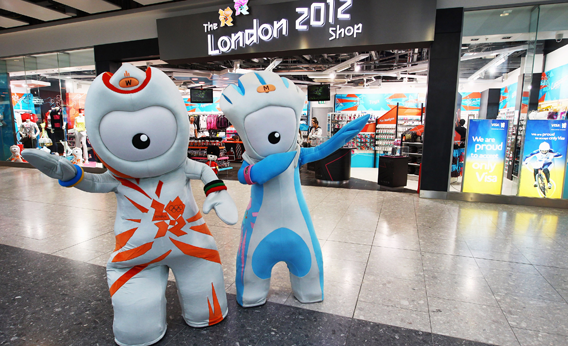 As for smiley-ness: These creatures have no mouths! Sweet lord, what happened to their mouths?? Instead, in the area where their faces should be, Wenlock and Mandeville each present us with a cold, steel panel punctuated only by an assessing, Cyclopean eye. This annotated explanation of the design specifically refers to the eye as a "camera" that allows Wenlock and Mandeville to "record everything." This is an unfortunate reminder of London's surveillance fetish—its panopticonic creepiness. Remember, kids, Big Wenlock is watching you.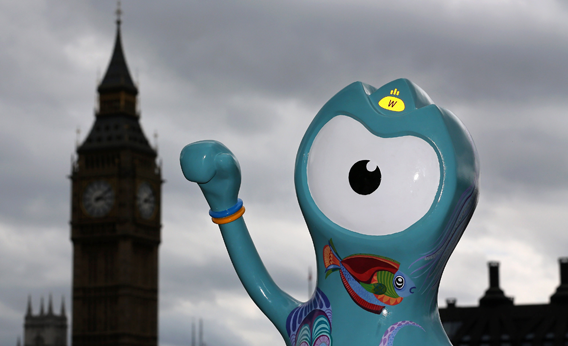 And, oh my, those names. They are a far cry from joyful syllables like "Quatchi" and "Jingjing," and are in no way redolent of childlike enthusiasm and wonder. "Wenlock" and "Mandeville" conjure thoughts of scuffed wingtips, soup-stained tailcoats, and crotchety bile.
These mascots are not the first visual misstep in London's stumble-prone march toward Olympic competence. The official London logo was roundly bashed upon its debut. It's meant to look like a stylized "2012." But with its amateurish abstraction and gaudy color scheme, I think it more resembles the front cover of a Trapper Keeper. (Others have suggested that it appears to be Lisa Simpson engaged in an unspeakable act.)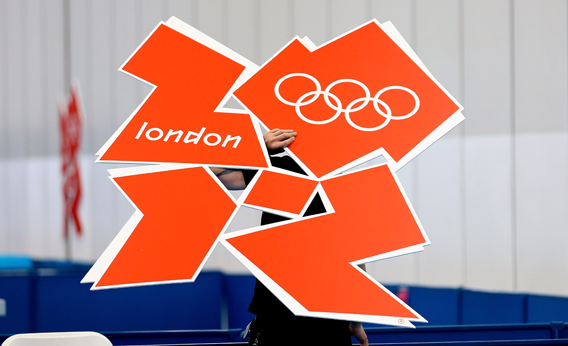 The 2014 Sochi Winter Olympics have wisely ignored London's wayward experiment, reverting to a set of far more kid-friendly concepts. Sochi's not breaking new ground, but it's learned the most important lesson of all: When it comes to mascots, it's best to steer clear of characters with identities rooted in industrial flotsam. Better to stick with crowd-pleasers like smiling bears, cherubic snowflakes, and hopping bunny rabbits.
Read the rest of Slate's coverage of the London Olympics.