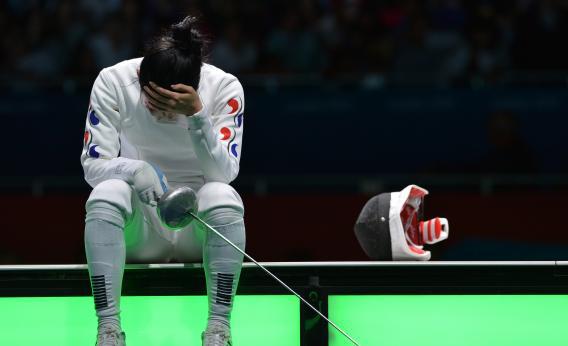 A lot of competitors will leave the Olympics disappointed. There are, after all, only so many medals and so much national pride to be distributed. But in recent days, two athletes, both women, have suffered setbacks that expose the pressures put on Olympic competitors and reveal the limits of the games when it comes to recognizing excellence.

First, Jordyn Wieber, the world champion and favorite for the gold medal in the women's gymnastics all-around competition, failed to make the cut for the finals. It wasn't that Wieber performed poorly—she came in fourth, but didn't advance because two of her teammates scored higher. As Hanna Rosin noted, Wieber has, bizarrely, been criticized for crying after her elimination, as if it would be more natural or admirable for a 17-year-old to react to the dashing of her dreams at the hands of a frustrating rule with absolute calm. The desire to have a balanced finals competition that pits competitors from a range of countries against each other makes sense both from the perspective of honoring the Olympic spirit and maximizing television viewership. But, as we also saw with the free-speech controversy that came after two athletes were dismissed from their respective Olympic teams for racially inflammatory tweets, it can be difficult to balance Olympic values and ones that prioritize pure competition.

And as USA Today reported, Wieber lost not only the chance to compete for the all-around medal, but to compete for the lucrative set of endorsements that accompany that particular medal. Corporate sponsorship has long been accepted as a way to help Olympic athletes support themselves while training, especially those that aren't supported by large federations or high-level college athletic programs. But the amount of money Wieber might have been able to make, and that now might flow to one of her teammates, would have been on an entirely different level, as much as half a million dollars a year until she was dethroned at the 2016 Games by the next young woman to claim the pride of place American culture awards to one extremely talented young female every four years. When it's not just national pride or the ability to continue training that's at stake but financial security for your family, it's particularly understandable that Wieber would take her elimination hard, and that the pain would hit her immediately.
Shin A Lam, a South Korean epee fencer, likely had no shot at the kind of windfall Wieber was going after. But Olympic rules, and a bad error, forced her through an even more extended public humiliation than Wieber's. In a tie match, a seemingly malfunctioning clock gave Shin's opponent the time she needed to score a decisive point. (Shin would have advanced if the bout had ended in a tie.) The opponents had to wait in public for the judging panel to find in favor of Shin's antagonist. And then, when Shin's team appealed the judge's ruling, she was forced to continue to sit on the piste where the match took place. By Olympic rules, if she had left the floor that would have signaled that she had accepted her defeat, cutting off the appeal that was underway.

There was something awful about listening to the announcers try to jolly the clearly devastated fencer off the piste with a "once again, commiserations to Shin A Lam." And it was even worse to watch her sit there, awaiting the results of the appeal filed by her team, as jaunty, generic music continued to play in the arena. Rather than retreating to a chair off to the side or a locker room, Shin had to sit in front of the audience and the cameras while she processed what was happening to her. And because the Olympic schedule goes on, she had to compete for the bronze medal immediately after her appeal was denied, a competition she understandably lost.

There's no question that Olympic athletes are superbly conditioned, and that both physical and mental toughness are absolutely critical to success. And the games, a hugely complex logistical event even if they weren't being filmed by NBC and broadcasters around the world, have to go on and can't merely be rescheduled to give athletes time to recover. But the Olympics might consider and its international television rights holders might think about rules and broadcasting guidelines that wouldn't force athletes to be vulnerable in some of the worst moments of their careers.

---