After the U.S. women's gymnastics team made its competitive debut at the London Olympics on Sunday, viewers were left with two nagging questions: How did Jordyn Wieber get left out of the all-around finals, and—most troubling of all—why are the Americans' uniforms so shiny?
When Team USA's Fab Five strutted into the North Greenwich Arena, there wasn't an inch of classic velour in sight. Instead of leotards composed of velour or crushed velvet, the team donned shiny, plastic-looking indigo uniforms with star-bedazzled mesh accents. In Tuesday's team final, the Americans went with a plasticky appearing red ensemble studded on the front, back, and down the arms with line after line of retina-exploding crystals.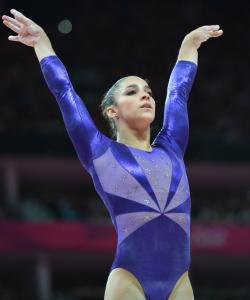 The uniforms look like plastic because they are plastic.* Adidas, the official apparel provider for USA Gymnastics, uses a Reading, Penn., company named GK Elite to manufacture the team's competition leotards. Adidas and GK Elite, which work together on the uniforms' design, have outfitted the 2012 squad in something called Mystique. The material, which was first used in women's Olympic apparel in 2004, has become the sport's most-popular fabric over the last few years. Mystique starts with a nylon spandex base that "must pass GK's stringent stretch requirements." On top of the nylon is a layer of small foil dots—a pointillist array that covers nearly the entire spandex surface. When the leotard stretches over a gymnast's body, a GK Elite blog post explains, "the fabric color shows through behind the shimmering foil for the look of gilded brilliance."
Mystique leotards come in endless, evocatively named color combinations. A recent outfit worn by Olympian Aly Raisman contains "Sangria Mystique, Berry Mesh, and Berry Mystique embellished with clear Swarovski elements on the sleeves and clear and fuchsia Swarovski elements on the front." Raisman's teammate Kyla Ross recently wore an ensemble featuring "Black Mystique, Berry Mesh, White Sparkle, Berry Mystique, and Princess Pink Sparkle."
Tanya Chaplin, head women's gymnastics coach at Oregon State University, says current fashion has a lot to do with the shift from velour to Mystique.* But Chaplin says athlete comfort also plays a major role in the fabric's recent popularity. The new materials make today's leotards much lighter than old-style uniforms, Chaplin explains. While crushed velvet makes athletes sweat, the thinner Mystique leaves gymnasts more comfortable under hot arena lights. And though the material doesn't wick away sweat, this is a compromise gymnasts seem willing to make considering their performances last just a few minutes.
Sunday night's uniforms were not the only leotards American gymnasts will sport in London. The team has a total of eight uniforms to wear at team events, in individual events, and on the podium. Sunday's shiny purple leotard might actually be one of the least glittery. According to USA Gymnastics, one of the team's uniforms features a retina-exploding 4,437 Swarovski crystals.
*Correction, July 31, 2012: This blog post originally misidentified Oregon State coach Tanya Chaplin as Tammy Chaplin.
*Correction, July 31, 2012: This blog plot also originally implied that the U.S. team's leotards were not made of plastic. Nylon is a plastic.