Tuesday morning on the Today show, David Lauren (son of Ralph) introduced the uniforms our Olympians will wear in the July 27 opening ceremony of the London Olympics. Sharp navy blazers. Cream cuffed pants for the men and silk skirts for the women. Jaunty ties and scarves featuring patriotic flashes of red. The outfit is marred by a gigantic Polo logo, but for the most part, it is as crisp and clean-cut and as preppy as you'd expect from the house of Lauren.
But then there's the monstrosity on top of it: a poufy, ungainly navy blue beret.
Keen Olympic headgear observers witnessed this development with heavy hearts. That's because the U.S. Olympic team has been embroiled in a mortal struggle with berets for a full decade. You think our athletes' biggest opponents are the Russians, the Chinese, and Usain Bolt? Incorrect. Their true enemy is this pernicious, unflattering, Frenchified cap.
As I've chronicled in these pages, the Olympic beret first rose to prominence during the 2002 Olympics in Salt Lake City, when the Canadian manufacturer Roots was hired to outfit the U.S. team and issued a tufty, snowflake-adorned fleece number that became an unlikely runaway hit with the American populace. (Blame al-Qaida—this was right after 9/11 and patriotism trumped fashion sense.) Roots spent the next two Olympic seasons trying to recapture its beret glory, eventually producing this abject chapeau for the 2006 Torino Games.
After Torino, thankfully, Olympic millinery took a turn for the better. Roots—which had favored slouchy, casual sportswear of the sort Americans actually wear—got the boot. Ralph Lauren—who designs chic, retro prepwear of the sort Americans like to think they wear—was hired for the 2008 Games. The concept: a more polished and put-together American team. Naturally, one of Ralph's first moves was to scrap the beret. In Beijing, our Olympians wore white twill newsboy caps.
The athletes were relieved. Sailor David Campbell told USA Today he was pleased to have escaped "any silly cowboy hats or berets." Examine this photo of our Olympians in 2008: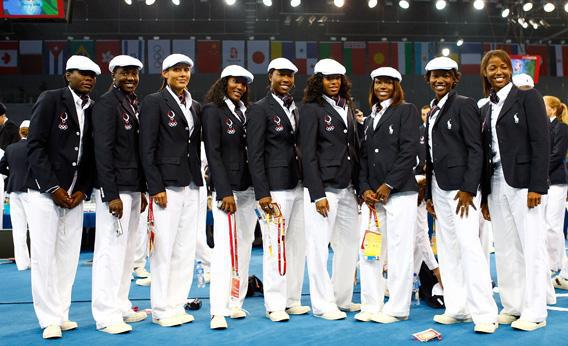 They look ecstatic. Ecstatic to be representing their nation at the pinnacle of sport, sure. But also ecstatic not to be wearing berets.
Ralph Lauren's record remained unsullied when he outfitted our Winter Olympians for the Vancouver Games in 2010. The headgear that year—a charming knit cap with a reindeer on it—sold out in a flash as American consumers rushed to purchase the wildlife-festooned head adornment. Ralph Lauren had won two battles in the war on Olympic berets.
But all great warriors must one day face defeat, and for Lauren, that time is now. The Olympic beret that debuted this week has reversed all the hard-won gains from recent Olympiads. Shockingly, it is the worst beret yet. Pulled taut and worn hard to the right, it looks acceptable on the icy, cyborgian brunette who sports it on the Ralph Lauren website. But the athletes who wore it on Today—soccer player Heather Mitts and fencer Tim Morehouse—looked like disheveled trainee chefs.
The case against the beret—which I laid out in 2006—is simple. It is not a hat associated with athleticism. Or America, for that matter. And, as I noted at the time, it is exceedingly difficult to wear:
Do you pull it up at the center (à la Bonnie, of Bonnie and Clyde)? Or do you wear it to the side? If so, which side, and how far over? Men sometimes tilt their berets back, but the effect can be very Che Guevara or very Joe Pantoliano—you have to know your limits. Even the men who serve in our special forces—implacable in the face of gunshots, spiders, and torture—tremble when faced with their first beret. This training manual lists the tools you'll need to break one in (stain guard, razor blade, scissors, seamstress) and common beret-wearing mistakes, such as the "Swiveled Beret," the "Pancake Beret," and the "Giant Forehead."
Why did Ralph Lauren leave our athletes susceptible to the dreaded Giant Forehead? It was one thing when Canadian designers subjected us to international ridicule. But Ralph Lauren? This time, the beret is calling from inside the house!
What was team Lauren's reasoning here? David Lauren told USA Today that since the Olympics will be in London, "there was a feeling of Chariots of Fire." Let the record show that some very nice straw boaters are worn in Chariots of Fire. R.L. had options. Lauren also took the occasion of his USA Today interview to describe the new headgear as "really fun berets."
These berets are not really fun, David Lauren. They are hideous. Next time, how about a classic baseball cap?