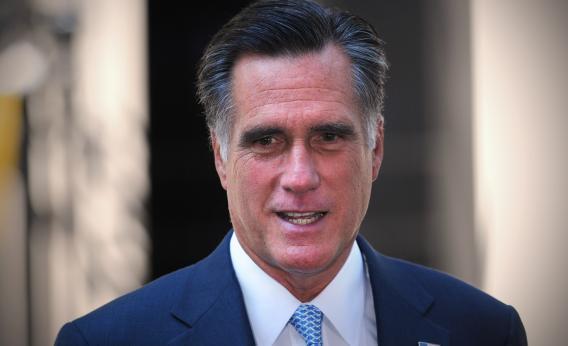 On Wednesday night, Mitt Romney told NBC's Brian Williams that there were "disconcerting" signs about London's Olympics preparations. "The stories about the private security firm not having enough people, [the] supposed strike of the immigration and customs officials, that obviously is not something which is encouraging," Romney said.
Though Romney later stated that he was "very delighted with the prospects of a highly successful Olympic Games," he shouldn't get too comfortable. The Olympics last until Aug. 12 and will present many more opportunities for embarrassment.
What are some other Olympic-related gaffes that Mitt Romney could make over the next few weeks?
July 31, Mitt Romney Disconcerted By Existence of Wrestling: Romney expressed unease upon learning about Greco-Roman wrestling this afternoon. "Two guys rolling around on the ground in tight little suits, grabbing each other's butts? That's a little bit disconcerting," said a visibly uncomfortable Romney, tugging at his necktie. "And the guys rub up against each other? And sweat on each other? That's just … just … I gotta go."
Aug. 6, Romney: Size of Boats in Sailing Event "Disconcerting": As he watched Olympic men's sailing today, Mitt Romney expressed concern and dismay at the size of the Laser boats. "Those boats seem awfully small. There's barely any space for a pool table. And I bet they don't even have guest bedrooms," said Romney, shaking his head. "Good luck throwing a wine-and-cheese reception on a toy boat like that. It makes no sense. It's just disconcerting."
Aug. 9, Romney Angry, "Disconcerted" Over Bay City Rollers Spurn: Mitt Romney blasted the organizers of the London Olympics for their failure to include Scottish pop group the Bay City Rollers in the entertainment plans for the closing ceremony. "You've got the Spice Girls, you've got George Michael, but you don't include the Rollers?" pleaded a visibly agitated Romney. "And this is supposed to be a celebration of British music? Unbelievable." The former Massachusetts governor went on to profess his love of such songs as "Money Honey" and "Shang-a-Lang." "The Bay City Rollers are the finest musical group that Great Britain has ever produced," he continued. "And to just forget them like this? Well, it's disconcerting."
Aug. 11, Romney Calls Wenlock and Mandeville "Not At All Disconcerting": GOP presidential candidate Mitt Romney held a whispered, furtive conference with monocular Olympic mascots Wenlock and Mandeville in London this afternoon. "Soon, brethren, soon. The day of our triumph is coming soon," Romney told the mascots, after greeting them with elaborate ritual handshakes. Addressing the media later, Romney dismissed criticisms that Wenlock and Mandeville are creepy and terrifying. "Wenlock and Mandeville are lovable creatures, and have nothing at all to do with any impending surveillance state, or grand Illuminati conspiracy, because the Illuminati don't actually exist," said Romney, who punctuated his remarks by tilting his head nervously from side to side before stunning the assembled crowd with several seconds of cold, mirthless laughter.
---