So you're excited about the Olympics, but you can't decide what to watch? Let our handy Olympics viewers' guide do all that hard decision-work for you! From Michael Phelps to Usain Bolt, judo to modern pentathlon, we've got it all covered. (And keep up with the games by reading the rest of Slate's coverage of the London Olympics.)
Friday, July 27:
Everyone will be watching: The 2012 London Games kick off officially with the opening ceremony, which, if I understand British culture correctly, will consist of 90 minutes worth of witty self-deprecation, a two-hour break for rain, and a climactic soccer riot. Also, it will probably involve some sort of elaborate tribute to Benny Hill, who died in 1992 but has not yet been properly mourned on the world stage.
Saturday, July 28:
Everyone will be watching: On the first full day of Olympic events, Ryan Lochte and Michael Phelps will square off in the 400-meter individual medley. This event, which consists of the butterfly, the backstroke, the breaststroke, and the freestyle, requires stamina, mental toughness, and remembering which one the butterfly is again.
You should watch: Today's schedule is straight out of the Thirty Years' War, with medals awarded in shooting, archery, fencing, and judo. (The Bavarians were big on judo.) Turn away from the bloodshed and watch women's freestyle relay swimming instead—it's graceful, exciting, and decidedly non-violent. Plus, rooting for Austrian swimmer Melanie Schlanger is a great way to prove your loyalty to Emperor Ferdinand.
Sunday, July 29:
Everyone will be watching: There won't be too many familiar names on the first night of women's gymnastics, as American Olympic heroes Shawn Johnson and Nastia Liukin both failed to make the U.S. squad. The Eastern European coaches' bushy mustaches, however, will offer welcome reassurance in otherwise alien surroundings.
You should watch: If you like water sports and conformity, then you'll love today's women's three-meter springboard synchronized diving event. Eight countries have teams in competition, but my money's on the British squad and 15-year-old Alicia Blagg, because teenage girls are great at trying very hard to do exactly what all the other girls are doing.
Monday, July 30:
Everyone will be watching: The U.S. women's indoor volleyball team will face off against Brazil, the gold medalists from the 2008 Games. Here's hoping that Team USA, which posed recently for ESPN's Body Issue, will remember that volleyballs can be used for spiking in addition to being used to obscure nudity in a playful manner.
You should watch: While watching competitive judo, is it appropriate to yell "judo—chop!" every time you see somebody deliver a judo chop? Try it out today as you watch the various men's and women's judo events. Say it loud and often enough and you might find out firsthand what a judo chop feels like!
Tuesday, July 31:
Everyone will be watching: More swimming today, and while most eyes will be on Michael Phelps in the 200-meter butterfly, don't miss Hungary's Balazs Zambo in the 4-by-200-meter freestyle relay. Not because he's going to medal or anything, but because he's got the most chantable name in the Olympics. Try it for yourself: "Zambo! Zambo! He's our man-bo! If he can't do it, nobody can-bo!" Anyone? Anyone?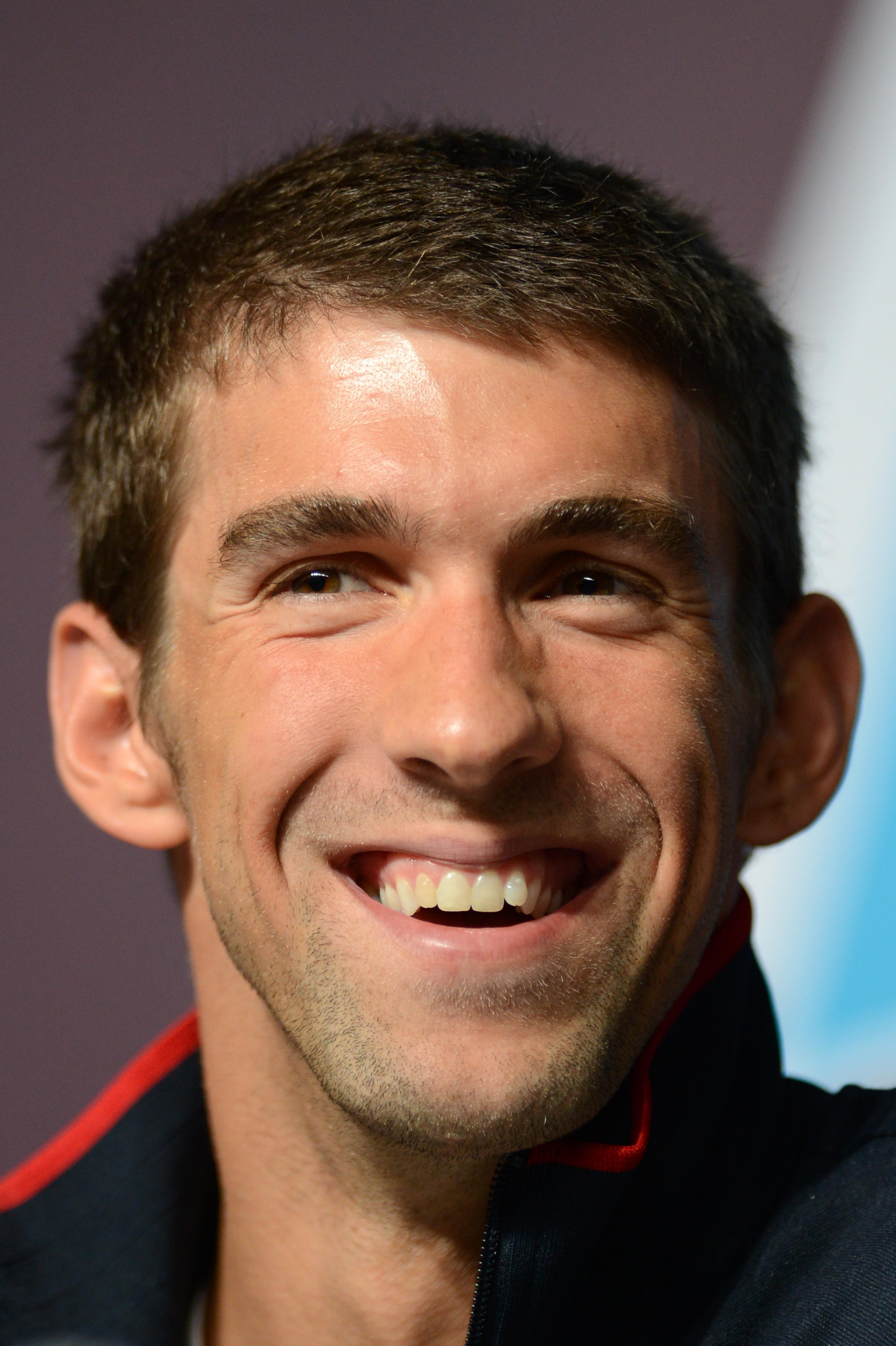 You should watch: American fencer Race Imboden is a New York Times trend story waiting to happen: He's 19 years old, he lives in Park Slope, he has a ridiculous haircut, and he's a part-time DJ. As you watch the men's individual foil events today, look to see what other trends he's setting. Is he carrying around a hairless dog? Is he growing a Rollie Fingers mustache? He might not win gold, but you can still root for him to sweep the Style Section Olympics.
Wednesday, Aug. 1:
Everyone will be watching: Gymnastics is the marquee sport today, with Danell Leyva going in the men's all-around finals. The Miami-based son of two Cuban defectors, Leyva has been called the future of men's individual gymnastics. Although you suspect the true future of men's individual gymnastics is "Gymnobot," a flexible humanoid robot who's a machine on the pommel horse, you'll root for Leyva all the same.
You should watch: Are those rushing rapids I hear? Either AMC's playing a rerun of The River Wild or it's time for whitewater slalom kayaking! Tune in for one of the most dramatic events of the Olympiad, featuring hairpin turns and Croatian kayaker Dinko Mulic as a violent criminal on the run from the law. No, wait, that was Kevin Bacon in The River Wild. But I've got my eye on you, Dinko Mulic.
Thursday, Aug. 2:
Everyone will be watching: Gymnastics again, this time the women's individual all-around event. Will 17-year-old Jordyn Wieber and 16-year-old American Gabby Douglas be the latest in a long line of Olympian teenagers to impress the world with their preternatural talent, poise, and resilience? Or will they fail to medal and be forced back into boring and awkward American teenage existences? Sounds like a Disney Channel original series in the making!
You should watch: American swimmer Cullen Jones, who competes today in the men's 50-meter freestyle heats, got into competitive swimming as a child after almost drowning at a water park in Allentown, Penn. Resist the temptation to cheer him on by singing Billy Joel's "Allentown," which, while peppy, is a depressing song about post-industrial unemployment. Instead, choose something more appropriate like "I Go to Extremes." Or, better yet, do your best to avoid thinking about Billy Joel entirely.
Friday, Aug. 3:
Everyone will be watching: The track and field events begin today, and medals will be awarded in the women's 10,000-meter run. The Kenyans, naturally, are the favorites here, but watch out for Ethiopians Meselech Melkamu and Tirunesh Dibaba. Also watch out for the American runners—by which I mean you should be prepared to yell "Watch out!" to help the women of the USA avoid being trampled by the Kenyans as they get lapped again and again. 
You should watch: As lithe, bouncy athletic duos go, Melkamu and Dibaba can't compare to Dooley and Gluckstein, America's synchronized trampoline heartthrobs. Unfortunately, synchronized trampoline isn't yet an Olympic sport. Solo trampoline is, however, and Steven Gluckstein competes in that event today, all by his lonesome self. When you watch the trampoline events today, express your indignation by periodically exclaiming, "Man, that shit should be synchronized." It would be most helpful if you exclaimed this while in earshot of an IOC official, but, really, just saying it to yourself in your basement will be fine.
Saturday, Aug. 4:
Everyone will be watching: This is the last day of swimming before the open water events get underway—aka, the kind of swimming in which duck avoidance is crucial to victory. Get your fill of the indoor pool by watching the men's 4-by-100-meter medley relay, featuring Michael Phelps and Matt Grevers. I went to high school with Matt Grevers' older brother. But then again, who didn't go to high school with Matt Grevers' older brother.
You should watch: If you're the sort of person who gets annoyed by those old ladies in track suits who power-walk through shopping malls, then skip this next item. If you are an old lady in a track suit who likes to power-walk through shopping malls, have I got the sport for you! Race walking, in which athletes travel long distances at reasonable speeds, kicks off today with the men's 20 kilometer event. You won't want to leave your seat, so be sure to have an ample supply of hard candy at the ready.
Sunday, Aug. 5:
Everyone will be watching: Assuming he keeps up his fine Wimbledon form, Roger Federer will take the court in the men's singles tennis finals today. Andy Murray and Novak Djokovic are also likely candidates to make the gold-medal match, but I'm putting my money on Fabio Fognini, the Italian tennis player whose hobby is "using the Internet." That's my hobby, too! Jamaica's Usain Bolt will also try to hold off countryman Yohan Blake in the men's 100-meter final. Bolt has explained away his recent poor showings by saying that a bad back has slowed him down. I have a bad back, too!
You should watch: The heavyweight female weightlifters face off today, and America's best hope is Holley Mangold, the effervescent, 340-pound sister of New York Jets offensive lineman Nick Mangold. Is there a bit of a sibling rivalry between the Mangolds? On NBC's Olympics website, Holley tells a story about how, when they were children, Nick once "chased me around the entire house and then finally got me in the backyard and tackled me, shoved my face in the grass and made me eat grass." Here's hoping she takes the gold medal, so that she can hit her brother over the head with it.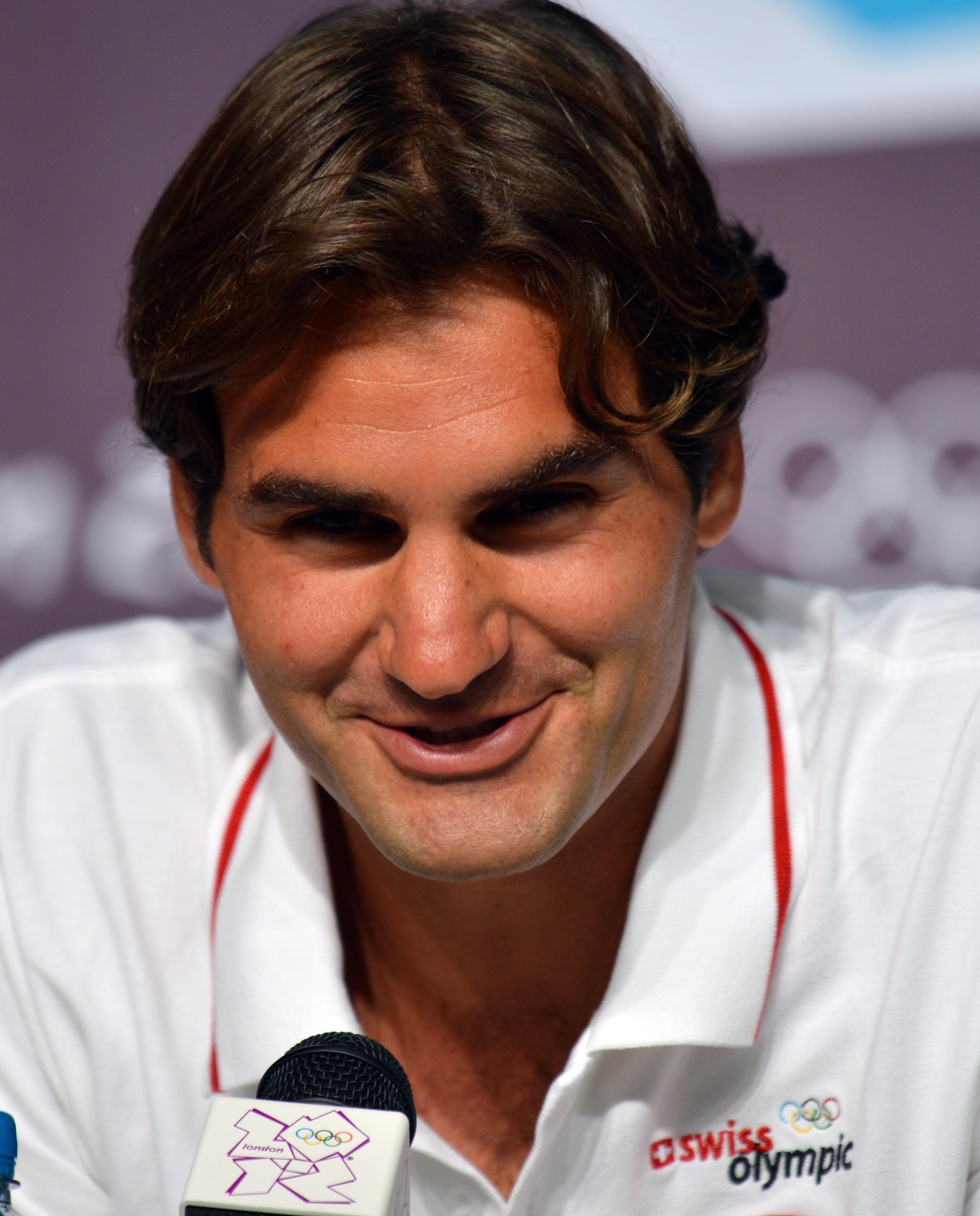 Monday, Aug. 6:
Everyone will be watching: Indoor track cycling is very popular in Great Britain, thanks primarily to the efforts of superstar Scottish cyclist Sir Chris "The Real McHoy" Hoy, who is perhaps the only active Olympian to have a velodrome named after him. Hoy is the favorite in the men's sprint event. He'll be paced by the dangerous Australian cyclist Shane "Can't Eat Too Many Gherkins" Perkins.
You should watch: Fun fact: In 1958, pole vaulter Bob Richards was the first athlete to make the front of a Wheaties box. The competitors in today's women's pole vault finals have much lower profiles, but you're hoping they give Holly Bleasdale a couple of boxes of Raisin Bran as a consolation prize.
Tuesday, August 7:
Everyone will be watching: Hurdler Lolo Jones has captured America's heart with her enviable stomach muscles, her accomplishments in the field of virginity, and her inspiring backstory. Poor and homeless as a child, she nearly won gold in the 2008 Games before tripping over the penultimate hurdle. Now, she's overcome spinal surgery to make it back to the Olympics. Jones is not the only hurdler with a sob story, though: Australian Sally Pearson had a stress fracture in her foot 10 years ago.
You should watch: Women's team table tennis wraps up this morning, and, believe me, if you've ever played ping pong, it'll be worth getting up early to see for yourself just how bad you really are. The Chinese, as always, are the favorites here. Why are the Chinese so good at table tennis? I don't know, but it's probably safe to blame Susan Sarandon.
Wednesday, August 8: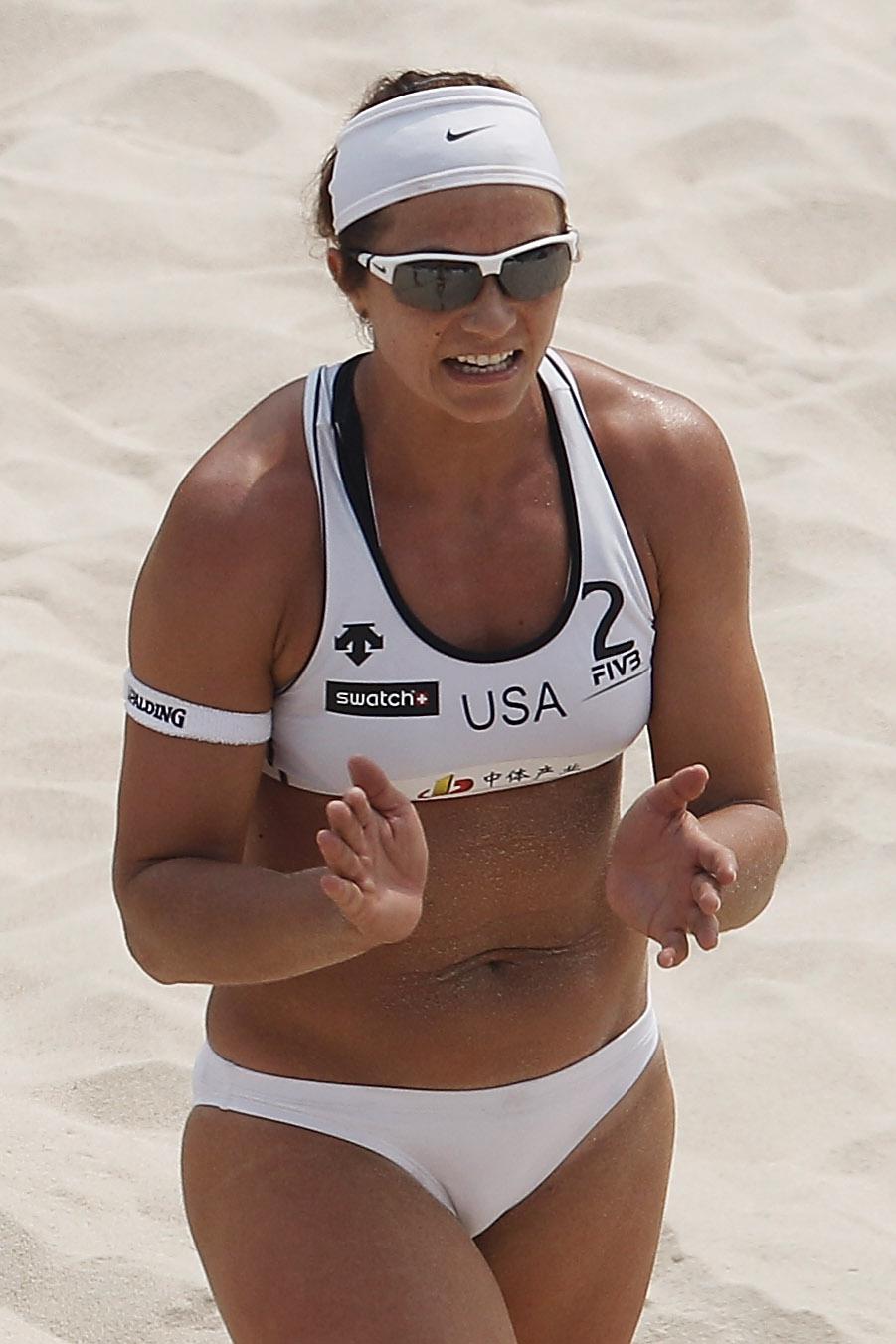 Everyone will be watching: Gold medals will be awarded in women's beach volleyball today. While Americans Misty May-Treanor and Kerri Walsh will likely repeat their Beijing victory, Mauritian volleyballer Nioun Chin Elodie Li Yuk Lo is a strong contender to have the longest name you've ever seen.
You should watch: Horses! More specifically, horses jumping over things, in the finals of equestrian's individual jumping event. Ann Romney's horse Rafalca will be competing in the Olympics' dressage competition rather than jumping, but don't worry—plenty of other horses owned by rich ladies will be getting some mild exercise before repairing to their stables to eat carefully balanced meals that cost more to prepare than anything you've eaten in a month, you pathetic poor person, you.
Thursday, August 9:
Everyone will be watching: Women's soccer concludes today, with Hope Solo and the U.S. team hoping to repeat their 2004 and 2008 gold medal performances. They'll be challenged by the Brazilian squad, which is filled with players who have only one name. Are you paying attention, Nioun Chin Elodie Li Yuk Lo?
You should watch: Taekwondo was the last "demonstration sport" to make it to full-fledged competition status before the Summer Olympics stopped having demonstration sports back in the 1990s. As you watch taekwondo today, feel free to shake your head whenever it gets boring and mumble about how we could be watching Olympic roller hockey right now.
Friday, August 10:
Everyone will be watching: The finals of the men's 4-by-400-meter relay take place on the track today. This event, which begins with the prelims on Thursday, features double amputee Oscar Pistorius. Known as the "Blade Runner," Pistorius is a double amputee who wears curved carbon fiber blades where his fibulae ought to be. There had been talk of banning Pistorius from Olympic competition, because officials fear that his prostheses give him a mechanical advantage. Plus, the IOC harbors an irrational hatred for anything having to do with Philip K. Dick.
You should watch: If you're familiar with BMX biking at all, it's probably because you're sick and tired of watching all those teenage hoodlums ride their little bikes around the 7-11 parking lot all damn night. Well, back off, old man. Yes, American contender Nic Long has a bunch of tattoos, but consider that he got his first one at 18 in honor of his grandmother. "I definitely have plenty more ideas for future tattoos," Long told USA Today. Stay tuned for 2016 to see if his entire back is covered with grandparents!
Saturday, August 11:
Everyone will be watching: After winning the women's 800 meters at the 2009 world championships, South African woman Caster Semenya was forced to submit to gender testing. After a series of tests that proved her femininity, Semenya glued together her shattered dignity and made it to the Olympics. Assuming she makes it through the prelims, she'll go today in the 800-meter finals—wearing a bright pink outfit and humming "I Enjoy Being a Girl," just to be on the safe side.
You should watch: Tonight marks the running-fencing-riding extravaganza known as modern pentathlon. As a frustrated comp lit grad student, you should definitely take the opportunity to make several quips about the events that might be included in the postmodern pentathlon: "It'd have shooting … down non-structuralist interpretations of literature, that is! And running … away from art that fails to juxtapose high and low culture, that is!"
Sunday, August 12:
Everyone will be watching: The men's gold medal basketball game helps close the games today. While everyone's expecting the Americans to win gold, don't be surprised if, at the very last minute, LeBron James shocks the world by announcing that he has decided to take his talents to Tunisia.
You should watch: You've watched enough sports these past two weeks. Sit back and enjoy the Spice Girls, who are reuniting for the closing ceremony, and will probably sing several of their hits, like that song about girl power, and that other song about girl power.
Read the rest of Slate's coverage of the London Olympics.