From 12-packs of paper towels to The Count of Monte Cristo: A deserted Wal-Mart in McAllen, Texas, is stocking a new kind of item on its shelves.
Minneapolis-based architects Meyer, Scherer & Rockcastle, Ltd. breathed fresh life into the warehouse, about as big as twoand-a-half football fields, late last year, when they repurposed it as the country's largest single-story public library. (Alas, it's not America's biggest public library, despite what you might have read. That honor goes to the Library of Congress.) When a Wal-Mart retailer moved to a larger facility down the road, the city purchased the old building and created the McAllen Public Library.

The plan was to establish a community gathering place, and it worked. Interim director Kate Horan says that the numbers of new registrations and book loans at the library are "through the roof." "We used to be really busy on Sunday afternoons," she added. "Now, every day is a Sunday afternoon."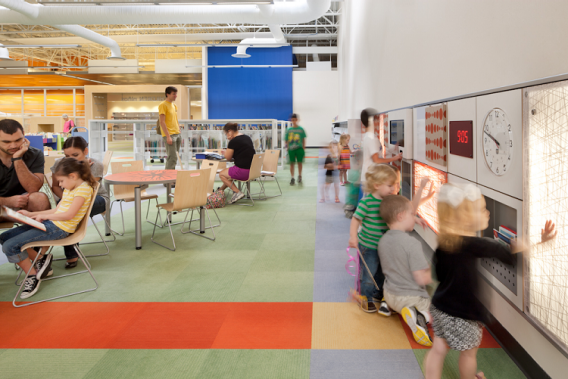 Some of the library's more charming features include what Horan calls "mega-pendants," or large signs emblazoned with genre names and designed to make the lofty ceilings seem a little lower. Under them are reading nooks they call "respites." The library also features a quiet room, several computer labs, a small volunteer-run bookstore, and a café.

The pros are impressed, too. This June, the McAllen Public Library won The International Interior Design Association's 2012 Library Interior Design Awards.   

McAllen isn't the first city to convert a Wal-Mart into a public space. In 2008, the city of Wisconsin Rapids, Wis., opened a senior center in an abandoned 80,000-square-foot Wal-Mart. The building was big enough to allow for a "walker's indoor circuit." According to a report by the Department of Housing and Urban Development, the town purchased the building for $400,000—$800,000 below asking price—after it stood empty for several years.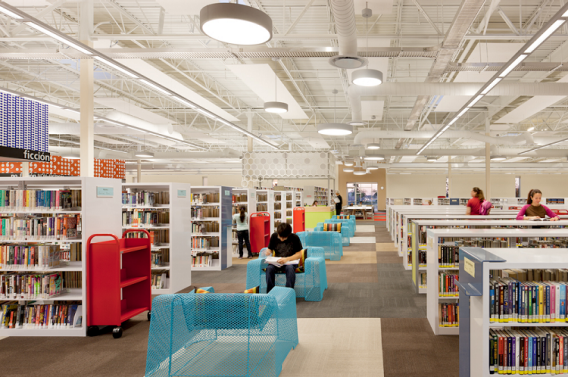 And it's not just Wal-Mart stores that towns are taking back. Abandoned big-box stores are being repurposed across the country. Oberlin professor Julia Christensen documented ten such conversions in her 2008 book, Big Box Reuse, and a Wiki she set up shows as many as 27. Her website tells the story a North Carolina K-Mart turned charter school, a Florida Winn-Dixie grocery store turned chapel, and a Kentucky Wal-Mart turned court house, among others.